We're Getting Mutants in the MCU - The Loop
Play Sound
"
You may hate me, but I love you, and I always will, even if the whole world hates you, sister.
"

—Zoé, "Queen Banana"
Click here to see quotes from Zoé Lee.
Zoé Lee[10] is a teenage girl from New York City and a student in Ms. Mendeleiev's class at Collège Françoise Dupont. She is also Chloé Bourgeois's younger half-sister[9] and André Bourgeois's stepdaughter. She attended a boarding school when she was in New York, where she once lived with her mother.[11]
In "Sole Crusher", after being tired of hiding her true self in order to please her half-sister, Zoé is akumatized by Shadow Moth into Sole Crusher, a supervillain who can absorb people and becomes larger by stomping on or kicking them.[12][13] She also receives a Magical Charm from Ladybug that prevents her from being akumatized again.
In "Queen Banana", after Chloé is akumatized into the titular villain, Zoé receives the Bee Miraculous from Ladybug. When the Miraculous is inhabited by Pollen, Zoé becomes Vesperia, a bee/wasp-themed superhero who helps Ladybug and Cat Noir during particularly difficult missions in the fourth season.
After the events of "Strikeback", Zoé will temporarily be unable to become Vesperia after Hawk Moth managed to steal the Bee Miraculous along with all the others contained in the Chinese Miracle Box from Ladybug's yo-yo.
Appearance
Physical appearance
Zoé is a slender Teenage Girl and has wheat-golden hair with significantly shorter bangs and hot pink dyed strands to the left side, the ends reaching her shoulders and upper back. Her eyes are a vivid shade of azure (similar to Marinette Dupain-Cheng's form as Ladybug) and her eyebrows are honey-colored. She has peach skin tone, coral lips, and a dusting of light freckles over the bridge of her nose and cheeks.
In "Sole Crusher", Zoé's hair was originally entirely blond until she later gets it dyed near the end of the episode by Rose Lavillant and Juleka Couffaine.
Civilian attire
She wears a black faux leather jacket, a white top with a pink, cyan and yellow honeycomb flower on the front, and yellow pants. and a Orange Belt with Yellow Pockets and a Black Part. On her feet, her shoes have white shoelaces, toe caps and soles. The sides of her shoes are decorated with blue, lime-green and pink heart and star patterns with black outlines. There's a moderate apple green crown on the left side of her left shoe and a white skull on the left side of her right shoe. The midsole of the shoes seem to be decorated with different drawings that appeared to be drawn with a black permanent marker. The left shoe has a red heart drawn on the toe cap that reads "I ♡︎U".[14] At the end of "Sole Crusher", her shoes get more drawings from her new friends. On her left wrist, she also wears a two blue beaded brown bracelets and red and yellow pattern wide white bracelet with black lining on each and a luminous vivid opal-colored beanie on her head.
As Vesperia
As Vesperia, she wears a yellow and black swan-necked, bee and wasp hybrid formed superhero jumpsuit, which has a leather texture. The upper part of the suit is black with yellow stripes with yellow forearms and hands with black fingers. She has a yellow zipper at the front with a triangular yellow and black slider, making it look like she is wearing a jacket. The lower part of the suit is yellow with black stripes. She wears black boots with a yellow stripe at the collar, tongue and toecap and a black mask with yellow around her eyes. Her hair becomes braided with a black streak and her bangs are of equal length and black highlights. The Bee Miraculous is located right above of the base of her braid, holding two black antenna-like ribbons, similar to Chloé's as Queen Bee. The Spinning Top, her weapon, is tied with a yellow string around her hips when not in use, it has a same color as Queen Bee's form of Queen Wasp's.
As Sole Crusher
As Sole Crusher, she is a hybrid form of her half-sister Chloé Bourgeois, having her physical look (like face and hairstyle), and her mother's form as Style Queen. Her hair, eyes, skin and clothes (which are the same as Chloé's) that are sparkly brilliant amber with encrusted very light cyan-colored jewels. Her headdress-like accessory features lightning-shaped horns. Her jacket collar and the backs of her high heel shoes also feature lightning-shaped ornaments.
For more of Zoé's outfits and designs, see Zoé Lee/Designs.
Personality
Zoé is a very sweet girl[15] who can be very caring and nice to anyone that crosses her way, being even able to make friends with someone she has just met, like Marinette Dupain-Cheng. She is also very forgiving, showing this in Sole Crusher, after Marinette trips and falls on her. Zoé is also very generous as she gave to the taxi driver that took her to Le Grand Paris the baking goods that Marinette gave her, after hearing from her how her children love them. She is also shown to be creative, shown to dye her hair and customize her own shoes.
Her greatest dream is to become an actress as she is very skilled at doing so. However, because she was constantly acting a role, much like Lila Rossi and her lies, Zoé ended up concealing her true self and, when she was not able to do it anymore, she ended up having no friends back in New York. After moving to Paris to live with her maternal family, she pretends to be like her mother and half-sister in order to please them and be accepted by them. She also wants to fit in, which is why she is always acting. After being deakumatized, she learned that the way she was acting was wrong and decided to finally stop hiding her true self.
In "Queen Banana", at first she was hesitant in taking the Bee Miraculous knowing how Chloé would react, but Ladybug reassures her that unlike Chloé, she'll keep her identity a secret.
In "Optigami", she is instinctively protective of anyone as she wanted to pull Chloé down before Style Queen hit her.
As Vesperia, most of Zoé's personality remains the same and she's proven to be very clever using her acting skills that led to her sister's downfall. She can also act in a flashy way, similar to Queen Bee, but always shows a much humbler side. According to Plagg, Vesperia is more refined, sweeter and nicer than Queen Bee.
As Sole Crusher, she is much more confident and refuses to let others boss her around. However, she is still willing to please Chloé as she considers crushing Kitty Section just to be like her.
Abilities
As a civilian
Zoé is very good at acting. In fact, she is so good that she can convince others she possess a much different personality than the one she truly has as she was able to convince her mother and half-sister she was just like them. In the episode "Queen Banana", a scene from a movie shows her skillfully wielding a toy sword demonstrating that she has good fencing skills.
As Vesperia
Zoé, as Vesperia, has the same abilities as the most recent Bee Miraculous holder, Chloé Bourgeois. She has enhanced physical characteristics such as speed, strength and agility. She also has the superpower Venom, enabling her to immobilize her opponents.
As Sole Crusher
She can absorb any person she kicks or stomps with her shoes on. The more people she absorbs, the taller she grows. However, because of her size, it is hard for move freely in tight spaces or catch those who have speed, she had lower speed than her enemies (Ladybug and Cat Noir). Not only that, but her shoes make her easy to tumble and, when the heels are broken, she has difficulty in moving.
Family
Tree
    = Male
    = Female
    = Gender Unknown
History

Click here to view the history of Zoé Lee.
Relationships

Click here to view the relationships of Zoé Lee.
Sightings
Episodes
Other
Trivia
As of "Queen Banana", following Alya Césaire, Nino Lahiffe, Chloé Bourgeois, Nathalie Sancoeur, Luka Couffaine, Max Kanté, Kagami Tsurugi, Alix Kubdel, Lê Chiến Kim and Adrien Agreste, Zoé is the eleventh person to become a Miraculous holder and akumatized villain, excluding Gabriel Agreste, who akumatized himself, and Marinette Dupain-Cheng who almost got akumatized.
The name of Zoé's akumatized form, Sole Crusher, is a pun and combination of the noun "sole", the bottom part of a shoe, and the saying "soul crusher", used to describe someone who is cruel and discouraging.

Sole Crusher's French name, Pirkell is a pun on "Pire qu'elle", meaning "Worse than her", referencing her resembling Chloé Bourgeois.

Vesperia's name is derived from the Italian word vespa, which means wasp.

Vesperia's suit is meant to resemble a Hymenoptera.[16]

Zoé is the third known person from the United States to wield a Miraculous following Jessica Keynes and Gilbert du Motier.

She is the fifth person from the Western Hemisphere to wield a Miraculous following Micazoyolin, Gilbert du Motier, La Mariquita, Jessica Keynes and the Brazilian Miraculous holder.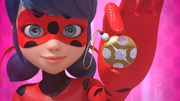 The designed charm for Zoé has diamonds embedded on it because the charms are based on the color scheme/characteristics of the person's akumaization.
Zoé is the first Miraculous holder to receive a magical charm before becoming a superhero herself.

She's also the first in her family to receive a magical charm.

Zoé is the third miraculous holder not to get spotted by Optigami, the others being Ladybug, Cat Noir, Polymouse, Pigella, Purple Tigress and Bunnyx.

However, that's because Optigami was supposed to spot heroes whose identity was known by Shadow Moth. So, since he didn't know that Zoé was Vesperia, Shadow Moth wouldn't have had any reason to target her even if spotted by Optigami.

As seen in "Sole Crusher", Zoé is right-handed.
In the episode "Gabriel Agreste", she says her half-sister's famous line/catchphrase, "Ridiculous! Utterly ridiculous!"
Zoé is the first person in Ms. Mendeleiev's class who uses a Miraculous.

This is followed by Marc Anciel in "Penalteam" who becomes Rooster Bold.
She is also the only person in Ms. Mendeleiev's class who owns a magical charm.

Zoé can be seen as a light parallel to Chloé as they are both wielders of the bee miraculous, however there are differences between the two. Chloé is a selfish and overzealous spoiled girl who uses her father to get whatever she wants and barely has any friends because of her toxic personality. Zoé, on the other hand is a kind-hearted person. She comes from a friendless background because she couldn't be what others wanted, is quick to befriend the main cast, and has a very healthy and encouraging relationship with her stepfather, André.
Zoé shares a name with a British brand of hand-made shoes made in Italy, Zoe Lee.
In old concept drawing of Zoe as Sole Crusher, her appearance started out being covered in diamonds before switching to gold.
Gallery
| | |
| --- | --- |
| Click here to view the gallery. | |
References