We're Getting Mutants in the MCU - The Loop
Play Sound
Stub
This article is a stub. You can help the Miraculous Ladybug Wiki by expanding it.
Reason: Relationships need to be added
"
Well, happy day, happy day. Splendid is the afternoon day. Ah, Edgar, you fancy one. Fantastic, dazzling performance.
"

—Xavier, "Mr. Pigeon"
Click here to see quotes from Xavier Ramier.
Xavier Ramier[2] is a man who loves pigeons.
In "Mr. Pigeon", after being kicked out of the Jardins du Trocadéro by Officer Roger for feeding the pigeons, he is akumatized by Hawk Moth and becomes Mr. Pigeon, a pigeon-controlling supervillain.
In "Timetagger", after pigeons were not able to have the right to experience culture in Paris, he is re-akumatized into Mr. Pigeon for the 24th and 25th time. In the same episode, it was revealed by Bunnyx that he will be akumatized into Monsieur Rat, a rat-themed supervillain with unknown powers.
In "Miraculous New York", after he decides that pigeons have it hard in Paris, he is re-akumatized into Mr. Pigeon for the 51st time, and tries to take all pigeons to the moon.
In "Mr. Pigeon 72", after his pigeons accidentally ruined Adrien's photoshoot at the swimming pool, causing him to be fired by Bob Roth, Xavier is re-akumatized by Shadow Moth into Mr. Pigeon for the 72nd time, but this time, he can turn his victims into raven-pigeon hybrids. He also receives a Magical Charm from Ladybug that prevents him from being akumatized again.
Appearance
Physical appearance
Xavier is tall and muscular, with moderate orange hair and strong gold eyes and olive skin. He has very thin lips.
Civilian attire
He wears a gray elegant suit complete with a gray hat, a dark gray waistcoat decorated with a square pattern, a white shirt, a big teal bow tie, dark green vest and brown sandals worn with white socks. He also has a bird call whistle on a string hanging from his neck.
As Mr. Pigeon
Mr. Pigeon is more muscular and fairly white skinned supervillain and wears a full body skin-tight jumpsuit with black forearms, waist and thighs, dark gray belly, light gray chest, shoulder and biceps, and pale, light grayish amaranth shins and head. The suit also has black stripes on his triceps and around his upper hips, along with two lozenge light blue diamonds where his bow tie was. He seems to still carry a bird call whistle around his neck.
For more of Xavier's outfits and designs, see Xavier Ramier/Designs.
Personality
Xavier is a cheerful man who loves to take care of pigeons. He often goes to the park to feed them, even though it is not allowed, because he worries about them not getting fed if he doesn't do it. Also quirky, he walks to a bench as if he is a bird and talks to the pigeons.
He can also be very friendly and caring towards others, most notably with Marianne Lenoir, whom he shows respect to and tries to comfort after she feels that her love has forgotten about her.
In "Timetagger", he treats Ladybug and Cat Noir to ice cream in order to apologize for being Akumatized again. In the same episode, on Cat Noir's advice, he also seemingly develops an affection for rats over pigeons, feeling that the former are even cuter than they are.
In "Mr. Pigeon 72", he finally shows his anger at Bob Roth for blaming him and his best friend Edgar.
As Mr. Pigeon, his love for pigeons is taken to an extreme, his desire being them taking over Paris. He still acts very pigeon-like, cooing and flapping his arms like wings. Proving to also be clever, he plans to trick Ladybug and Cat Noir into thinking that he abandoned the park guards, just to ambush them with his birds. It would be assumed that he, in the future, as Monsieur Rat, would show this same affection to rats.
Abilities
As Mr. Ramier
Mr. Ramier is excellent at swimming and training pigeons. Even when not akumatized, he can make them fly in formation or retrieve certain items at a blow of his whistle. He is also capable of identifying specific pigeons by name, and can perform CPR on pigeons.
As Mr. Pigeon
Mr. Pigeon's control over pigeons is taken to an extreme. With his bird call, he can not only communicate with them, but he can also make their flocks form into any shape he wants, like a plane or throne, or he can gather pigeons around his fists and throw them to attack. If he falls, the pigeons are able to catch him. He can also get them to capture and carry large objects, including a metal cage or other people. His control over them even allows him to command them to cause diarrhea. However, the pigeons are entirely disobedient to him if there is food around.
When re-akumatized for the 72th time, Mr. Pigeon has the ability to turn to turn pigeons look like ravens. Once he whistles on his bird call, all the existing colors of the pigeons in Paris turn medium gray to very dark gray. Any object and Anyone the evil pigeons touch will be transformed into raven-pigeon hybrids themselves. He is able to control and communicate with the evil pigeons using his pigeon whistle.
Relationships
Edgar is Xavier Ramier's favorite pigeons. In "Mr. Pigeon 72", Xavier consults with him that if he and the others accomplish the ad with Adrien, the mayor will allow all the Pigeons of Paris to roam free. However, Marinette Dupain-Cheng interferes and causes him to drown. Xavier, who cares very deeply for him, swims to get him back to land and ditches Bob Roth's ad for Edgar's safety.
TBA
TBA
TBA
Although not much is known about their relationship, it seems that Bob Roth uses him for his pigeons's help. When one of his pigeons almost drown and the ad is ruined, Bob Roth gets angry over Xavier saying it's all his fault that the ad is ruined, causing Xavier to get re-akumatized into Mr. Pigeon.
Sightings
Episodes
Comics and books
Other
Trivia
Mr. Pigeon is one of the first known villains in the world of Ladybug, being one of the only three villains featured in the Ladybug PV with Hawk Moth and the Mime.
Unlike most Akumatized victims, Hawk Moth refers to him by his actual name, calling him Mr. Ramier before sending out an akuma.
In "Guitar Villain", he appears briefly, being forced to dance (alongside several pigeons) by the title character.
Surprisingly, even though he has had the most amount of akumatizations, Mr. Pigeon doesn't appear in the "Heroes' Day" special.
Mr. Pigeon appears another time in "Gamer 2.0" from Gamer 2.0's powers.
In "Timetagger", while facing Mr. Pigeon again at the Louvre, Ladybug mentions that he has been Akumatized twenty-three times beforehand. He later appears as Mr. Pigeon again towards the end of the episode.

Cat Noir mentions at the end of the episode that pigeons have it hard in Paris. In real life, it is illegal to feed pigeons in Paris as they are considered pests, which would explain Mr. Ramier's recurring Akumatization due to his over-protectiveness for pigeons.
Though all but his 1st, 24th, 25th, 51st, 52nd and 72nd Akumatizations took place off-screen, Mr. Ramier has technically been akumatized more than any other character in the series, having been transformed back into Mr. Pigeon 72 times in total.
Additionally, in the same episode, it is implied that Mr. Ramier will be again akumatized into the villain "Monsieur Rat" at some point in the future.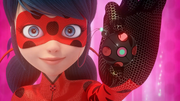 Gallery
| | |
| --- | --- |
| Click here to view the gallery. | |
References