We're Getting Mutants in the MCU - The Loop
Play Sound
This article is about the episode. You may be looking for the character.
"
Not only did Ladybug save my life, we've become very close friends, because we have something very special in common. It's what I wanted to tell you about. I'm the descendant of a vixen superheroine myself — Volpina.
"

—Lila Rossi, "Volpina"
"Volpina" is a Season 1 episode of the series, Miraculous: Tales of Ladybug & Cat Noir.[7] According to the series' production/written order, it is the 26th and final episode of Season 1, as well as the 26th episode of the series, overall.[1]
Synopsis
Humiliated in front of Adrien by Marinette, Lila — a rival who pretends to be Ladybug's friend — akumatizes into Volpina, a villain of illusions.[8]
Plot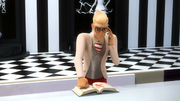 At the Agreste mansion, Adrien hurries down the grand foyer stairs, and stops on his way out when he hears his father, Gabriel, in the atelier to his right. Gabriel is on the phone, arguing with a supplier over a new line of clothes and a fashion show happening in three days. While he rants, he picks up a book and places it in a safe hidden behind the painting of Emilie Agreste. When Gabriel leaves, Adrien, mystified by the existence of the hidden safe, sneaks into the room, and walks over to the portrait. Plagg prompts Adrien to open the safe, but Adrien hesitates, stating that his dad wouldn't like him going through his stuff, he doesn't know the entry code, and he'll be late to his fencing class.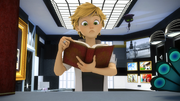 Annoyed with Adrien, Plagg phases through the safe and opens it. Inside is a photograph of Emilie Agreste, a book about Tibet, a flyer to a Tibetan hotel, the Peacock Miraculous (which he does not notice), and a "really dusty old book." Plagg throws the book into the hands of Adrien, who then begins to flip through it, pausing on a page that depicts a costumed man who looks similar to Hawk Moth.
Hearing footsteps, Adrien slams the safe and portrait closed, hiding the book in his schoolbag. Nathalie enters with Adrien's bodyguard following, telling Adrien that he's going to be late. Adrien pretends that he was looking for his homework, looking sheepish all the while.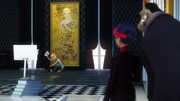 Meanwhile, Marinette and Alya walk into their school, hearing their classmates Rose, Chloé, and Nino discussing the various accomplishments of a girl named Lila. Marinette asks Alya who Lila is, and learns that she's a new student from Italy. When Alya points upstairs, Marinette sees Lila caressing a nervous Adrien. Ignoring Marinette's facial expressions, Alya proceeds to explain that Lila gave her an interview for the Ladyblog, in which Lila describes how she was saved by Ladybug. Alya hip-bumps Marinette, drawing her attention to watch the video.
This doesn't help Marinette, who continues to ask who Lila is. Alya replies that she's had an incredible life, and is totally awesome. Marinette then begins to freak out, imagining Lila and Adrien flirting shamelessly, developing a romantic relationship, traveling to Hollywood, and Adrien forgetting entirely about Marinette. Breaking out of her imagination, Marinette sees Adrien being dragged by Lila into the library. Marinette tries to get Alya to go with her to break them apart, but Alya dismisses Marinette's concerns, focusing more on the view count on the Ladyblog, which has exploded because of Lila's video.
Confused, Marinette thinks that Lila has somehow hypnotized everyone in the school. Tikki accuses Marinette of being jealous, which she denies. After a moment of hesitation, she follows Adrien and Lila. In the library, hiding behind a bookshelf, Marinette finds only a bored Adrien tapping his fingers against the table, with Lila nowhere to be seen. Adrien then pulls the book he obtained earlier out of his bag. Tikki takes sudden notice of this, saying she needs to see the book up close. Marinette tells Tikki to hide, but instead, Tikki flies over to the bookshelf opposite Marinette, and hides on top.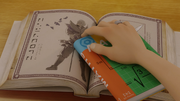 At that moment, Lila returns with her Histoire textbook, saying that she and Adrien can study together. Adrien hastily covers his book with his Maths book, but when he shifts the Maths book, Lila notices the book underneath, and pulls it away from Adrien, asking him what it is. He replies that it's just stories about superheroes. Placing her hand on Adrien's, Lila tells Adrien that she loves superheroes. Marinette flinches and freaks out, figuring it's already too late for her, and bumps clumsily into a book cart.
Meanwhile, Tikki is peering down at the open pages Lila is flipping through. When Lila stops on the page for Ladybug, Adrien sighs and says "She's amazing," which annoys Lila. Picking herself up in her chair, Lila places herself right next to Adrien and tells him that a girl doesn't need to wear a costume to be amazing. Lila asks Adrien about his crush on Ladybug, which he tries to deny through stutters. Meanwhile, Marinette gets closer to the two by hiding behind the cart of books and moving it. Lila then lies to Adrien, saying that she's friends with Ladybug and suggests they meet after school at the park, where she can tell him more about it. Angry about Lila's lie, Marinette growls and stands up leaning on the cart, causing it to slide away and make Marinette fall. The cart slams into the wall and falls over, scattering books and interrupting Lila and Adrien. Marinette hides under the table.
Before Adrien can investigate the sudden noise, his phone alarm goes off, telling him he has only one minute before his fencing lesson begins. Hastily, Adrien grabs his books and begins to put them away, Lila following suit. As Adrien is putting his bag on his shoulder, Lila startles him, making him drop his bag and spill out all of his books. Lila distracts him for a moment, confirming their later meeting at the park while she puts her foot on Adrien's book and slides it away from his bag. Adrien hurriedly agrees to meet as Lila hands him his bag.
When Adrien runs off, Lila picks up the book and flips it open to a random page, landing on the Fox superhero's page, and walks off. Tikki zooms down from her perch to tell Marinette something, but before she can, Marinette says she must tell Adrien that Lila's a thief before he and Lila meet at the park. However, Tikki doesn't want Adrien to be told anything, as she wants to see the book up close, and says that if it's the one she thinks it is, she needs to get her hands on it herself. When Marinette asks why the book is so important, Tikki says that she'll explain when she's sure it's the right book.
Tikki and Marinette follow Lila to a jewelry shop, watching Lila exit it. Marinette is even angrier now as she's just finished watching Lila's video on the Ladyblog where Lila says that she and Ladybug are very close friends. Marinette and Tikki chase after her, arriving at the park. Lila sits on a bench, looking at a necklace of a fox's tail. She pulls it out of its box and flips open Adrien's book to the Fox superhero's page. She puts on the necklace and grins, but freezes when she looks up and sees Adrien walking toward her. Lila panics and hides the book behind her, before throwing it in a nearby trashcan. Lila grabs Adrien's arm and pulls him to sit next to her while Marinette complains that Lila is a brat.
Tikki flies off, telling Marinette that she'll grab the book and that Marinette can take care of Adrien. Tikki makes it to the book unseen, but when she tries to take it out of the trashcan, she isn't strong enough. Marinette runs over to the trashcan, taking the book from Tikki.
At the same time, Lila is lying to Adrien about how Ladybug saved her life and how they're friends because they're both superheroes. Lila says that she is a descendant of the vixen superheroine Volpina. Adrien mentions that he saw her in his book, but Lila stops him from searching for it. She begins to put down Ladybug and says that Volpina is more powerful and celebrated, making Marinette very angry. As Marinette runs away from the situation, Tikki remarks that Lila's a really good liar.
Deciding that now is the time to act, Marinette gives Tikki the book (who then falls to the ground under its weight) and transforms into Ladybug. She immediately confronts Lila, calling her out on her lies about being saved by Ladybug and their being friends. Adrien asks if this means she's not the descendant of a superhero, which Ladybug confirms. Upset, Lila runs away, crying. Adrien tries to stop her and to comfort her, but he's not fast enough. He turns to Ladybug, asking her why she did that. Claiming that she hates lies, especially about herself, Ladybug departs, leaving Adrien confused about her behavior.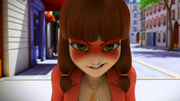 Elsewhere on a city sidewalk, Lila blames Ladybug for ruining her chances with Adrien, saying that she hates her. She throws her bag at an advertising poster for a magazine featuring Ladybug, and falls to her knees, sobbing. Hawk Moth, sensing Lila's negative emotions from his lair, sends out an akuma which merges with her necklace. He gives Lila the power of illusion and the name Volpina, telling her to gain Ladybug and Cat Noir's trust, and then betray them. Transformed, Volpina plays a tune on her flute and throws its resulting energy ball at the Ladybug poster, changing it to one of her and Adrien.
Several civilians standing outside the Louvre Palace stare up at the sky in horror, as they see a massive meteor burning through the atmosphere, headed to crash into the Louvre. Outside the Agreste mansion, Adrien and his bodyguard see it, too. Adrien runs into his room and transforms into Cat Noir. Also seeing the meteor, Ladybug jumps off her balcony and swings through the city with her yo-yo. An orange blur zips through the sky beside her, throwing her off. It stops above the Louvre, revealing that it's Volpina, who braces herself, and catches the meteor and hurls it back into the sky. Volpina, it seems to all who witnessed, just saved the day. It goes unnoticed, however, that the meteor disappears as soon as it hits a pigeon.
The Volpina that stopped the meteor lands on a rooftop, where the real Volpina waves her hand through the illusion, making it disappear, before stepping into the view of the public. To the citizens of Paris, Volpina states that she is the only hero that Paris needs. Ladybug and Cat Noir stand on another roof, and discuss the merits of having another superhero in Paris. Ladybug is skeptical about how a new hero showed up out of nowhere, but Cat Noir isn't alarmed. In the midst of their debate, Volpina lands between the two, telling them she needs their help.
Standing on another rooftop is Hawk Moth. Volpina tells them that they need to capture him. Cat Noir immediately agrees and says that she can count on them. Volpina then flatters Cat Noir and his costume. Ladybug makes a disgusted face and returns to observing Hawk Moth. Ladybug is very skeptical about everything that's happened so far, but Cat Noir sees Ladybug's behavior as the thing that's odd. Ladybug questions Volpina about what her Miraculous is, and what powers she has.
Behind them, Hawk Moth suddenly transports himself away, and Volpina chases after him. Ladybug and Cat Noir follow. Hawk Moth stops, standing atop the Hôtel de Ville, with the other three stopping nearby. Volpina tells Ladybug to go to the right and Cat Noir to the left, while she comes up from behind. Annoyed with Volpina's assuming leadership and not consulting with them, Ladybug says she'll go right, Cat Noir will go behind, and Volpina will go left. After Volpina leaves, Cat Noir tells Ladybug to be nicer to Volpina since she's on their side. Ladybug bounds off over rooftops.
Volpina goes behind a chimney, where the real Volpina destroys the illusionary one. Cat Noir arrives at the Hôtel de Ville, but Hawk Moth is missing. Cat Noir spots him again and chases him across the city. Volpina leaves him, and chases after Ladybug.
Ladybug is chasing after her own Hawk Moth. When she loses sight of him, she walks along a roof until her right foot steps into a green box outline, turning it red. The box locks onto her foot, tracking her movements. All around Ladybug, large rockets appear, and aim at her. Volpina threateningly tells Ladybug not to move, and that now she won't be able to say they don't know each other. From this Ladybug figures out that Lila was akumatized. Ladybug tries to convince Volpina to stop, but Volpina is still locked onto the fact that everyone thinks she's a liar. Since she's a superhero and even Cat Noir believes her, it will be Ladybug who'll be called the liar if she ever tells anyone.
Hawk Moth interrupts Volpina, telling her to take Ladybug's Miraculous. Volpina demands she hand over her earrings, but Ladybug refuses. Volpina gives her an ultimatum: hand over the Miraculous, or a nearby building will crumble. Ladybug calls her bluff, but Volpina plays a tune and hurls an energy ball at the building, which starts to fall down. Seeing the damage and the screaming people, Ladybug tells Volpina to stop, and puts a hand to her earrings. Before she takes them off, however, a pigeon flies into the illusion and destroys it. Ladybug figures out that Volpina's power is that of illusions and lies. She uses her yo-yo to get rid of the fake rockets, and tries to catch Volpina, but realizes that she is an illusion, too. Contacting Cat Noir, Ladybug explains Volpina's powers and that she is actually one of Hawk Moth's akumatized victims. She also explains that Volpina's akumitization is her fault and that Volpina is likely heading over to Adrien's house as they speak.
Cat Noir rushes over to the Agreste mansion, entering through his bathroom window and detransforming. Plagg questions him about not staying as Cat Noir, but Adrien says that Lila is in love with Adrien, and therefore he should handle this as himself. Plagg hides as Volpina flies through the window into Adrien's room. Adrien pretends to not know who she is, prompting her to continue her lies as Volpina. She explains that the scene from earlier was Ladybug being jealous of Volpina and her strengths.
Outside Adrien's house, Ladybug tries to call Cat Noir, but gets no answer. She enters Adrien's room, interrupting Volpina's and Adrien's conversation, which Volpina calls a "date". Adrien says it wasn't really a "date", but could've become one, and Volpina shouldn't be so upset. Ladybug stops his rambling, asking him to step out so that she can take care of Volpina. Adrien hides in the bathroom and retransforms into Cat Noir.
Ladybug and Volpina are fighting in Adrien's room when Cat Noir enters through the window, claiming he couldn't find the address. Panicked, Volpina creates multiple copies of herself and jumps down into them to hide. Ladybug gets rid of them, but the real Volpina isn't there.
Ladybug spots Volpina outside, kidnapping Adrien. Cat Noir says it's an illusion, claiming that his feline sixth sense is legendary at detecting this sort of thing. Ladybug doesn't believe this when she opens the bathroom door and Adrien isn't inside. Cat Noir sighs and follows Ladybug into Paris.
On the Eiffel Tower, Volpina dangles Adrien from one of the beams. Ladybug and Cat Noir climb the Tower, stopping when Volpina begins to swing Adrien around. She demands they give up their Miraculouses or she'll drop Adrien, saying that even though she likes Adrien, she'd rather see the defeat of Ladybug and Cat Noir. Cat Noir calls her out on the illusion, but Ladybug doesn't believe him, and reaches for her earrings. Cat Noir stops her and throws his staff at Adrien and Volpina, much to Ladybug's anguish, and the illusions disappear.
The heroes spot the real Volpina on the other side of the Tower and chase her to the top, where she creates even more illusions of herself, and hides among them. Ladybug summons her Lucky Charm, receiving a fudge ice cream bar. The inner wrapping shines on her face when she opens it. Cat Noir activates his Cataclysm, holding it in his hand for when they'll need it. Ladybug turns the ice cream around, shining the inside wrapper on the Volpinas, the reflected sunlight making the real one flinch. Cat Noir uses his Cataclysm on part of the Tower, trapping Volpina in a cage. Grabbing Volpina's necklace, Ladybug breaks it and captures the akuma. She then uses Miraculous Ladybug and returns the Tower and Lila to normal.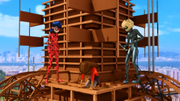 With Lila back to normal, Ladybug apologizes for her earlier actions. Lila doesn't accept her apology and leaves, saying that they'll never be friends. In his lair, Hawk Moth rants that because Lila is still angry, Volpina will be back. His window closes, leaving him and his butterflies in darkness.
Back on the Tower, Ladybug is worried; she doesn't know where the real Adrien is. Cat Noir says that since everything is back to normal, he should be at his house. Ladybug still feels the need to check, however. Cat Noir tries to stop her, saying she'll detransform (she loses one dot on her earrings), but Ladybug counters that he'll detransform as well (he loses one toe spot on his ring). Ladybug leaves, saying she'll check up on Adrien. Cat Noir then states that he finds her stubbornness irresistible.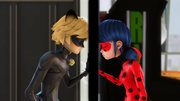 Ladybug arrives at Adrien's room just before Cat Noir arrives in the bathroom, where he runs up to the door. She runs up to the outside of the door, calling Adrien's name. Cat Noir runs back to the shower area. Ladybug opens the door, asking if she can come in. Cat Noir turns on the shower, and Ladybug slams the door shut, having learned from the events in "Simon Says". Through the door, she asks if everything's okay, to which Cat Noir, in the guise of Adrien answering, says yes, that he needed a shower after all the excitement. He returns to the door and puts his ear against it to listen. Ladybug allows that as everything's okay, she'll be off. Before she leaves, he thanks her. Simultaneously, they rest their heads against the door, sighing disappointedly. Ladybug then leaves, exiting through the window. Cat Noir comes out of the bathroom, and sighs unhappily again.
Marinette returns home to her balcony, speaking to Tikki as she studies Adrien's book. Marinette expresses her disappointment that she can't return the book to Adrien, and thus won't be able to connect to him with it. Tikki explains that the book has priceless knowledge and needs to be given to someone who can interpret it. She decides it's time for Marinette to meet the Great Guardian.
In his room Adrien is searching through his bag, trying to find his father's book. He asks Plagg if he touched it, which Plagg denies. Adrien is extremely worried; his father will be angrier than Hawk Moth when he finds out it's missing.
Tikki leads Marinette to Fu's massage shop. She enters the main room, spotting Master Fu. He immediately identifies her as Ladybug. After she enters, the door closes behind her.
Characters
Major characters
Minor characters
Trivia
Internationally, this episode first premiered in Canada on TéléQuébec.
This episode takes place after "Simon Says".
According to Thomas Astruc, the real question this episode raises is how "he" will react when he realizes "something" is missing, likely referring to Gabriel Agreste and the Miraculous book.[10][11]
This is the only episode so far where Ladybug is willing to take off her Miraculous earrings — once in order to save civilians, and once in order to save Adrien.
This is the second time where an akumatized villain looks like a superhero, as Volpina looks like the Fox Miraculous holder. The first time being Copycat, who looked identical to Cat Noir.
This episode reveals that the Peacock Miraculous is kept by Gabriel Agreste inside a safe box behind a painting of Emilie Agreste.

It is also revealed that Gabriel has owned a book containing information about the Miraculouses, which Adrien finds.

Plagg eats four wheels of Camembert at the end of this episode.
This episode doesn't have an end card. However, the final scene can be considered an end card.
The shot where Ladybug opens the bathroom door in Adrien's room is recycled from "Simon Says".
This and "Shadow Moth's Final Attack" are the only season finales where Chloé Bourgeois isn't an Akumatized supervillain.
This is the fourth time where the heroes appeal to reason with an akumatized villain following "The Mime", "Rogercop" and "Stormy Weather".
It's unknown how Lila as Volpina made an illusion of Hawk Moth when no one in Paris has seen what he looks like, as he had never showed up in person. Although, everyone knew he was out there they all including the heroes it wasn't until the season two finale everyone got a look at him.
What Lila just pulled as Volpina was a weakness of the Mirage as a user of the power can't make an accurate illusion of someone or something unless they know what the person or object looks like let alone has enough knowledge about the illusion they want to make.

This is the first time where a weakness of a particular one Miraculous is shown.

When Volpina uses Mirage, she plays the reed flute differently, unlike Rena Rouge's.
This is the only season finale to not be a two part special.

However, the episode ends on a cliffhanger, continuing in "The Collector".

This is the third time where Cat Noir uses his powers to destroy a previous object part of the Effiel Tower seen in "Stoneheart".
Errors
Lila's hair ties constantly change colors, going from orange to black to white to orange again.
There is no camera hole in Marinette's smartphone.
The appearance of Lila's necklace constantly changes while she is akumatized as Volpina: it changes between having metal lines protruding from the border and covering the necklace in a pattern, or having a dark, murky texture, or occasionally having a combination of both, as well as looking like its original appearance.

Furthermore Lila's necklace changes from having 6 segments to having 5 segments several times while she is transformed.

Before Plagg opens the safe, Adrien's ring is black, when it should be gray.
When Marinette is about to run after Lila and Adrien to the library, her earrings are in their transformed colors instead of being black.
When Marinette enters the school library, her purse is missing.
When Lila is waiting for Adrien at the Place des Vosges, her hair clips through the bench.
Before Adrien arrives at the Place des Vosges, Lila puts on her necklace, but after his arrival, it is no longer around her neck.
When Adrien transforms, he says his usual "Claws out" instead of the proper deactivation "Claws in".
When Volpina threatens to drop "Adrien" from the Eiffel Tower, her grip on his wrist is reversed in the close-up.
Gallery
| | |
| --- | --- |
| Click here to view the gallery. | |
References