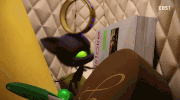 I'm the
TheClydesdalePegasus149
, but you can refer to me as just Clydesdale. Since I'm one of the admins for this wiki, I'll try my best to be active here everyday as possible and occasionally I'll applying HQ screenshots for the episode galleries. I would like to help edit this wiki as much as I can just for you guys, so if you have any questions about anything feel free to message me.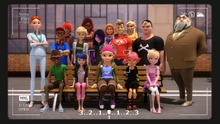 Aside from liking
Marinette Dupain-Cheng
,
Adrien Agreste
,
Tikki
,
Plagg
, and the other
kwamis
, here're a few characters that are my favorites in the series.
Potential couples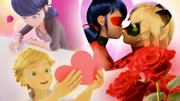 Feel free to use these ship names that I come up with.
LadyNoir/Adriette/MariChat/Ladrien (Marinette/Ladybug and Adrien/Cat Noir) This is why we came to watch this show in the first place! Doesn't matter which form they are in, Adrien DO love Marinette when he's Cat Noir! :D But I actually prefer ship MariChat more than the other three ships.

Marigami is a ship I support if the love square doesn't work out. In my opinion, Kagami has a crush or at least some sort of feeling towards Marinette as seen in "Ikari Gozen" but she seems to not realize it, possibly because of her upbringing by her strict mother and she gets blind by her feelings towards Adrien.

DJ Wifi (Alya and Nino): I've ship them ever since I first watch the show!
Heartrate (Alix and Kim): I really don't like seeing that Kim has a crush on Chloé in "Dark Cupid". Kim deserves a tomboy frenemy after watching the event of "Timebreaker". I have a feeling that deep inside Kim's muscular body, he have feelings for Alix for being so athletic. Sorry, I don't support Kim with Ondine, because I find her to be a flat character who serves as a satellite love interest to him in "Syren".
Rainbow Tomato (Nathaniel and Marc): Yep. Thanks to "Reverser", I officially now support gay/lesbian pairings in Miraculous. And besides, Marc and Nathaniel are perfect for each other.
Rocky Horror (Mylene and Ivan): I got nothing else to say, besides "Stoneheart (Origins - Part 2)" and "Horrificator".
Angel Goth (Rose and Juleka): Opposite attract.
Maxbrina (Max and Sabrina): Pair the spares. Despite Max appears with Alix at the end of "Miracle Queen (The Battle of the Miraculous - Part 2)", I only see the two as just friends hanging out together and not wanting to be left out among the happy couples.
Rolling Stones (Jagged and Penny): Honestly at first, I didn't think much about the ship whenever I see them interact with each other. But after watching "Troublemaker", I now supports them.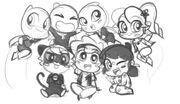 Current agendas:
Links that I visit frequently
For the show
For the comic books
Check out these other awesome wikis I'm also on. Most of these are Zagtoon-related:
Community content is available under
CC-BY-SA
unless otherwise noted.