'Miraculous Lady Bug' Profile: Trixx
Play Sound
"
As silent as a phoenix and as wily as foxes.
"

—Trixx, "Sentibubbler"
Click here to see quotes from Trixx.
Trixx[5] is the kwami of Illusion who is connected to the Fox Miraculous.[6] With his power, Trixx's wearer can use the necklace to transform into a fox-themed superhero.
Trixx and his Miraculous are currently owned by Gabriel Agreste, who uses it for evil purposes.
Appearance
Trixx is a small orange creature that is 10 centimeters (or 4 inches) in height.[4] He has purple eyes, eyelashes on the side of his eyes, and two fox incisors. A small dark brown spot is above each of his eyes, appearing like eyebrows. He has long fox-like ears with white insides and black tips and edges, and he has a thick flexible tail with a white tip. His forearms and lower legs are black, and the front of his body and the area around his mouth is white.
Personality
Trixx is friendly, encouraging, wise, and a good judge of character, as he identifies his new wielder's best qualities very easily. He is honest when something impresses him, like Alya quickly figuring out he transforms her with the Fox Miraculous. He is good at giving advice without being rude or blunt, as seen when Nino questions Alya about her decision not to tell him her secret.
Like Tikki, Trixx is also very understanding of others' actions and feelings. Because of that, he can be very manipulative. After the mission is completed in "Sapotis," when he hears that Alya made a promise to return the Miraculous, he is willing to return to the necklace without any resistance, and also understands Alya's burning desire to continue helping her new teammates and that the three of them would make a good team. He uses that to make her do the right thing and give the Fox Miraculous back, by reminding her that Ladybug chose her because she was trustworthy. Another example is when Marinette, while transformed into Aqua Ladybug, feeling depressed with all the pressure due to her role as the new Guardian. When the kwamis know they need Tikki to help Marinette feel better, Trixx convinced her to detransform by reminding her of how tired Tikki was from sustaining her transformation.
He is also very caring towards others as he was worried about Alya when she was under Miracle Queen's control and didn't like the idea of being used against his friends. As well as for the well being of his new guardian.
However, at times Trixx can be sneaky and mischievous as he looks through Marinette's diary as well as having created an illusion of the Loch Ness monster a long time ago. In fact, this mischievous side of him causes the other kwamis to find him not very reliable/responsible, with Wayzz saing that, even if Alya is trustworthy, Trixx can't help but cause trouble whenever he is free to do it. Also, like Alya, Trixx is a bit of a scatterbrain, something that is evident when he uses his power; despite him making an illusion of Marinette, his powers also affected the Eiffel Tower despite being nowhere near it.
Trixx is also shown to be a little possessive of his holders, as it is shown regarding his current holder, Alya. After the kwamis get out of the Miracle Box when Marinette frees them they all meet Marinette's friends through the computer, Daizzi hoped to have Alya as his holder, causing Trixx quickly to reply she was already his. As he also doesn't like to share Alya with another kwami, even if it is necessary to keep Paris safe the villains. This was shown in "Hack-San," where Trixx didn't like the idea of Alya using the Ladybug Miraculous instead of his, even trying to take advantage of Alya's insecurity regarding her living up to Marinette's expectations to not have her use the latter's Miraculous.
Abilities
Trixx is able to fly, levitate, phase through solid objects and carry objects that are larger and/or heavier than him.
As a kwami, Trixx gives the wearer the power of illusion and transforms them into a fox-themed superhero by entering the Fox Miraculous. Whenever an underage wearer uses Mirage, Trixx begins losing power and eventually detransforms in about 5 minutes. Then Trixx has to recharge by eating.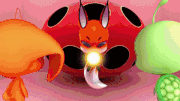 Without the restraints of an owner, Trixx can create illusions of anything he desires. Similar to Plagg, however, he is unable to properly control and channel it as his powers affect a wide area such as when he made the Eiffel Tower move unnaturally and unpredictably.
According to Trixx, his illusion powers in raw form could be strong enough to actually become real and affect the world around them.
Relationships
Trixx gets along well with Alya, impressed by her observational skills and heroic qualities. While liking her, he encourages her to do the right thing, complimenting her but also reminding her that she is trustworthy, the push Alya needs to respect Ladybug and return the Fox Miraculous to her.
In "Syren", "Catalyst", "Mayura", "Miraculer" and "Startrain", under the permission of Master Fu, he and his Miraculous are given to Alya to help Ladybug and Cat Noir. During their encounter in "Miracle Queen", Trixx had a concerned look of worry as he saw that something was wrong with Alya and that they were being used against their friends.
Despite not being seen by Alya, Trixx was happy to see her through Marinette's computer and was a little defensive when Daizzi wanted her as an owner in "Truth". During "Gang of Secrets", they meet again after his wielder breaks away from Shadow Moth's control. After his guardian's secret is revealed to his wielder, he and Alya have grown closer and the two continue to work together.
With the severity of Shadow Moth's attacks in "Optigami", Trixx and Alya continue to stay together.
Since moving in with Alya in "Sentibubbler", Trixx stays in the fanny pack his owner wears. Hearing Marinette voice concerns about Shadow Moth, Trixx remains confident like his owner. Upon hearing that Alya received a call from the mastermind himself about using her loved ones to betray Ladybug, Trixx trusted that his owner had a plan which she pulled off successfully.
In "Hack-San", when Alya had to fill in as Ladybug for the weekend, Trixx was a little sensitive that his owner was using Tikki's powers believing she couldn't save the city. He was surprised that Alya was still going with it reluctantly agreeing as Trixx advised her to be super careful.
In "Strikeback", Alya willingly renounces Trixx due to Shadow Moth figuring out that she is still Rena Rouge. Although sad that they have to part ways, he knows that she did the right thing.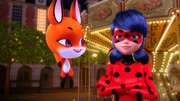 Even though their interaction is brief, he is trustful of Ladybug's judgment in picking Alya to wield the Fox Miraculous. He is also respectful and understanding towards Ladybug when the Miraculous is returned.
In "Kwamibuster", he is also helpful towards her when enacting her plan to rescue Tikki and Plagg from the titular villain.
After the events of "Miracle Queen", Trixx and his siblings move in with their new guardian. Despite peeking into Marinette's diary, he is helpful and respectful towards her. Aware that no one must know her secret, Trixx used his powers to protect Marinette in "Gang of Secrets". He also shows concern for Marinette when she works herself tirelessly in her efforts to stop Shadow Moth's reakumatizations.
In "Optigami", aware of Shadow Moth's deception and power, he gets the Guardian's permission to be with his owner.
In "Sentibubbler", upon hearing Marinette voice concerns about Shadow Moth, Trixx remains calm just like Alya, reassuring her he'll be safe. Seeing his guardian captured, Trixx and his owner are able to save Marinette, proving once again that his former keeper made an excellent choice.
In "Strikeback", aware of her owner's recklessness under the effects of Risk, Trixx understandably returns to her guardian.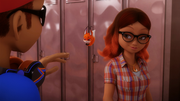 Though their interaction is brief, when Nino learns that Alya is Rena Rouge and asks why she never told him, Trixx reminds him that a superhero must keep their identity secret.
History

Click here to view the history of Trixx.
Sightings
Episodes
Others
Trivia
Trixx's name was revealed on October 7, 2016 during the Miraculous Ladybug panel at the New York Comic-Con.
His first appearance was revealed by the Miraculous fan "Kenya Danino" on August 5, 2016. She revealed the design on a clock she made that showcased all seven known kwamis.[7]

It was later confirmed that the design she had shared was, in fact, the real appearance of the character.[8]
After Trixx's name was revealed, along with some concept art, at New York Comic Con 2016 Kenya posted a piece of concept art of him by Nathanaël Bronn.[9]

With Trixx being the kwami of illusions and having a fox-based appearance, he shares a resemblance to Kitsunes from Japanese folklore which is also the Japanese word for "fox".

Trixx's name is based on the word "tricks" because in some folklore foxes are known for their cunning and trickery.

Unlike all the other known kwamis, during Alya's transformation sequence, Trixx is not shown entering his Miraculous during his wielder's transformation. Instead, a ball of light flashes when the Miraculous is activated.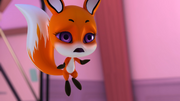 In some episodes, Trixx's eyes and scleras are decipted in purple. However, whenever he's with Alya in other episodes, Trixx's scelras are white.
Like Plagg, Trixx has used his power twice (at least), even though it was used once in "Gang of Secrets".
Trixx is the ninth kwami to be used for evil, though briefly, following Nooroo, Duusu, Plagg (in an alternative timeline in "Cat Blanc" and "Ephemeral"), Pollen (briefly in "Miracle Queen"), Liiri (briefly in "Miraculous New York"), Wayzz (briefly in "Optigami" and later in "Strikeback"), Tikki (in an alternative timeline in "Ephemeral") and Barkk (briefly in "Strikeback"). Trixx and his Miraculous were used for evil in "Strikeback" by Hawk Moth, who used them, with the Butterfly and Turtle Miraculous, for his Message Transmission.
Gallery
| | |
| --- | --- |
| Click here to view the gallery. | |
References