'Miraculous Lady Bug' Profile: Tikki
Play Sound
This article is about the character. You may be looking for the webisode.
"
Ahh! Help! It's a giant bug! A mouse! A... a bug-mouse!
"
Click here to see quotes from Tikki.
Tikki[13] is the kwami of Creation who is connected to the Ladybug Miraculous.[14][15] With her power, Tikki's wearer can use the earrings to transform into a ladybug-themed superhero.
Tikki and her Miraculous are currently active, used by Marinette Dupain-Cheng to transform into Ladybug.
Appearance
Tikki is a small brilliant crimson creature that is 10 centimeters (or 4 inches) tall.[11] She has a tiny body, a large head, dark blue eyes, and freckles across her face.[16] She resembles a ladybug, with two antennae, a large black spot on her forehead, back, and each side of her head, and a short tail with three tips aligned vertically. Tikki is also known for the ladybug species.
For more of Tikki's outfits and designs, see Tikki/Designs.
Personality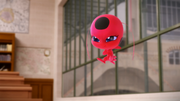 Tikki is calm and collected while being optimistic, kind, and encouraging.[17] She is very understanding towards others, commending Marinette for not telling Cat Noir her secret identity and comprehended with her parents' decision of grounding her, mindful that Ladybug's responsibilities for keeping her identity a secret is important.
She isn't judgmental as she is willing to give others a chance and respectful towards other people's privacy, trying to stop Marinette from looking through the phones of Adrien and Kagami, although she ended up helping to get the former's phone.
Although she can become annoyed or exasperated with others, Tikki doesn't stay upset at them for long, only wanting what is best for them and those around them. Though rarely seen, she does have a bit of a temper when Plagg refused to help their holders in their amnesiac state.
Having a lot of wisdom and is always looking for the bright side of things, Tikki is very open to giving advice, whatever practical or moral. She will call people out for bad decisions if necessary. She can be hurt or displeased when someone isn't paying attention or appreciates her, displeased with Marinette unintentionally disregards her gift to her. Unlike Plagg, Tikki is more honest with and tends to tell more things to Marinette, admitting to her the importance of a kwami's cycle. Likewise, she encouraged Marinette to be honest about her mistake and being disappointed with Marinette when she wasn't being honest with her feelings towards Cat Noir, Chris and her grandfather. Similarly, like Alya and Adrien, Tikki too values the trust she has with Marinette feeling guilty that she hid secrets from her.
Tikki believes in the importance of saving the world above her own needs, even willing to help Marinette transform instead of seeing Wang Fu and getting herself healed, meaning that she is dedicated to her responsibility as a kwami although a bit reckless. Despite her curiosity about her potential powers, she understood the danger of what would happen if she or any other kwami were captured with the Miraculous spellbook's knowledge, showing her loyal side. Tikki can act a bit rash if she needs to achieve something important, like getting the Miraculous spellbook from Adrien.
Tikki tends to take things literally, when Marinette asked the question, "Please tell me I didn't just do that?" and answered her. When Marinette asks someone to pinch her, thinking she means it or when she believes Alya is heading to a dentist because she didn't understand what a surprise party was or how humans celebrate their birthdays. Sometimes, Tikki shows a more playful and affectionate side, playing an air guitar solo with Marinette and playing a pretend fencing match with her.
She has a sweet tooth, which means she isn't a picky eater and is willing to try different foods to get her energy back up or just out of curiosity, but one of her apparent favorite foods is chocolate chip cookies as seen in multiple episodes.
However, according to Sass, when around things that are exceptionally good, Tikki's other side comes out where she goes crazy with her addiction for sweets, similar to Plagg's addiction for cheese. So much that she disregarded the rules and flew out into the open acting very gluttonous and ravenous to the point where she willingly and recklessly used her power without an owner to satisfy her hunger.
Her sensitive side is also seen as she felt ashamed about her flaws believing that she'd be hated or feared by those around her. Beside this, Tikki doesn't like being accused or blamed by others, as seen when the kwamis accused her for eating all the galette.
A rarely seen side of her is that she can be a bit hesitant and panicky in a time of crisis until she is reminded of her current task similarly like Marinette.
Unlike Plagg, Tikki is more responsible with her powers refusing to use them for personal gain or revenge, even advising her owners to do the same.
Abilities
General skills
According to Marinette, Tikki is quite observant, where she called Xavier Ramier a unique character like a "human bird", inspiring her owner to make a pigeon derby hat. Like Marinette, Tikki is very resourceful and quick-thinking, planning to contact with Nooroo while being aware of Akumas with Plagg and Wayzz (though this plan ended up failing), deciding to search for another holder to transform after she lost her owner, and lure Oblivio in the opposite direction of her allies' location.
As a kwami
Tikki is able to fly and levitate simultaneously. Tikki can pass through solid objects, such as a locker door so she can unlock while helping Marinette get Adrien's phone or the lock of Marinette's chains, which she opened when Captain Hardrock imprisoned everyone. Tikki can carry things that weigh more than her, such as bringing an apple to Marinette without struggle until she trips over a spool of thread, carrying a History Book without much struggle to even pushing open a door.
As a kwami, Tikki possess and can give the wearer the power of creation (good luck) and transforms them into a ladybug-themed superhero by entering the Ladybug Miraculous. Although unable to communicate to the wearer while they are transformed, Tikki usually knows what is going on during that time, being aware that Marinette wasted her power as Ladybug due to jealousy in "The Bubbler", saying to her that it was cool she complimented Alya when she was surrounded by the press earlier and seems to be aware of the effects of the magic ladybugs. After a transformation, she has to recharge by eating. She is also aware of the effects of the magic ladybugs. As seen in "Timebreaker", Tikki can sense whether a person is from the future or not if they are wearing her actived Miraculous.
When fed the correct potion, Tikki can access different forms and provide her holder additional abilities:
With the water potion, Tikki's form is known as "Aqua Tikki". She gives her holder breathing underwater and additional parts to their suit, such as flippers.
When fed the ice potion, Tikki can access a form known as "Stalac Tikki". She is able to provide her holder enhanced resistance to low temperatures and additional parts to their suit, such as skates.
When fed the space potion, Tikki gives her holder the ability to fly and survive in space. This is the only known superpower that shows Ladybug eating the magicaroon and not her.
Tikki can use her powers with Mullo's, Longg's and Pollen's, Kaalki's and Fluff's to create the hybrid wielders Dragon Bug; Multibug; Lady Bee; Pegabug and Pennybug.
She can automatically speak any and all languages in the world, as she does not know who her next holder will be, therefore not being able to tell what language they might speak, which could cause problems for both parties, due to language barriers.
As shown in "Dearest Family", when Lucky Charm is used directly by Tikki it allows her to create anything she desires, even things that don't exist yet. The object in question will be incredibly gigantic, large enough to block out the sun and disrupt the balance of gravity, potentially damaging nearby structures.
Depending on what it is, the summoned object can last for long periods of time, sometimes needing Plagg's power of destruction to get rid of it.
Whenever Tikki uses her Lucky Charm, she is surrounded by a pinkish aura that changes into a tornado of pink energy, while a winged humanoid manifestation is formed above her. Then all of it is turned into a concentrated beam that starts to create anything Tikki wants.
However just as her owners are able to purify akumas, amoks and restore everything that means it's likely that Tikki is able to do it too but it's unknown what her version of purification and restoration even looks like or if she can create Magical Charms.
Relationships

Click here to view the relationships of Tikki.
History

Click here to view the history of Tikki.
Sightings
Episodes
Comics and books
Other
Trivia
Tikki's current design is different than it was in the "Ladybug PV". In the PV, she is red with a dark brown four-leaf clover on her forehead and black eyes, and she is much bigger, being around the size of Marinette's head.
Tikki's name means "happiness" in another language.[18]
Tikki is based on ladybugs, who are known as symbols of love, good luck, and protection.
Tikki is the first and oldest kwami, having formed when the universe came to be, as revealed in the second issue of Miraculous Adventures.

Due to this fact, this means that Tikki is the oldest character in Miraculous Ladybug.

In "Oblivio", Tikki is shown to be ticklish.
In an interview, Mela Lee revealed that Tikki likes baking, but that she is too small to bake, and so she will spend time just reading recipe books.[19]
In "Bakerix", Tikki's amazement at the Channel Tunnel and at all the things humans have invented since the last time she had an owner implies that she didn't have a chosen owner before Marinette since at least before 1988.
There have been cases where Tikki has been accidentally heard or noticed by people.

Alya overhears Marinette's and Tikki's conversation in "Lady Wifi" and "The Mime".
Cat Noir almost sees Tikki when he is trapped with Marinette in "The Evillustrator", but Marinette manages to hide her.
Tikki accidentally flung out of Marinette's purse in "Princess Fragrance", and pretends to be a doll when Chloé finds her.

In the same episode, Marinette describes her as a special breed of cat to Wang Fu.

In "Animan", Alya overhears Marinette talking to Tikki over the phone, but she believes she is talking to her.
In "Pixelator", two civilians notice Tikki in Marinette's purse and she pretends to be a cat when being spotted.
Adrien's bodyguard sees Marinette talking to Tikki while she's in her purse in "Guitar Villain" and looks at Marinette suspiciously.
Tikki is almost seen by Cat Noir in "Befana", when Marinette attempts to transform but she stops before he gets to her.

While Wayzz holds the record for the longest time with an owner, Tikki holds the record for having that most known owners, albeit permanently, temporarily and unknown, with a total of 17.
In "Miraculous Shanghai", it is revealed that Tikki sees things in pink, meaning that she is partially color blind.
Tikki has the most unification transformations, as she has been unified with Mullo in "Kwamibuster"; Longg in "Miracle Queen"; Pollen in "Optigami", Kaalki in "Sentibubbler" and Kaalki and Fluff in "Strikeback".
Season 4 is the only season where Tikki does not appear in every episode.
Although it is shown that Tikki sees in a pink tint she states in "Syren" that "the blue one looks yummy". It is unknown if this is a mistake or not.
Tikki is the seventh kwami to be used for evil, though briefly, following Nooroo, Duusu, Plagg (in an alternative timeline in "Cat Blanc" and "Ephemeral"), Pollen (briefly in "Miracle Queen"), Liiri (briefly in "Miraculous New York") and Wayzz (briefly in "Optigami" and later in "Strikeback"). Tikki and her Miraculous were used for evil in "Ephemeral" by Shadow Noir, who used them, with the Butterfly, Peacock and Cat Miraculous, to make his wish come true.
Gallery
| | |
| --- | --- |
| Click here to view the gallery. | |
References