Stub
This article is a stub. You can help the Miraculous Ladybug Wiki by expanding it.
Reason: Images should be added/replaced.
The Sword is the tool of the Dragon Miraculous.[1].
It is used by Kagami Tsurugi when she is lent the Dragon Miraculous to become Ryuko.
Appearance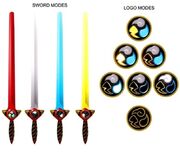 The sword has a red blade, a black spiraled hilt, and a golden cross-guard with pointed tips. At the center on the side at the cross-guard is a circle screen including three swirling icons: a cloud, a water drop, and a lightning bolt. Any of the icons can be filled in with color or colored outlines. The blade seemingly changes color in accordance with the icons on the cross-guard: yellow for the lightning bolt, grey for the cloud and blue for the water drop.
Abilities
The sword, like Ladybug's yo-yo, Cat Noir's staff and the rest of the Miraculous tools, is nearly unbreakable and has the power to cut through the solid steel of a car with ease.
Sightings
Episodes
Other
Trivia
The sword first appeared in concept art of Dragon Bug at the 2018 Comic Con Experience panel on December 6, 2018.[1]
The Dragon Miraculous is the second Miraculous to have a bladed weapon as its tool, the first being the Butterfly Miraculous' cane.
Gallery
Miscellaneous
Concept
References
v

•

e
Objects
Technology
Computers
Cellphones
TV channels
TV shows
Clothes and accessories
Clothes
Bags
Jewelry
Other accessories
Gabriel
Other objects
Marinette's creations
Books
Art pieces and artifacts
Films
Dolls
Foods
CDs
Miscellaneous
Community content is available under
CC-BY-SA
unless otherwise noted.