The Sword is the tool of the Dragon Miraculous.[1].
It is used by Kagami Tsurugi when she is lent the Dragon Miraculous to become Ryuko.
Appearance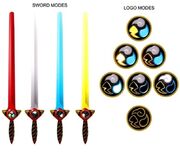 The sword has a red blade, a black spiraled hilt, and a golden cross-guard with pointed tips. At the center on the side at the cross-guard is a circle screen including three swirling icons: a cloud, a water drop, and a lightning bolt. Any of the icons can be filled in with color or colored outlines. The blade seemingly changes color in accordance with the icons on the cross-guard: yellow for the lightning bolt, grey for the cloud and blue for the water drop.
Abilities
The sword, like Ladybug's yo-yo and Cat Noir's staff, is nearly unbreakable as well as having the power to cut through the solid steel of a car with ease.
Sightings
Episodes
Trivia
The sword first appeared in concept art of Dragon Bug at the 2018 Comic Con Experience panel on December 6, 2018.[1]
The Dragon Miraculous is the second Miraculous to have a bladed weapon as its tool, the first being the Butterfly Miraculous' cane.
References
Community content is available under
CC-BY-SA
unless otherwise noted.