Spider-Man: No Way Home Trailer Dropped - The Loop
Play Sound
"
I am Grand-Master Su-Han, the Celestial Guardian of the Mother Box.
"

—Grandmaster Su-Han, "Furious Fu"
Grand Master Su-Han[2] is a celestial guardian of the Miraculous. He was the guardian in charge of watching over the Chinese Miracle Box before Master Fu until his Sentimonster ate him, the miracle boxes, the temple, and the Order of Guardians.
After the temple was restored by Ladybug in "Feast", Su-Han traveled to Paris to reclaim the Miracle Box, but ultimately decided to leave it with Marinette on a trial basis.
He is currently residing in Paris, keeping watch over Marinette from afar and getting accustomed to the modern world.
Appearance
Physical Appearance
Su-Han is stoutly built man with white skin, thin brown eyes and thick gray forked eyebrows. He is bald and has a strong jaw.
Civilian Attire
He wears a red and brown guardian monk suit while carrying a staff. He also wears old and torn shoes.
Personality
Su-Han takes his job very seriously, strictly following the rules. He was also strict towards Marinette when she violated the rules (albeit she didn't know of the other rules until he told her). He shows disrespect towards those who can't properly take care of the Miracle Box, as shown with how he disregards Master Fu for destroying the temple and losing the Butterfly and Peacock Miraculouses.
However, despite him trying to get the Miraculouses back let alone attempting to pick new candidates, he was unaware of the consequences he could have caused.
Unlike Ladybug who has an opened mind for endless possibilities or outcomes, Su-Han doesn't being a bit of a one trick pony as he observed the fight with Boniac in "Ephemeral". Believing only that Cat Noir and his powers were needed for the job as he didn't consider what could've gone wrong if the hero was there.
Su-Han is also unaware of technological advancement, believing that a movie character is actually a person trapped in Marinette's computer. Because of this, he's easily distracted when he thought the character "escaped" when it was just a recording on Ladybug's yo-yo. Knowing that times have changed, he was also open to learning more about the modern world.
Abilities
As a Guardian
Su-Han is fiercely skilled in the hand-to-hand combat style, Mirakung Fu, a style specifically designed for combating rogue Miraculous wielders. He was able to easily overpower and defeat Ladybug and Cat Noir.
He can use a special technique that can repel Akumas by calling upon a "whirlwind of wisdom" by saying "the virtuous wind resists the temptation" and repeating "My anger is mine, but I am not my anger".
Because he is a guardian, he can decipher the code in the Miraculous spellbook. He is also likely able to improve the health and read the energies of Kwamis.
He is also in possession of a staff that contains a magical compass that can track down the Chinese Miracle Box from anywhere in the world.
Relationships
Su-Han and Fu initially had a teacher-student relationship. The former admitted that he saw the potential in the latter, but Su-Han's opinion of Fu went soured when Fu was not able to complete the tasks the Order set for him. Su-Han also indirectly caused him to be akumatized when he rudely pushed Fu and his wife Marianne to steal the former's tracking cane. He eventually patched things up with his former student and let the former guardian live his life in peace with his memory as guardian now gone.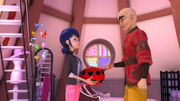 Su-Han was initially extremely disdainful of Marinette, seeing her as a child unfit to be Guardian of the Miracle Box as well as her ignorance and later disregard for the rules the Guardians must follow (albeit she didn't know of the other rules until he told her, Master Fu didn't tell her them or she didn't ask).
Eventually, through her actions, Su-Han admits that not only she is a capable Miraculous holder, but also a suitable Guardian. However, he also said he would keep an eye on her from afar and states he shall take the Chinese Miracle Box back if she fails, to which Marinette agrees and gives him a pair of modern shoes as a gift since his are torn and worn out, two laugh together right before he leaves.
In "Ephemeral", he arrived when Ladybug was getting the Snake Miraculous from Luka. He criticized her for handing out 9 Miraculouses to defeat an akumatized villain, when all she needed was Cat Noir. Consumed by fear that Ladybug didn't know Cat Noir's real identity and refused to listen to her reason of why, he forced her to find out, and if not, then he will take his Miraculous and find a new holder.
Later, he is told by Ladybug that Cat Noir is Adrien, and is satisfied with the result. But when it ended with Hawk Moth getting the power he desired, seeing it not go unnoticed it's likely he felt regret as he didn't listen to Marinette's earlier warning bordering disappointed himself as he let his fear get the better of him. However because of Sass using his power, he never learns his identity. But after Ladybug explains that his actions were based on his fears, he accepts this. Before he leaves, they do Ladybug and Cat Noir's "pound-it".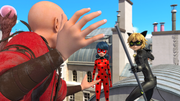 Originally, Su-Han didn't like Cat Noir due to him being a child and holder of the Cat Miraculous, and when Cat Noir refuses to hand over his Miraculous, they engage in combat. However, after Cat Noir and Ladybug defeat Furious Fu, he warms up to him.
Noticing Cat Noir's absence in "Ephemeral", Su-Han let his fears getting the better of him assuming he's like Hawk Moth. Refusing to let the Cat Miraculous run wild he forced Ladybug to find out his identity, and if not, then he will take his Miraculous and find a new holder.
Later, he is told by Ladybug that Cat Noir is Adrien, and is satisfied with the result. However because of Sass using his power, he never learns his identity.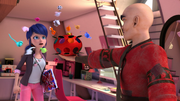 In stark contrast to Fu or Marinette who treat the Kwamis as companions and allies, Su-Han views them as cosmic beings of incredible power who must be controlled, especially Plagg who should not roam freely without supervision of a holder due to being too dangerous with the power of Destruction that caused the extinction of Dinosaurs and Dragons.
Sightings
Episodes
Trivia
His name is derived from the English word Swan, which means "Cygne" in french. The swan being a bird that flies, this is perhaps a nod to his function of Celestial Guardian and to his way of moving when he is in height.
A drawing showing Su-Han (among others) was shown at Lucca Comics & Games 2019.[2]
Su-Han is the third member of the Order of the Guardians to appear, with the first being Wang Fu and second being Monk.
He is the second person since, post-Master Fu's amnesia, to know Ladybug's true identity following Alya Césaire in "Gang of Secrets".
According to Thomas Astruc, he walked on foot to Paris, which is why his shoes are torn.[4]

This would also explain why he didn't come to Paris while Fu was still the guardian.
Gallery
| | |
| --- | --- |
| Click here to view the gallery. | |
References
v

•

e

Characters
Parisians
Teenagers
Children
Adults
Animals
Groups
Characters from the past
Miscellaneous
Future characters