Jurassic World: Dominion Dominates Fandom Wikis - The Loop
Play Sound
This article is about the episode. You may be looking for the sentimonster.
"
"Why don't you just give up on me? I've lost all the Miraculous! I'm the worst Guardian ever! I wanted to control everything! I didn't listen to you! I lied to you! I kept you at a distance! Every time you offered me a helping hand, I never took it! I really made a mess of everything!"
"M'lady... We're gonna get them back one by one, until the very last. And we'll make sure this never happens again!"
"You... and me?"
"You, the best superhero that ever was. Them, the people of Paris. [...] And me, your loyal partner."
"
"Strikeback (Shadow Moth's Final Attack - Part 2)" is a Season 4 episode of the series, Miraculous: Tales of Ladybug & Cat Noir. As based on the series' production order specifically, "Strikeback (Shadow Moth's Final Attack - Part 2)" is the 26th and last written and produced episode of Season 4, thus making it the season's finale. It is also the 104th written and produced episode of the series, overall.[1]
This episode is also the 2nd and final part of the Season 4 2-part finale, "Shadow Moth's Final Attack".
Synopsis
Unaware that they are under the influences of a powerful villain, Ladybug and Cat Noir are determined to get back to their lives as quickly as possible. They think everything is under control, but Shadow Moth is preparing himself for his first big victory. What will Ladybug and Cat Noir do to stop him?
Disney Channel
Shadow Moth's trap closes in on Ladybug and Cat Noir, threatening to turn their fate upside down.[5]
Plot
The episode follows the events of "Risk": Adrien finds Félix's revealer lens but hears Strikeback attacking the city and transforms into Cat Noir on the run. Meanwhile, on the roof of the Gare du Nord, Marinette Dupain-Cheng decides to transform into Pegabug and catch up to Adrien but is interrupted by the sentimonster. She decides to postpone the rescue and runs to fight it as Ladybug.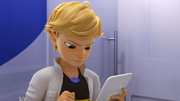 Meanwhile, aboard the train, Nathalie attempts to cheer up who she thinks is Adrien, and Lila expresses her hope of becoming close friends with Adrien. Félix agrees with them and leaves to the bathroom. He reaches out the fake Peacock Miraculous and Nathalie's tablet and is frustrated to discover that the Miraculous did not work. Upon breaking it, to his fury, he discovers that it's a fake.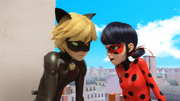 Back in Paris, Ladybug and Cat Noir agree to hurry up and defeat the villain as soon as possible. As they prepare to fight Strikeback, Risk makes the Parisians approach the villain and put themselves in danger, thus distracting the heroes. Affected by Risk, Cat Noir tries to use his Cataclysm, and Ladybug accidentally causes destruction when releasing the sentimonster from her yo-yo. The heroes argue, Cat Noir calling out Ladybug for never taking any risks nor taking the time to explain anything to him, as they dodge the sentimonster's fearsome punches. Cat Noir then claims that he doesn't need Ladybug to protect him, and that they'd never get akumatized, and she remembers the events of "Cat Blanc", then tells him that he doesn't know what he's talking about, to which Cat Noir chastises her for not telling him anything. Just then, Rena Furtive warns Ladybug just in time to avoid another punch, and, under Risk's influence, she thanks her out loud, revealing the fact that Rena was around to Cat Noir. The heroes continue rescuing the reckless Parisians.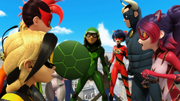 Ladybug rounds up the team, which splits up in order to fight Strikeback and protect the civilians at the same time. Vesperia, Purple Tigress and Polymouse soon discover that their powers, instead of affecting the villain, are only cloned by it. Ladybug orders the team to avoid using their powers, and they all gather at the city hall, Ladybug carrying Risk, whom she believes to be a regular child. Strikeback throws the Roue de Paris at the heroes. Ryuko protects the team by sending the wheel towards the Tour Montparnasse, and Carapace shell-ters Rena, making everyone, including Shadow Moth, aware of her activity. Disappointed for going behind her back and telling Nino, Ladybug promises to address this later. Risk taunts Ladybug and continues singing, and Cat Noir decides to carry him away. Rena Furtive notices that all the heroes and civilians have a frog mark on their necks as Risk launches Cat Noir, who realizes that they are dealing with an akumatized villain. Ladybug orders him to de-transform and brings part of the team to neutralize Risk while the rest limit the damage. Risk admits that he hid the akumatized object after they destroy all his belongings. Meanwhile, Cat Noir, influenced by Risk, decides to fight Strikeback and uses his Cataclysm, which is soon absorbed by the sentimonster. Ladybug, using her Lucky Charm yet doubting herself, decides to travel to the past and retrieve the akumatized object with the help of an ally who she believes hasn't been affected: Adrien.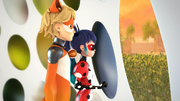 Unifying the Ladybug, Horse and Rabbit Miraculouses to become Pennybug, she travels to the train and bumps into Félix. She makes sure he doesn't have a mark on his neck and gives him the Dog Miraculous, encouraging him. Félix notices that she can access all the Miraculous from her yo-yo. He transforms and receives instructions, casually holding Pennybug's hand and yo-yo. The two enter a Burrow and return to the point when Froggy was akumatized, touch his stuffed toy with the ball and return to the present, where the team struggles to keep up with Strike Back. He uses his power, and Ladybug destroys the toy and reverts the damage, bringing Cat Noir back to his senses. Cat Noir overhears Ladybug praising the new hero, Flairmidable. Ladybug and Flairmidable leave to the sewers to recharge their kwamis, and Félix insists on fighting alongside her and promises to stand up to his "father", inspired by her.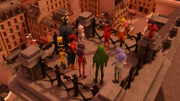 The heroes regroup, and Ladybug is excited to have Cat Noir and Flairmidable, holders of the Cat and Dog Miraculous, meet. She uses her Lucky Charm and asks Rooster Bold to clone the glasses she gets. Meanwhile, Flairmidable discreetly touches her yo-yo with his ball. Ladybug explains her plan of isolating the sentimonsters and teleporting them away, and Flairmidable shows concern. The heroes run towards the villain, but Flairmidable stays where he was and observes as the Shell-ter closes around Strikeback and they are teleported to the sun. He sympathizes with them and leaves just as Ladybug uses her Miraculous Ladybugs. Shadow Moth is frustrated by the fact that she has not made any major mistakes. Ladybug and Rena Furtive meet up, and the latter de-transforms. Alya apologizes to her for telling Nino, but Ladybug understands and relates. Alya tells Ladybug not to trust her with the Fox Miraculous again due to the riskiness and Shadow Moth knowing, and with her reluctant approval, renounces Trixx and tells Ladybug to retrieve the rest of the Miraculouses before she transforms back.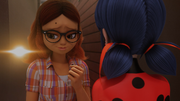 After taking back the Miraculouses, Ladybug goes to the sewers but can't find Adrien. Meanwhile, Flairmidable awaits Gabriel's return, who calls Nathalie to cancel the trip, and interrupts him, revealing his identity and causing Gabriel to drop the phone. On the train, Nathalie tries to reach out to him and explain that Adrien is missing but starts coughing uncontrollably. Lila smirks. Ladybug makes it to Adrien's room and asks him to return the Dog Miraculous. After she explains, Adrien tells her that she gave the Miraculous to Félix. Just under them, Flairmidable demands the real Peacock Miraculous, threatening to otherwise reveal the painting's secret code to Adrien and promising to hand over the stolen ring and Ladybug's yo-yo, containing almost every Miraculous. Gabriel hesitates and agrees, renouncing Duusu.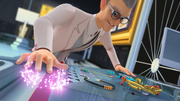 Flairmidable uses his power, and Ladybug's yo-yo disappears when touched by the ball and appears in Flairmidable's hand. Gabriel maniacally reaches out all the Miraculouses. Ladybug has a panic attack, realizing that she lost all the Miraculous. Adrien advises her to focus and allows her to de-transform in the bathroom to recover the yo-yo. Freaked out and doubting herself she ultimately agrees and cries in the bathroom as Tikki eats, pleading for there to be at least some Miraculouses left. A floor below, Flairmidable de-transforms and renounces Barkk, leaving his uncle with the magical jewels. Marinette transforms into Ladybug but, much to her despair, finds the yo-yo to be empty. Adrien, overhearing this, opens the door, but Ladybug is already gone.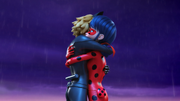 At sunset, on the rooftops of the Jardins du Trocadéro, Ladybug cries over the loss of the Miraculouses. Suddenly, an illusion of the message retriever appears inside with Shell-ter to protect his akumas in case Ladybug purifies them again. Hawk Moth with all the Miraculouses, now known as Monarch, threatens all the Parisians; including Chloé Bourgeois, promising to attack them more than ever, and that he will not stop until he gets Ladybug and Cat Noir's Miraculouses. Ladybug believes that all is lost, but Cat Noir comes, letting her know she still has him. Guilt-ridden, she apologizes to him for all the times she neglected him. He reaches a helping hand and promises that they will retrieve the Miraculouses, one by one, until the very last and promise that this will never happen again. The people of Paris cheer for the heroes, who prepare to face the villain.
Characters
Major characters
Minor characters
Trivia
Internationally, this episode first premiered in Brazil on Gloob.
This is the tenth episode to be named after a Sentimonster, the others being "Reflekdoll", "Ladybug", "Gabriel Agreste", "Mega Leech", "Guiltrip", "Optigami", "Sentibubbler", "Hack-San" and "Kuro Neko".
This is the second episode where a character fuses three Miraculouses together, with Marinette unifying the Ladybug, Horse and Rabbit Miraculous, after "Ephemeral" with Gabriel unifying the Butterfly, Peacock and Cat Miraculous.

This is the first time a hero unifies three Miraculouses.
This is the first time the Rabbit Miraculous is used by a non-adult user and in the current timeline.

The phrase "Strike Back" means to retaliate or counterattack. This is likely a reference to the sentimonster's power to copy the powers of Miraculous holders and 'strike them' back with it.

In the French dub, the episode is called Réplique, which means to reply, retort, or object, as well as to replicate.

With this episode, season 4 is the first season in which every Miraculous from the Chinese Miracle Box has been activated.

This also makes it the first season where all of those Miraculouses' superpowers were used.

This is the first second part of a two-parter where the beginning scenes overlap with the ending of the first part.
It's revealed that Félix has access to the translated Grimoire via the tablet that he stole from Nathalie in "Risk".

It's revealed that the Grimoire has instructions on how to wear and activate a Miraculous.

This is the fourth episode where a Miraculous holder who isn't Ladybug or Cat Noir uses the ear communicators (in this case, Rena Furtive, Carapace and Rooster Bold), after "Ephemeral", "Kuro Neko" and "Penalteam".
Ladybug's flashback of "Cat Blanc" shows she is still traumatized by the events of that episode.

This is also the 3rd appearance of Cat Blanc, following "Cat Blanc" and "Sentibubbler".

André Bourgeois mentions that "the magic of cinema" is "more exciting than power or money", which means he is starting to relive his dreams that he first mentioned in "Sole Crusher".
Clara Contard has a slightly deeper voice in this episode.
The scene of Ladybug giving the temporary heroes their Miraculouses is re-animated from the "Miraculous holders" scene in the Season 2 and 3 intro.
It's revealed that it is possible for the Mouse Miraculous holder to split into smaller clones even if they have already split themselves.
As of this episode, Cat Noir, Shadow Moth, and several Miraculous holders know about Rena Furtive's existence.

Ladybug also learns that Alya told Nino about it as seen in "Rocketear".

The Dog Miraculous' transformation phrase is "On The Hunt" and its detransformation phrase is "Lay Down".
Marinette becomes Pegabug (although offscreen), making this the first time a heroic unification is used more than once.
It is hinted that Adrien's world tour was a ruse to leave him out of the picture while Shadow Moth carries out his plan.
This is the second time Gabriel sends out a message through which the Akumas speaks his message, after "Stoneheart".
This is the first time the streets of Paris are shown as crowded.
"Shadow Moth's Final Attack" is the second two parter which each episodes' international premiere happens in two different nations after "Origins".
This is the first time Hawk Moth is able to finally have his victory, as he managed to take all the Miraculous inside Ladybug's Miracle Box, except for the Ladybug and Cat Miraculouses. However, he had to give up the Peacock Miraculous to Félix in order to obtain them.
This is the second time that a villain from a previous episode is deakumatized but not in their debut episode, following "Heart Hunter".
Félix has the same reaction as his uncle in Gabriel Agreste, where both characters were fooled to have some sort of jewelry.
This episode has the most people to renounce their Miraculous in an episode: Alya renounced the Fox Miraculous, Gabriel renounced the Peacock Miraculous, and Félix renounced the Dog Miraculous.
This is the sixth episode to not have a proper endcard, after "Stormy Weather", "Ladybug & Cat Noir", "Volpina", "Style Queen", and "Risk".
This episode's world premiere date (March 10) and English premiere date (March 12) is the closest to its Disney+ premiere date (March 16). Usually, after the last episode of a hiatus premieres on Disney, it takes 1-2 months for it to go on Disney+, but this time is only took 4 days for it to come on the platform.
The season ended in the same month it started in March.
Like "Miracle Queen", this episode also has many ironic and similar factors to other people and episodes as well.

Mentioned in "Félix", by Adrien's aunt that both boys did the same trick when they were young but this time their trick wasn't harmless.
Both Adrien and Marinette did actions that were selfish and it cost them something dearly as her actions in "Miracle Queen" cost Master Fu's memories and his actions led them to losing the other jewels. Also like in "Kuro Neko" and other episodes one small choice can either prevent or cause something big to happen both good and bad.
Upon figuring out that Félix was the one that betrayed Ladybug, similar to "Cat Blanc" and "Ephemeral", Adrien should've felt angry towards his cousin's actions yet guilty towards himself as he listened to Félix and it led to said mistakes.
Like in "Cat Blanc" with Marinette, Adrien will likely be blamed for something that wasn't completely his fault.
Aside from that, Chloé's actions still haunted Marinette, as the reason why she didn't give the jewels to the others (on a permanent basis) was because of her fear of what Shadow Moth would've done to them similar to what he did to Alya in "Sentibubbler".

In "Horrificator", as Hawk Moth, Gabriel mentioned that Ladybug didn't scare him but he was scared of consequences and yet was still in denial about them and was also indirectly responsible for placing that fear in Ladybug.

Félix criticized Chloé for being selfish in "Félix" but he proved to be more selfish than her.
Ladybug being embraced by Cat Noir like in "Miracle Queen" but this time it isn't done underwater.
When Cat Noir attempted to use Cataclysm but Ladybug stopped him, he criticized her about not taking any risks like knowing their identities or that he would never be akumatized is another callback to "Kuro Neko" and "Ephemeral".

Adrien seems to have forgotten his time as Cat Walker and Ladybug hesitating at first believing the sentimonster was him akumatized should've made him realize that is what Ladybug was scared of.
Hearing that Sass used his powers and aware of when a kwami does so disastrous results happen like Ladybug, Cat Noir too should've been aware that something did and more or less they could've arrived at the same answer.
And that maybe she didn't tell Cat Noir the consequences of knowing each others identities or she did and he forgot. Let alone not knowing he was almost akumatized in "Glaciator 2".
He also forgot about the consequences of using his power on a someone else if he dares to aim wrong calling back "Miraculer", "Miraculous New York" and "Simpleman".
Unknown to him it's already happened in alternate futures in "Ephemeral" and "Cat Blanc" but they were erased and it's also shown that Cat Noir hasn't been told of the incident.
Similar to his father in "Cat Blanc" and before that, he was making a promise he couldn't keep no more than she could because Adrien also didn't know that it nearly did happen to her in "Ladybug".
Also just as Ladybug was trying to protect Cat Noir from akumatization, he also tried to do the same for her by taking on her guardian responsibilities to prevent her akumatization but in different ways as Ladybug wanted to keep Cat Noir away while he wanted to draw her in.

However Cat Noir saying that he doesn't need protection is a callback to the over-protection he gets from his father as Adrien but when living the life a hero or with a team, a person only has themselves and their teammates to defend them. Just as Cat Noir said it's him and Ladybug against the world meaning until the others came they only had each other.

In a few other episodes like "Ephemeral", Marinette was right, Adrien is going to need saving from his father unknown to her, their friends and especially him that he is in the grandest of danger.
Félix used Adrien's predicament to further his own agenda similar to his uncle.
When Gabriel believed he wasn't worthy of Emilie's love he was wrong he was worthy but instead he panicked giving into fear and desperation if he had surrendered for his family and admitted he needed help then maybe none of this would've happened.
Marinette's beating herself up over the way she treated Cat Noir mirrors "Kuro Neko" where she did just that but this time she finally realizes the way she was neglecting him similar to Gabriel.
Alya giving up her jewel is a stark contrast to Chloé in "Miracle Queen" as Alya surrendered hers in the name of her loved ones while Chloé couldn't let go.
Similar to "Desperada" as Ladybug gave the Snake Miraculous to Adrien without knowing he is Cat Noir. Likewise, this happened due to Ladybug's troubled heart and feelings for him, as when she traveled to the train to give Adrien the Dog Miraculous she didn't know she gave it to Félix. While Adrien realizes the mistake he relinquishes the Snake Miraculous but Félix kept the Dog Miraculous to use for his own agenda.

Both times with "Heart Hunter", Ladybug's feelings for Adrien lead her to make a mistake that allowed Hawk Moth to obtain victory.

Ladybug has the same pressure from "Gang of Secrets", in which both situations evolve with the problems they can't face but her friends comforted her.
More or less Ladybug and Cat Noir are both in the same boat as both have enemies but they don't completely understand their enemy's actions.

For Ladybug, she knew that Hawk Moth wanted their powers to make a wish but she doesn't know what wish he wants.
For Cat Noir, it's Félix as his cousin betrayed his partner by stealing the jewels but didn't understand why he did it.

Like Chloe's betrayal, Felix's also foreshadows the betrayal Adrien will have to face at the hands of his father.
Very ironic is that Adrien and Marinette are in the same problem as his parents are in following the walk in a mile in each other's shoe tactic in "Reflekdoll".

As the Agreste couple recklessly continued the use of the broken Peacock Miraculous without the watchful eye of a guardian or a Ladybug to fix the damage. By giving into their own desires like Adrien they both unintentionally put others in danger: the people of Paris.
By refusing to stop they both lost or temporarily lost the thing that mattered the most for Gabriel: his wife and for Marinette: Adrien
Both were consumed by fear and an extreme desire control everything as they continued their endeavors: Gabriel feared of Adrien let alone anyone else discovering the truth. While Ladybug was desperately trying to stop her archenemy she feared his deceptive and sneaky nature and what he would do.

In doing so they rejected or ignored the proper help they needed Ladybug with Cat Noir and Gabriel with the Guardians.

Both became obsessive as: Gabriel tried to get the Ladybug and Cat Miraculouses to wake Emilie up and as: the duo gave in to their desires (Ladybug and love for Adrien and Adrien with his freedom).
Unlike Gabriel, the French duo cared about consequences of their actions following in "Multiplication".

Even without Risk and Strikeback, Gabriel didn't know he already won because he played on the heroes deepest desires. Furthermore it didn't matter what sentimonster or villain he needed to create because it would add up to one thing: Getting Adrien to leave which set both his son and Ladybug off. In a way Froggy didn't need to be akumatized at all which is similar to "Reflekta".

This is the seventeenth time, where Cat Noir attempted to use his powers on someone else following "Dark Cupid", "Princess Fragrance", "Despair Bear", "Troublemaker", "Malediktator", "Miraculous Shanghai", "Miraculer", "Cat Blanc", "Ladybug", "Miraculous New York", "Furious Fu", "Sole Crusher", "Queen Banana", "Guiltrip", "Hack-San" and "Simpleman" but the fourteenth time of his own free will.
In "Félix" Ladybug knows Adrien wouldn't behave in such a pushy manner and wasn't fooled by Félix's act, but now she was completely fooled by him. It's likely Félix had to perfectly act like how Adrien does, especially around Ladybug, while not showing his own traits.
This is thirteenth time where a previous Lucky Charm appeared in another episode.

However, the ticket in this episode is different from the one that appeared in "Ikari Gozen".

This is the twenty-fifth time in which Lucky Charm is summoned twice in a single episode following "The Bubbler", "Antibug", "Sapotis", "The Dark Owl", "Syren", "Style Queen", "Anansi", "Malediktator", "Mayura", "Miraculous Shanghai", "Reflekdoll", "Weredad", "Miraculer", "Oblivio", "Desperada", "Ikari Gozen", "Timetagger", "Heart Hunter", "Psycomedian", "Glaciator 2", "Hack-San", "Dearest Family", "Ephemeral" and "Kuro Neko".
One of the several times where an akumatized villain's object resembles Ladybug's Lucky Charm object.
This is also marks one of the few times a Miraculous holder's identity is revealed to another that is not Ladybug or Cat Noir. Flairmidable revealed himself as Félix to his Gabriel to make an exchange for the Peacock Miraculous. When Ladybug told Adrien about giving him the Dog Miraculous at the train, Adrien realized, and by the extension Cat Noir, that Flairmidable is his cousin.
Like with the Snake and Bee Miraculous, the Dog Miraculous was given to another instead of the previous holder. In this case, Ladybug gave to Félix who was pretending to be Adrien at that time instead of giving it to Sabrina.

Sabrina and Félix getting the Dog Miraculous mirrors Chloé and Zoé with the Bee Miraculous. Chloé obtained the Bee Miraculous and wanted to do good for the first time but got addicted to her own powers and got expelled from the team while Zoé got the Miraculous and she performed good deeds. Sabrina got the Dog Miraculous to do good by defeating Penalteam while Félix got the Miraculous and while he helped Ladybug find Risk's akumatized object he than defects and makes a deal with Gabriel.

Likewise, Chloé and Félix sided with Gabriel for their own actions. Chloé agreed to get Ladybug and Cat Noir's Miraculous as Miracle Queen and the Miracle Box, while Félix got Ladybug's yo-yo for Gabriel to have almost every Miraculous.

While Chloé is remorseless about siding with Hawk Moth, Félix did show remorse when betraying Ladybug.

However, he could have been showing remorse for the death of the sentimonsters, again implying that he is a sentimonster himself.

The summoning sequence of the evolved message transmitter resembles the eye of ender from Minecraft if paused.
In "Risk", Alya warns Marinette not to risk messing with someone's life, and at the train station Marinette declared she is ready to risk everything to bring Adrien back, this came back as an omen when Ladybug unknowingly handed the Dog Miraculous to Félix. Had she known that Adrien and Félix switched places or if Adrien had told his friends he was still in Paris, then she wouldn't have lost almost every Miraculous since she was doing this to help Adrien, not knowing he was home the entire time.

Likewise, Rena Furtive deduces that everyone in Paris had the mark of Risk. Given Adrien was asleep during the time Risk marked everyone in Paris, Ladybug would have at least realized something it was Félix pretending to be Adrien given Félix was out of Paris.

When Hawk Moth sends his message, Chloé is seen looking worried. This implies that she realizes how much of a threat Hawk Moth is.
Upon seeing Hawk Moth make his announcement Ladybug and Cat Noir are aware that he doesn't have the Peacock Miraculous but are unaware that Félix has it.
Flairmidable's transformation music is a high pitched version of Polymouse's transformation music.
Also Ladybug could trust Adrien when she confused him for his cousin as they were talking. If she was truly talking to Felix, he still would've been transformed or at least still wearing it and could have stolen her yo-yo right front of her knowing she would have to detransform to get it back therefore likely exposing her identity. And yet, if the Fetch command was used sooner Ladybug would've had a harder time getting back to the mansion or their destined hiding spot.

Ladybug's yo-yo disappeared under the effects of Fetch and when she thought Adrien was Felix she had forgotten that the jewels don't give additional powers to those who are detransformed. Since she was talking to the real Adrien there is no way he could've stolen her yo-yo unless the Dog Miraculous was used by someone else, as the heroine knows Adrien is no thief unknown to her she said the same thing about his alter ego in "Copycat".

Pennybug's hair style is a Japanese hair style called usagi buns. "Usagi" means "rabbit" in Japanese, and is the name of the protagonist of Sailor Moon, who popularized the hairstyle. Considering that Miraculous Ladybug is partially made by the same company who made the Sailor Moon anime, it's a high possibility as well.
Not counting unifying, this is the seventh time a character(s) appears as a Miraculous holder for a single episode, following Mister Bug and Lady Noire in "Reflekdoll", Aspik in "Desperada", Multimouse in "Kwamibuster", Scarabella in "Hack-San", Cat Walker in "Kuro Neko" and Caprikid and Miss Hound in "Pentalteam".
This is the final mission for the remainder of the Miraculous members except for Ladybug and Cat Noir.
This is the thirty first time where the background sequence for Cataclysm isn't seen following "Despair Bear", "Prime Queen", "The Dark Owl", "Zombizou", "Reverser", "Queen Wasp", "Catalyst", "Miraculous Shanghai", "Chameleon", "Animaestro", "Weredad", "Stratrain", "Feast", "Gamer 2.0", "Puppeteer 2", "Cat Blanc", "Ladybug", "Gang of Secrets", "Psycomedian", "Queen Banana", "Guiltrip", "Crocoduel", "Optigami", " Sentibubbler", "Hack-San", "Simpleman" "Qilin", "Dearest Family", "Kuro Neko" and "Penalteam".
This marks the eighth time a miraculous has its ownership transferred in the show following "Anansi", "Reflekdoll", "Desperada", "Kwamibuster", "Queen Banana", "Mega Leech" and "Penalteam". But unlike the others "Anansi", dealt with a holder who couldn't use it.
Errors
When Adrien picks up Félix's revealer lens his face doesn't reflect on it like in the same scene in "Risk".
When Ladybug's yo-yo disappears after she detransforms, trying to prevent Gabriel from getting all the miraculouses, Ladybug's yo-yo only disappears from Gabriel once Ladybug transforms into her hero identity again, instead of disappearing once she detransforms, unlike how it happened in "Mayura", where Hawk Moth's cane disappeared once Hawk Moth detransforms.

When Ladybug is retransformed, her yo-yo doesn't turn to dust like Hawk Moth's cane in "Mayura", instead just disappearing.

However, this might be related to the fact that the cane was already cataclysmed prior to disappearing.

The reason why the yoyo remained despite Marinette detransforming could've also been due to added affect of "Fetch".

Despite Félix reading the translated version of the Grimoire, the text on the tablet remains under the ancient language.
In one scene, Ladybug lacks the blue tint in her hair.
Rena Furtive zooms her flute on King Monkey and Carapace landing on a roof, even though Ladybug didn't call on him. This is because the scene was reused from "Risk".
While Risk is unarmed when he is under protection by Ladybug on a rooftop, he is later seen with a swinging baton attacking Cat Noir.
Ryuko's sword is yellow instead of red in multiple scenes.
When Pennybug creates a portal to enter the present timeline, Froggy's parents are nowhere to be seen as they enter through.
Pennybug creates two burrows in this episode. Yet in the next episode, she suddenly no longer understands how a teenage Miraculous holder such as Bunny Noir is able to use the superpower more than once.
When Froggy is seen being akumatized in the past, his expression is different from the one he had prior to his Akumatization in "Risk".

Although, it's possible it was still the same expression just seen from a different angle.
In the same scene, Froggy's mother has a line, but she didn't have one in the previous episode.

Throughout the whole episode, the spinning top has switched colors making the black counterparts yellow and the yellow counterparts black and Vesperia's braid is longer by a centimeter.
During Ladybug's first team plan that excluded Cat Noir, Purple Tigress' ponytail is stiffened than usual.
When Ladybug transforms into Pennybug, she is not equipped with the Umbrella, even though she is using the Rabbit Miraculous.
At the end of Félix's transformation into Flairmidable, the Ball can be noticed on his chest. However, the ball is later hinted to be on hips as he grabs it after when he learns how to active his superpower.
In the sewers where Ladybug and Flairmidable detransformed, Barkk is seen eating a macaroon the same as Tikki's, although she wasn't given one beforehand.
Before Ladybug is about to introduce Flairmidable to her teammates, Vesperia's fingertips are yellow. And when Ladybug introduces Flairmidable to the team, Vesperia's antennae are yellow instead of black, Minotaurox has Rooster Bold's weapon and the mark of Risk still on his neck, and Ryuko's body isn't complete.
In one scene, Flairmidable seems to be standing on top of Rena Furtive.
Flairmidable was able to produce his ring, even though rings go underneath a superhero costume, as seen in "Ephemeral".
When Gabriel takes the Turtle and Rabbit Miraculous out of the Yo-Yo, it is in its activated mode instead of its charged one.
When Félix de-transforms, his hair is in his regular hairstyle instead of Adrien's even though he was impersonating him.
When Ladybug says that then they can fight the sentimonster carefully and all the heroes leave, Vesperia's legs are orange instead of yellow, her back is completely black, and the Spinning Top, along with her antenna, are completely yellow.
When Gabriel takes out the Miraculouses from the yo-yo and places them on the glass surface of his table, the Bee Miraculous, Horse Miraculous, Tiger Miraculous, and Ox Miraculous are missing.
When the yo-yo disappears from Gabriel's table there are three Monkey Miraculouses, one in its regular charged mode, one in its folded charged mode, and one in Kim's camouflaged mode.
Some of the Miraculous logos on Hawk Moth's message are miscolored from what they should be; the Horse Miraculous is cyan instead of brown; the Monkey Miraculous is yellow instead of orange-brown; the Fox and Bee Miraculouses resemble a dark shade of their colors.
On the roof, after coming back to the present time, when Pennybug divides from Kaalki and Fluff, neither Kwami comes out of their miraculous.
Throughout the episode, Polymouse's skip rope kept appearing and disappearing in various scenes she was in.
When Nathalie starts coughing at the train, she doesn't wear Gabriel's ring.[6]
The episode's subtitle is incorrectly capitalized on Disney+ ("Shadow Moth'S Final Attack)
Gallery
| | |
| --- | --- |
| Click here to view the gallery. | |
References