We're Getting Mutants in the MCU - The Loop
Play Sound
The Staff, also called the Stick or Baton, is the tool of the Cat Miraculous.
The current owner of the staff is Adrien Agreste, who uses it as the superhero Cat Noir.
Appearance
The staff is shiny dark gray with a glowing green paw print near its upper end. It is retractable, and when it is not in use, Cat Noir usually has it attached to his lower back.
As Cat Blanc, the staff is the same color as the rest of his costume which is pure white.
Abilities
The staff, like Ladybug's yo-yo string, is nearly unbreakable and can be extended to unlimited length. Cat Noir can split it in half or changes its length to use it as a staff, sword, bridge, javelin, or vaulting pole.[1][2] On occasion, to stop something from moving or slowing down, his staff can also work as a blockade seen various episodes. When spun around at high speed, it can generate a gray-colored shield to deflect attacks or be used as a propeller to allow Cat Noir to safely land from great heights.[3] In "Anansi", it's revealed that Cat Noir was able to extend the staff to said great lengths by pressing parts of the paw print meaning unlike Ladybug's yo-yo the length of the staff isn't connected to Cat Noir's willpower. Like the other miraculous tools it can be used by other people.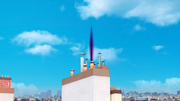 When the paw print button at the upper end of the staff is pressed, it slides open to reveal a screen. With this, Cat Noir can use the staff as binoculars, a tracker, a map, a phone, or an x-ray. He can also use it as a communicator to contact Ladybug or as a normal cellular phone.[4] In "Animan", when not used as a phone the staff has a storage compartment for tracers allowing Cat Noir to track anyone he tags anywhere.
In "The Dark Owl", "Gamer 2.0", "Queen Banana" and "Glaciator 2", like Ladybug's yo-yo, it's revealed the staff also has an ear communicator.
In and out of "Aqua Mode", the staff can also work as a breathing apparatus for those who can't breathe underwater, such as Cat Noir himself in "Reverser" and "Queen Wasp", and Ondine in "Mayura". In "Miracle Queen", it can also be used as a periscope when under water.
Due to the staff's ability to split apart, Cat Noir can use one section for his phone and the rest for fighting, as seen in "Oni-Chan". In "Weredad", it is shown that it can be split into at least four pieces. As seen in "Sentibubbler", the staff can be swung like a club and its force is enough to break a chimney. Despite the staff being thick and strong in "The Pharaoh", "Guitar Villain", "Santa Claws" and "Weredad", it's revealed to be bendable.
Seen in "Mayura" and "Optigami", the staff can be held while the holder has Cataclysm activated without being affected from it.[5]
As seen in "Glaciator 2", "Qilin" and "Ephemeral", the staff can be used as an umbrella, which Cat Noir uses to shelter from the rain or to deflect objects thrown by akumized villains.
Sightings
Episodes
Comics and books
Other
Trivia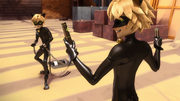 Ladybug has used the staff against Cat Noir during the times when he is under the control of supervillains.
Similar to Ladybug's yo-yo string, the staff is shown to be able to stop the weight of a bus seen in "The Mime" and "Glaciator" with ease meaning that it's capable of holding a weight of over 25,000 pounds or more all the way to speeding train and ferris wheel which was heavier.
On occasion, Cat Noir has a habit of resting his staff across his shoulders.
Sometimes, Cat Noir's staff can being used as well as still be on his back, in some episodes it was seen as an error and other times it was the staff's ability to split apart.
In the Miraculous spellbook, a drawing of the staff is colored black.
Copycat has a staff identical to Cat Noir's staff in "Copycat". However, he uses Cat Noir's staff to call Ladybug instead of his own.
In "Oblivio", Adrien's cellphone has multiple pictures of Ladybug, which he could've taken with his staff while transformed and when Ladybug wasn't looking, so the pictures could've transferred from his cat phone to his regular one.
Cat Noir's staff originally started as a crutch for Adrien as he was supposed to be disabled however, the producers and the broadcasters didn't trust themselves to write him well, so the idea was scrapped.
Gallery
| | |
| --- | --- |
| Click here to view the gallery. | |
References