The staff, also called the stick or baton, is the tool of the Cat Miraculous. The current owner of the staff is Adrien Agreste, who uses it as the superhero Cat Noir.
Appearance
The staff is silver in color, with a glowing green paw print near its upper end. It is retractable, and when it is not in use, Cat Noir usually has it attached to his lower back.
Abilities
The staff, like Ladybug's yo-yo string, is nearly unbreakable and can be extended to unlimited length. Cat Noir can split it in half or change its length to use it as a staff, sword,bridge or vaulting pole. When spun around at high speed, it can generate a grey-colored shield to deflect attacks or be used as a propeller to allow Cat Noir to safely land from high distances.[1] He has also used it as a javelin and a viewing pole.[2][3]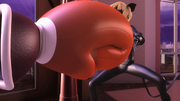 When the paw print button at the upper end of the staff is pressed, it slides open to reveal a screen. With this, Cat Noir can use the staff as binoculars, a tracker, a map, a phone, or an x-ray. He can also use it as a communicator to contact Ladybug or as a normal cellular phone.[4]
In and out of "Aqua Mode", the staff can also work as a breathing apparatus for those who can't breathe underwater like Cat Noir himself in "Reverser" and Ondine in "Mayura (The Heroes Day - Part 2)".
Sightings
Episodes
Comics and books
Other
Trivia
Unlike Ladybug's yo-yo, the staff can't capture akumas.

Ladybug has used the staff against Cat Noir during the times when he is under the control of supervillains.
In the Miraculous spellbook, a drawing of the staff is colored black.
Copycat has a staff identical to Cat Noir's staff in "Copycat". However, he uses Cat Noir's staff to call Ladybug instead of his own.
The staff can also split apart, as seen in "Lady Wifi", "The Evillustrator", "Horrificator", and "Dark Cupid".

In "Weredad", it is shown that the staff can be split into at least four pieces.
In "A Christmas Special", the staff is revealed to be bendable.
In "Dark Owl", it's revealed the staff also has an ear communicator.
In "Anansi", it's revealed the staff can be used by other people, and that it can be extended by pressing parts of the paw print.
Gallery
| | |
| --- | --- |
| Click here to view the gallery. | |
References