We're Getting Mutants in the MCU - The Loop
Play Sound

"
Well, yes, I'm a hypnotist. But, uh, I don't use my skills to get anything.
"

—Simon, "Simon Says"
Click here to see quotes from Simon Grimault.
Simon Grimault is a hypnotist.[2][3]
In "Simon Says", after Gabriel gets him disqualified from The Challenge by refusing to accept his challenge, he is infected with an Akuma by Hawk Moth and becomes Simon Says, a supervillain who can hypnotize anyone.[1][4]
Appearance
Physical appearance
Simon is tall, having very wavy brown hair and dark cornflower bluish gray eyes.
Civilian attire
He wears a high-turtleneck collared white dress shirt underneath a dark gray vest with black buttons, along with a black bow around the collar. On top, he wears a dress jacket that's very pale fuchsia with vivid cerise circles with red swirled lines inside as a pattern, along with a black collar, black cuffs, and coattails. He also wears dark black slacks and black shoes.
As Simon Says
Simon Says is bald, his eyes are deep blue-violet, and his skin is purplish white. He wears a vivid green top hat with the bottom of the bill being black and a purple ribbon around the crown. A black mask is over his eyes, and the area close to the eyes is colored indigo. He wears a skin tight turtlenecked, butterfly sleeved jumpsuit below the head with a light gray collar and front, with a large black bow pattern on the front below the collar. The left side of the top of the suit is vivid green with a brilliant purple left glove and a sleeve edge, and the right side and bottom of the suit are brilliant purple with a vivid green right glove, vivid green sleeve edge, a vivid green left leg that starts in the middle of the upper leg, and a vivid green right leg that starts below the knee.
Personality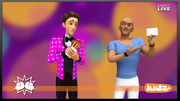 As Simon
Simon is soft-spoken, nice, and nervous. He likes his work, but he doesn't lie about his skills. However, he is upset if he feels wronged, bothered that he is kicked off The Challenge despite it being Gabriel's fault that he failed his task.
As Simon Says
As Simon Says, he is outspoken, eccentric, commanding, and overconfident. He thinks fast and uses his cards wisely to get people to do what he wants them to. He is persistent in succeeding to get revenge on Gabriel and get Ladybug and Cat Noir's Miraculouses for Hawk Moth.
Abilities
As a civilian
Simon is a skilled hypnotist and magician, using cards to hypnotize people.
As Simon Says
Simon Says uses his cards to control people and make them do his bidding. When he draws a card, he says "Simon Says", and then makes a command. A black and white silhouette picture relating to the command appears on the card. For example, when he makes Alec Cataldi act like a duck with one of his cards, an image of a duck appears on the card. Simon Says then throws the card at the person, and it fades into their body, causing the person to do whatever he has commanded them to do. He can give a person more than one command, like making Adrien's bodyguard act like a gorilla with one card and then making him attack Cat Noir with a second one, or he can make multiple cards with the same command at once, like using a handful of cards to transform a group of people into mindless followers. Cards can also affect objects, as Simon Says creates a card that breaks Ladybug's Yo-yo. He is also able to throw his cards like knives with incredible accuracy. It doesn't matter if the target can't hear him; as long as he gives a command, the person is controlled.
Sightings
Episodes
Comics and books
Others
Trivia
His villain form also appears in the theme song animatic.[4]
Elements of Simon Grimault's design, such as his face, hair, etc, bear resemblance to famous illusionist and escape artist Harry Houdini.
His villain name is based on the game "Simon Says", where a player is Simon and orders people to do something, but the other players must obey only if the orders start with "Simon says...".

In the French version, his name is Jacques Grimault, which is a reference to the French version of "Simon Says" called "Jacques à dit."[2]
His villain name in the French version is Jackady.

His akumatized form's outfit is similar to the Jester from Marvel Comics. Both outfits are half green and half purple.
A statue of Simon Says appears in the Musée Grévin in "The Puppeteer 2".
The color scheme of Simon Says is similar to The Riddler from Batman's Rogue gallery.
Gallery
| | |
| --- | --- |
| Click here to view the gallery. | |
References