Wiki Targeted (Entertainment)
Play Sound
This article is about the episode. You may be looking for the character.
"Sandboy" is the twenty-fourth episode of Season 2 of Miraculous: Tales of Ladybug & Cat Noir. Its US premiere was on December 14, 2018 (at 12:00 PST) on Netflix.[4]
Synopsis
The supervillain Sandboy uses his powers to turn the nightmares of Parisians into reality, forcing a Tikki-less Marinette to intervene.[5]
Plot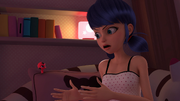 While watching Cat Noir memes, Marinette notices that Tikki seems upset about something. Tikki explains that it's Nooroo's 3500th birthday and he's spending it all alone. Marinette promises to free him from Hawk Moth one day, but Tikki claims that there may be a faster solution. She explains how whenever a kwami has a birthday, or cycle, the other kwamis are able to communicate to them by gathering inside the Miracle Box. Marinette finds this to be a great idea since they can find out where Hawk Moth is and asks when the kwamis must gather. Tikki explains that it's tonight, which shocks Marinette, as Tikki had not told her this sooner. Tikki explains that it's because Master Fu doesn't want the kwamis to leave their holders' side in case someone is akumatized. Marinette suggests that it's okay as long as the other kwamis are there, but Tikki explains that the communication might not work if she doesn't go, as the more kwamis are present, the better chance of success. She then explains a plan that Plagg came up with where she and he would go inside the Miracle Box with the other kwamis while Wayzz would stand guard and alert the two if anyone is akumatized. Marinette finds this to be a good idea and allows Tikki to go. Tikki grabs a yellow marker from Marinette's room and takes off.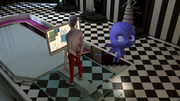 At the Agreste mansion, Nathalie wishes Gabriel a good night. After she's left, Nooroo attempts to leave Gabriel's side but is stopped by his master, who reminds him that he is not allowed more than a few feet away from him or to communicate with anyone else. Nooroo reminds his master that it's his birthday, but Gabriel stands his ground. He proclaims that since Nooroo doesn't seem to understand his rules, he cannot communicate at all. Nooroo attempts to speak, but his mouth is magically sealed. Gabriel soon lifts this rule, claiming that it was "just a joke". Suddenly the Butterfly Miraculous glows, alerting Gabriel that someone in Paris has negative emotions. He goes into his lair, transforms into Hawk Moth, and sends an akuma out. Meanwhile, in Adrien's room, Plagg tells Adrien that he's going to sleep but sneaks out, leaving a sock puppet of himself behind.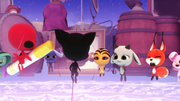 Plagg meets up with Tikki and asks her what lie she told her holder to sneak out, but Tikki explains that she just told Marinette the truth. Plagg wonders if he should try that and gobbles up a slice of Camembert. Tikki tells Plagg that he should've saved some for the others, but Plagg claims that Tikki's kindness made him hungry. The two kwamis go to Master Fu's massage shop and meet up with Wayzz, who warns them not to wake up a sleeping Master Fu. After Wayzz tells them to wish Nooroo a happy 3500th birthday for him, Tikki and Plagg go inside the Miracle Box. There they meet the other kwamis, who ask the two what they brought for them. Plagg explains that he had brought some cheese but then gave it to "a poor, starving kitten" while Tikki shows them the yellow marker. All the kwamis then start to dance as a way to celebrate Nooroo's birthday. Sass comments on how wise it was of Tikki's and Plagg's owners to allow them to come to the Miracle Box. Plagg nervously agrees while Tikki attempts to say Marinette's name as she replies. However, she cannot do so due to a spell that prevents kwamis from saying their holders' names in front of others.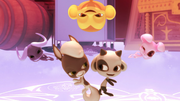 Marinette is sleeping in her room but is soon awoken by a zombie-like Adrien who keeps ranting about how much he loves Chloé. Marinette runs up to her balcony and sees the akumatized villain Sandboy, who chants,"The Sandboy just checked in! Now nightmares can begin!". Marinette tries to transform into Ladybug but realizes she cannot because Tikki is not with her. Marinette sneaks out to Master Fu's place while her father is attacked by a dough that has come to life. Meanwhile, the doors and windows of Adrien's bedroom are turned into cages. Adrien attempts to wake up Plagg but is horrified to find a sock puppet of him instead.
The kwamis all gather in a circle and sing in an attempt to contact Nooroo but have no luck. Plagg suggests that they bring in Wayzz, to which Sass agrees to. Plagg goes out of the Miracle Box and asks Wayzz. At first, he refuses since he has to stand guard, but when Plagg points out that it's their only chance of finding Nooroo and Hawk Moth, Wayzz goes along with Plagg. With Wayzz joining them, the kwamis begin to make contact.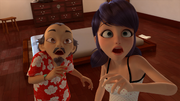 Marinette arrives at Master Fu's workshop and sneaks past a sleeping Master Fu. She tries to open the Miracle Box in an attempt to contact Tikki but doesn't know the code. Seeing no other options, she wakes Master Fu up, who becomes haunted by the ghosts of the Order of the Guardians who blame him for their downfall and the loss of two Miraculouses. The nightmare Adrien also breaks in through the door. Master Fu urges Marinette to transform, but she cannot because Tikki is inside the Miracle Box and there is no way to contact the kwamis when they're in there. Meanwhile, Adrien becomes trapped by more and more cage bars. Unable to transform without Plagg, Adrien screams for his father.
Hawk Moth notes that Sandboy is turning Paris into a huge nightmare and yet is confused by the absence of Ladybug and Cat Noir. Suddenly, he receives kwamis' communication. The kwamis are shocked to find that they have contacted Hawk Moth instead of Nooroo. Realizing what they are up to, Hawk Moth declares that he is going to find the kwamis and make them his slaves before attempting to locate them. However, the kwamis cut off the signal before Hawk Moth can pinpoint their exact location. Wayzz realizes that they cannot contact Nooroo because he's powering Hawk Moth, meaning that someone has been akumatized. Tikki, Plagg, and Wayzz quickly rush out of the Miracle Box and to their owners. They find Marinette, Master Fu, and the nightmare Adrien. Aware that the latter is not the real one, Plagg takes off to the Agreste mansion while Tikki and Wayzz go to their owners. Wayzz apologizes to Master Fu about not telling him what they were doing and Tikki helps Marinette transform into Ladybug.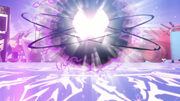 Hawk Moth tells Sandboy that he felt the kwamis' presence somewhere in the right bank of the Seine and orders him to find and capture them. Soon afterward, Sandboy spots Plagg and attempts to capture him but loses the kwami at the subway station. Plagg meets up with Adrien, who is relieved that he's not a sock and transforms into Cat Noir before using his Cataclysm to free himself from the bars.
Cat Noir sees all the mayhem caused by Sandboy and is soon joined by Ladybug. Cat Noir tells her that tonight was a total nightmare until she showed up, but Ladybug reminds him to stay focused. The duo then spots Sandboy and Ladybug deduces that the akuma is inside his pillow-shaped cloud. They fight Sandboy but have trouble dodging his attacks. So Ladybug calls on her Lucky Charm, but before she receives something, she is hit by Sandboy and loses her powers. Hawk Moth commends Sandboy for a job well done and tells him to take her Miraculous, stating that her nightmare is his dream come true. Before Sandboy can take her Miraculous, Ladybug is saved by Cat Noir, who is then hit by Sandboy, too. Yet despite that, Ladybug notes that he still has his powers. Cat Noir claims that losing them is not his greatest nightmare and soon spots another Ladybug who keeps ranting about how much she hates him. The nightmare Ladybug calls on her Lucky Charm and receives a sword, to which she starts attacking Cat Noir with. Despite this, the duo manages to dodge both Sandboy and the nightmare Ladybug.
The real Ladybug comes up with a plan. She and Cat Noir trick the nightmare Ladybug into hitting her sword against a building rail edge and then use a piece of the sword that chips off to cut open Sandboy's pillow, freeing the akuma. Ladybug uses Miraculous Ladybug to fix all the damage and then purifies the akuma. Once everything is returned to normal, Ladybug walks over to the boy who was akumatized and asks what happened. He explains how he had watched a scary movie on TV, had a nightmare, and then woke up to find a black butterfly in his room and a man speaking right to his face. Ladybug realizes that Hawk Moth fed off of the negative emotions of a nightmare. Cat Noir also expresses his belief that kids shouldn't be allowed to watch whatever they want on TV. Before he takes off, Ladybug asks him if he really thinks that she is as awful as his nightmare. Cat Noir assures her that that's not the case and takes off.
Sometime later, Master Fu appears furious about the incident. Wayzz, Marinette, and Tikki all attempt to take the blame while Plagg agrees that the incident was their faults. Tikki expresses remorse that she let Marinette down, but Marinette assures her that she's not disappointed, earning her a hug from her kwami. Master Fu tells them that next time, they should talk to him instead of sneaking behind his back. After noticing how well Marinette and Tikki get along, Plagg scoffs and goes back to Adrien and hugs him, thanking him for letting him do whatever he wants most of the time. Adrien, understanding what it's like to have restricted freedom, tells Plagg that he doesn't need to sneak away from him. Plagg hugs Adrien again, calling him the best Cat Noir he has ever had. Then he reminds himself not to get too cheesy about the situation.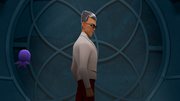 Meanwhile, in his lair, Gabriel tells Nooroo that he hopes he liked his friends' birthday gift, as now he knows that the kwamis are close and numerous. He declares that if he finds them, he'll take their Miraculouses and have unlimited powers in his possession, not caring if he has to fight an army of superheroes to get them. He laughs maliciously before the end card appears.
Characters
Major characters
Minor characters
Trivia
Errors
Gallery
| | |
| --- | --- |
| Click here to view the gallery. | |
References
Community content is available under
CC-BY-SA
unless otherwise noted.