Wiki Targeted (Entertainment)
Play Sound
"
So, Miss Penny, what's it like working with a star like Jagged? He seems so cool!
"

—Sabine To Penny in, "Troublemaker"
Click here to see quotes from Sabine Cheng.
Sabine Cheng[3] (original birth name Cheng Xia Bing [1] or Xia Bing Cheng in western order) is a highly upheld merchant and the co-owner of Tom & Sabine Boulangerie Patisserie.[7][8] She is the wife of Tom Dupain and the mother of Marinette.
In "Ladybug", after believing Marinette to be a liar and a thief, she is nearly akumatized by Scarlet Moth into Verity Queen. However, her akumatization is interrupted because of Nathalie Sancoeur's illness and it is never fully completed.
Appearance
Physical appearance
Sabine is a short woman who has short black hair with blue highlights and gray eyes.
Civilian attire
Sabine wears a white Cheongsam with a red, black and gold plant design, periwinkle pants and black and white dress shoes. She wears a silver band on her ring finger.
For more of Sabine's outfits and designs, see Sabine Cheng/Designs.
Personality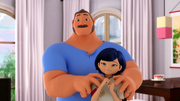 Sabine is a gentle, kind and loving woman to her family and the people around her. However, she is a good responsible parent who will discuss issues with her daughter and give punishments like grounding her at the worst. Sometimes, Sabine is a bit nosy and over-involved, usually when it comes to Marinette with her crushes. She still keeps to her boundaries though, and she wants the best for everyone.
For the bakery, Sabine is warm and professional, often treating others respectfully. With great concern and compassion toward others, she helps those in need with selflessness, from people she doesn't know well like Lê Chiến Kim in "Animan" to people she knows personally like Marinette and Adrien Agreste.
In "Weredad", she isn't as hasty as Tom when he believed Marinette was in "love" with Cat Noir aware that the hero didn't return her feelings. In "Family", Marinette describes her as calm, gentle and never panics but tough and always finds the solution to every problem being described as Marinette's everyday hero.
Abilities
Helping her husband run the bakery, Sabine knows how to bake pastries, including cakes and macaroons. She also can manage the front desk and cashier for selling the pastries.
In "Troublemaker", it is shown that Sabine knows martial arts and can use this ability for defense.
During "Gamer 2.0", Sabine reveals that she's been secretly practicing on how to play Robo Mecha Strike III.
In Marinette's Instagram post, Sabine knows how to speak Chinese.[9]
Family
Tree
    = Male
    = Female
    = Gender Unknown
Notes
The lineage of Sabine Cheng's parents and uncle is uncertain.
In China, wives do not usually take on their husband's surname, keeping their own. Children usually take the father's surname.
Relationships
Sabine and Tom have been married for twenty years. A loving couple, they often show each other affection and support. They work well together at their bakery, and they come together for comfort in upsetting dilemmas. In "Timebreaker", she worries about looking her best for each other for their anniversary date, and in "The Bubbler", after the Bubbler's defeat and their release from his bubbles, they embrace. Sabine also makes sure her husband is ready for Career Day at Marinette's school before sending them off in "Rogercop".
In "Weredad", she tries to comfort Tom when the breakfast date between Marinette and Cat Noir doesn't go well, horrified when he is akumatized and embraces him when he's returned to normal.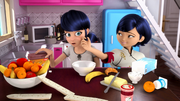 Sabine loves her daughter and supports her as Marinette's safety, happiness and success are important to her. Knowing her daughter's frustrations with school, Sabine reassures her that the new school year will be fine in "Ladybug & Cat Noir". She also worries where Marinette is during Stoneheart's attack in the same episode, wanting her daughter to not get hurt. While getting along strongly with Marinette, Sabine is reasonable and wise when it comes to disciplining her and expecting good actions from her. In "Simon Says", Tom and Sabine put Marinette under curfew because she is often absent from school. After her attendance improves, they lift the curfew, but as Sabine notes in response to Tom's confusion on Marinette's mysterious actions, the school must be demanding on her. She also teases her daughter, like in "The Bubbler" when she says that, if she has to tidy her room for her, she will stumble across all her private stuff.
In "Weredad", Sabine shows concern for Marinette when she couldn't be found when Gigantitan attacked. When she heard that her daughter was in love with Cat Noir she was amazed and yet when he mentioned being in love with Ladybug during a breakfast date she took the rejection a lot better than Tom did (unaware that Marinette was actually happy.) She was worried about Marinette when she was trapped in a maze of thorns but was relieved when she was returned safe and sound. She had full confidence in Marinette knowing she knew how to handle her own heartbreaks.
In "Ladybug", she and Tom became saddened that Marinette was expelled from school because of Lila's deception, which she at first doubted given the initial lack of apparent proof. She becomes almost akumatized by Scarlet Moth out of sadness and anger. After believing Lila's fake story that proved her daughter's innocence, she was happy that Marinette was allowed to go back to school the next day. In the alternate future of "Cat Blanc", she supportive towards her daughter about being a couple with Adrien but felt great sadness for both of them when Gabriel forced Marinette and his son to break up.
From Marinette's instagram page Sabine enjoys spending time with her daughter.[10][11][9]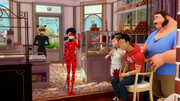 Sabine is unaware of Marinette's double life as Ladybug, as she meets the heroine in "Animan" without recognizing her as her daughter. Nonetheless, she is a huge fan and supporter of Ladybug, assisting her if she needs help and cheering her on in her victories. In "Lady Wifi", Tom and Sabine are seen watching worriedly when Lady Wifi threatens to expose Ladybug's real identity. When Ladybug destroys the akuma-made projection of Hawk Moth in "Stoneheart", they are thrilled. Sabine also shows her support to the heroine when taking part in the Paris Rebellion in "Mayura".
Sabine and Nadja are good friends. She and Tom make a cake that Nadja picks up in "Timebreaker". Sabine constantly assists Nadja by having Marinette babysit Manon for her.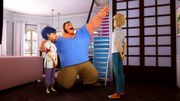 Sabine is well aware of Marinette's feelings for Adrien, telling the boy that her daughter constantly talks about him in "Gamer", to his apparent surprise. Liking Adrien and wanting to see him and Marinette together, she and Tom keep checking in on them in Marinette's room by bringing pastries for them, much to Marinette's embarrassment. Also, Sabine and Tom help search for Adrien when he goes missing in "Santa Claws", and they join others to check on him at the Agreste mansion after he returns. In "Befana", Sabine along with her husband and Gina admire the moment Adrien and Marinette as he gives her his gift.
In the alternate future of "Cat Blanc", she is supportive towards Adrien being her daughter's boyfriend and happy they were in love but felt great sadness for both of them when Gabriel forced Marinette and his son to break up.
Just as she adores Ladybug, Sabine is a fan of Cat Noir, pleased by his heroics and protection of Paris. Just like Marinette, Sabine is unaware of Adrien's double life as Cat Noir in "Animan" without recognizing him but lending him her help in hiding Kim. Sabine also shows her support to the hero when taking part in the Paris Rebellion in "Mayura".
In "Weredad", she was informed that Marinette "loved" Cat Noir but was aware he didn't return her feelings and yet she spent a little time with him during a breakfast date. Yet she took Cat Noir's rejection of her daughter fairly easy admiring his honesty when he was in love with Ladybug. When Cat Noir returned after Tom was akumatized, she told him there was no need apologize and trusted him to bring her daughter and husband back safe and sound. She commented him for his bravery calling him a very good boy and after the misunderstanding was cleared up she was happy that Cat Noir and Marinette were fine being friends.
History

Click here to view the history of Sabine Cheng.
Sightings
Episodes
Comics and books
Other
Trivia
Sabine was named after Thomas Astruc's girlfriend at the time, who is French-Chinese.[12]
Her family comes from the city of Wenzhou (温州市) in China.[13]
She's the only known mother in the series who doesn't have her last name changed.
As displayed by Marinette's phone in "Oblivio", Sabine's number is +33690250.
She and Marinette are the only ones in their family that haven't been akumatized.

Like Marinette, Sabine was nearly akumatized by Scarlet Moth in "Ladybug", but because of Nathalie's condition they both narrowly avoid it.

In Marinette's instagram page Sabine enjoys mediating with Marinette.
According to Marinette, she calls Sabine and Tom a "one true pair".
Sabine has a favorite tea shop mentioned in Marinette's Instagram post.[11]
In the Shanghai special, it is revealed that her name before moving to France was Xia Bing, but later changed her name to Sabine when she moved to Paris.
Gallery
| | |
| --- | --- |
| Click here to view the gallery. | |
References
v

•

e

Characters
Parisians
Teenagers
Children
Adults
Animals
Groups
Characters from the past
Miscellaneous
Future characters