| | |
| --- | --- |
| | This page lists designs and outfits for Rose Lavillant. Both final and conceptual designs are presented here. |
Final designs
Rose
Rose is petite with a blonde pixie cut hairstyle, pink lipstick, and periwinkle eyes.

She wears a shirt with light pink sleeves and top front, pink and white stripes on the front, a pink back that has a pale golden wing design, and string tied around her waist. She also has a pink mini skirt with two white edges at the bottom of the cloth, white leggings, two pink bracelets around her right wrist and pink dress shoes.
First appearance: "The Bubbler"
Princess Fragrance
Princess Fragrance's skin is a pale-like green, and her sclerae are light pink. Her hair is now pink with lighter pink edges on her bangs. It is longer and tied back into a rosebud-like bun, (hence her name) and detailed with black horizontal lines and black leaves around the bottom half. A black tube comes out of the top of the bun and hangs down to the back of her knees, and the end of her hair comes out of the end and is tied with a black band. As a mask, black paint is around her upper face and over eyes, a swirl below her left eye. She also wears pink lipstick.

Her outfit is black, covering her arms, legs, and neck. Narrow pink lines go down her puffed sleeves and puffed shorts, and they make a rose design on her chest. Her shoes are high heels, having pink heels and pointed pink tips to her toes. Her blaster is a dark purple tear-shaped bottle with pink horizontal lines, and the end is clear, rounded, light pink glass surrounded by dark gray leaf-like edges where it attaches to the bottle. Through the bottle and out of the end of the glass is a small dark gray pipe, which is where the perfume shoots out from. The handle and the trigger are thin, curled dark gray metal wire, and over one part of the handle near the back, there is a round, dark purple piece with indented lines spiralling around it.

After being reakumatized in "Catalyst", Princess Fragrance's appearance remains the same, except most of her body is colored red, and she wears a pin that resembles an akuma on her waist.
First appearance: "Princess Fragrance"
Knight minion
Transformed by Darkblade, Rose becomes a knight in dark gray armor with bright green designs on her epaulet and helmet.
First appearance: "Darkblade"
Younger Rose
In this past class picture, Rose wears her regular outfit. The difference is her hair is straight and shoulder length. She also has on pink sandals.
First appearance: "Reflekta"
Reflekta duplicate
After Reflekta zaps Rose, she becomes a physical copy of her.
First appearance: "Reflekta"
Winter outfit
Rose wears her regular clothes underneath a long pink turtleneck sweater dress with a soft pink collar, sleeves, and hearts stitched around her chest. She also has on a pair of soft pink mittens with white fuzzy cuffs.
First appearance: "Santa Claws"
Angelic minion
As an angelic minion, Rose's attire stays the same except it is turned pure white. However, she also wears a white face mask that has two golden stripes, covering her entire face, including her eyelids. She also wears a pair of white wings that has 6 feathers on each side. Each feather is mainly white and has a gold outline and a gold stripe on the center back. The bridge outline that connects the two wings is also gold, too.
First appearance: "Befana"
Rose wears her regular outfit, excluding the white stripes on her dark pink shirt, and she wears sandals.
First appearance: "The Notebook"
Final design accessories
Chef hat
During the class field trip at Le Grand Paris hotel, while she works in the kitchen, Rose wears a white chef hat with the hotel's logo on the band brim.
First appearance: "Pixelator"
Messenger bag
Rose's medium-sized messenger bag is white. It has gray trim around the opening flap, the bottom corners of the bag, and the strap. The bottom edge of the flap is also gray.
First appearance: "Volpina"
Derby hat
Rose wears a navy blue derby hat with a pale periwinkle bow ribbon attached towards the left side.
First appearance: "Despair Bear"
Necklace
Rose wears a necklace with a silver strand that has six magenta round beads, a fuchsia round bead, two purple heart-shaped beads, two pink beads that have small heart-shaped patterns on them, one pink bead that has a circle pattern on it, and a plain, round, sangria-colored bead.
First appearance: "Despair Bear"
Heroes' Day pin
To commemorate the celebration of Heroes' Day, Rose wears a pin that has the French flag, with a blue and white silhouette of the French Imperial Eagle symbol.
First appearance: "Mayura (Heroes' Day - Part 2)"
Comic designs
Swimsuit
Rose wears a pink bikini swimsuit with two white stripes around the waist on the bikini top.
First appearance: "Miraculous Adventures Issue 2"
Conceptual designs
Old concept Rose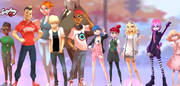 Rose is petite with light cerulean blue eyes and a rosy complexion. Her short blonde hair is windswept and curled at the end.

She has two dark pink bracelets around her right wrist and wears a soft pink ruffled short sleeve shirt. Her dark pink skirt with soft pink polka dots reaches the knees and flows out from her waist. Around her waist, she wears a three-piece black belt with two daisies on right side. Her shoes are pink slippers with white and yellow daisy flowers in the center.
Non-canon designs
Musical fairy costume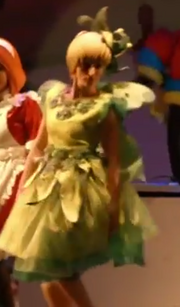 Rose wears a green fairy dress with overlaid leaf-like cloth, frilled short sleeves, and a detailed neckline. In addition, she has a green head piece detailed with leaf-shaped cloth, and she wears light green fairy wings.
First appearance: "Miraculous Ladybug (musical)"
Community content is available under
CC-BY-SA
unless otherwise noted.