She-Hulk Trailer Dropped - The Loop
Play Sound
"
I've been a police officer for fifteen years, and I firmly believe that every citizen is innocent until proven guilty.
"

—Roger, "Rogercop"
Click here to see quotes from Roger Raincomprix.
Lieutenant Roger Raincomprix[2][3] (also known as Agent Roger or, formerly, Officer Roger) is a policeman and Sabrina Raincomprix's father.
In "Rogercop", when he is fired by André Bourgeois for refusing to arrest Marinette Dupain-Cheng for stealing Chloé Bourgeois's bracelet without evidence, which would be in violation of the law, he is Akumatized by Hawk Moth and becomes Rogercop, a robot policeman supervillain.
In "Kuro Neko", Roger is reakumatized into Rogercop by Shadow Moth.
Appearance
Physical appearance
Lieutenant Roger is at a medium height and a bit overweight. He has short orange hair on the back and sides (but has gone bald on the top as revealed in Startrain) and eyebrows, vivid spring green eyes, and a large nose.
Civilian attire
His police cap is dark blue and has the word "police" written in all uppercase white letters. He wears a blue polo shirt with a badge with the flag of France on his right arm. His shirt has three buttons, and beneath them are light blue lines. On his right wrist, he wears a wristwatch and on his left wrist, he wears a medical bracelet. He also wears dark blue pants with a black belt, a baton attached to the belt, and black work boots. His silver police whistle dangles from his neck, like a necklace.
As Rogercop
Rogercop is grew taller and more muscular, and he wears a dark blue robot jumpsuit. His chest, hands, the underside of his upper arms, behind, back of his legs, and hips are black. The police whistle is still around his neck. Also, he has light blue lines around where his blasters are on the back up his forearms, around the black on his chest, and around the bottom of his feet. His skin is quite pale, and a hollow light blue triangle pointing downwards is at the center of his chest. His helmet includes a light blue line above a light blue shield in front of his eyes. His left shoulder and right shoulder have a blinking red light and blue light, respectively.
For more of Roger's outfits and designs, see Roger Raincomprix/Designs.
Personality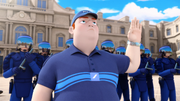 Roger is a very dedicated police officer, and he is firmly convinced that everyone is innocent until proven guilty. He disobeys André Bourgeois's orders to arrest Marinette without proof in "Rogercop", since that would be in violation of the law, resulting in him being temporarily fired. He is strict, as seen when he throws Xavier Ramier out of the Trocadéro in "Mr. Pigeon" because of his habit of feeding the pigeons. He is also prideful about the police's ability to handle situations, telling Ladybug that they don't need her help in "Copycat". He's known to be excessive when dealing with those who violate the law, as he piles tickets onto Adrien's bodyguard in both "Gigantitan" and "Gorizilla", as well as Anarka Couffaine in "Captain Hardrock", even for very minor offences. However, when he isn't focused on his duties, Roger is friendly, loving towards his daughter and nice to other people.
As Rogercop, he is a merciless, emotionless, and law-dedicated drone who makes civilians do what he considers to be following the law. He strives for order and obedience, and he doesn't take kindly to people questioning his authority. Revenge also motivates him, as he wants to make André suffer consequences for firing him.
Abilities
As Rogercop
Rogercop has blasters on his forearms that shoot handcuffs, one of them red and the other blue. When they attach to people, he can command them and blow his whistle to make them do whatever he wants, whether for a short period of time or continuously. The blasters can also fire tracking devices, which allow Rogercop to easily locate anyone or anything they attach to, like André Bourgeois' limousine. He is also able to attach his shoes to moving surfaces. Another ability of the blasters is shooting a laser beam, allowing him to break down doors.
His car, having got an upgrade when he was Akumatized, is able to fly. It also has an autopilot option so that he can do other tasks without having to drive.
Family
Tree
    = Male
    = Female
    = Gender Unknown
Relationships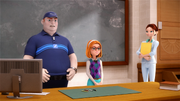 Sabrina is his daughter, whom he loves a lot. In "Santa Claws", he reassures her that they'll find her friend, the missing Adrien Agreste.
In the few instances Roger has interacted with Marinette, he treats her respectfully while still acting professionally. He silently and suspiciously stares at her when she retrieves a pigeon feather at the Trocadéro in "Mr. Pigeon", but he smiles at her after she leaves. Also, he defies André's orders to search Marinette for Chloé's bracelet in "Rogercop", as he firmly believes in not breaking the law and jumping to conclusions without solid evidence.
With Ladybug, Roger appreciates her and Cat Noir's work as long as they don't cause any trouble for the public or the police. In "Stoneheart", he accuses Ladybug of failing with Stoneheart previously and commands for her and Cat Noir to stay out of the police's way. The police officer and superhero also disagree about Cat Noir's innocence in "Copycat". Although stubborn at times with Ladybug, he knows that she truly cares about protecting Paris. In particular situations, he openly wants her and Cat Noir to save him and others, like when he and other police officers get captured by the titular villain in "Mr. Pigeon". Also, he sometimes shows pure gratitude towards her and her heroics, including when she destroys Hawk Moth's Akuma projection in "Stoneheart" and when her Miraculous Ladybug returns the Mona Lisa in "Copycat".
In "Frightningale", he apparently admires Ladybug enough that he auditions for the role of Ladybug in Clara Nightingale's music video, though he doesn't get the part.
As Rogercop, he sees Ladybug and Cat Noir as being no longer needed to protect Paris. It takes a little time before he starts thinking of them as lawbreakers, as once he replaces André as the head power of Paris, he declares Ladybug and Cat Noir as fugitives.
Roger doesn't know Adrien personally, however because he knows that Sabrina sees him as a friend, he determinedly searches for him with her in "Santa Claws".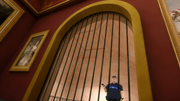 Rogercop feels the same about Cat Noir as he does with Ladybug, liking their heroics while not being troublesome to Parisians and the police. When Copycat impersonates Cat Noir and steals the Mona Lisa in the episode of the same name, Roger firmly believes that Cat Noir is the culprit, leading the superhero into a trap, but after the real culprit was deakumatized he started to be nice to Cat Noir again as seen in later episodes.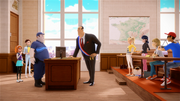 Roger respects and serves André, but he doesn't agree with André's impulsive orders that go against the law. Despite André commanding him to search Marinette, even stressing his authority as mayor, Roger stands his ground on not disobeying the law. While being Rogercop, he goes after André and blackmails him with his daughter so André will give Rogercop authority over Paris. After he is returned to normal, Roger gets promoted by André for finding Chloé's bracelet, and Roger thanks him, saying he is proud to be on the police force.
Sightings
Episodes
Comics and books
Other
Trivia
Rogercop's name is a reference to the titular character of the sci-fi movie RoboCop.
Roger becomes Rogercop a second time, the Puppeteer turning him back by using a doll of his villain form in the episode of the same name.
Rogercop reappears in the two-part special event "Heroes' Day".
A statue of Rogercop appears in the Musée Grévin in "The Puppeteer 2".
As with most of the characters in the show, Roger's names is a wordplay in French. In this case, Roger Raincomprix sounds like Roh j'ai rien compris, meaning "Er, I didn't get it".

His name might also be a reference to "roger", used by policemen and military in radio communications to indicate that a message has been received and understood.

He is similar to Bad Cop from The Lego Movie. Both are police officers who are antagonists with laser guns as their main weapon. They also both have flying police cars and have "cop" in their name.
The TV guide description of Rogercop mentions "Hawk Moth akumatizes Chloe's policeman father into the tyrannical Rogercop." This is an error an it should read "Sabrina's policeman father".
Although having only one akumatized form throughout the series, Roger comes in third place for being akumatized the most times behind Mr. Ramier and Chloé, having become Rogercop 7 times. ("Rogercop", "Catalyst", "Mayura", "Kuro Neko" and three other off-screen akumizations as seen in "Mr. Pigeon 72").
Gallery
| | |
| --- | --- |
| Click here to view the gallery. | |
References