"
Agh! That's the problem with superheroes. They're too... heroic!
"
The Quantic Universe is the universe where the story of Miraculous: Tales of Ladybug & Cat Noir takes place.
Summary
According to Thomas Astruc, "[The Quantic Universe] is the extended universe in which live Ladybug and Cat Noir. Ladybug is to the Quantic Universe as to what Spider-Man is to the Marvel-verse, or Batman to the DC-verse. Quantic Universe is filled [with] super-heroes in all countries, alien races, magic... Ladybug is just a tiny part of it. Hopefully, if the series is successful, we'll be able to explore it."[1] He also explained in an interview that while Ladybug, Cat Noir, and their relationship is the main focus of the series, the crew wants to keep expanding the universe, adding new characters and looking deeper into all of the Miraculouses stored in the Miracle Box.[2]
At first, Miraculous wielders were the only known type of superheroes. However, Thomas confirmed others with abilities unrelated to Miraculouses are in existence.[3] This was first confirmed in-universe in the second issue or Miraculous Adventures, where multiple superheroes unrelated to Miraculouses appear, including Majestia, Doorman, and Knightowl. The next issue introduces more non-Miraculous superheroes and reveals that there are various superheroes and super-powered threats around the world.
History
At the beginning of the universe, the first kwami, Tikki, came into existence. After her, other kwamis were formed throughout the early days of the universe whenever new ideas or emotions were born, such as beauty and love. They weren't able to be detected by humanity until a mage created the Miraculouses. Because of the Miraculouses, not only could kwamis can now interact with humans, they could also transform them into super-powered beings.
To protect the Miraculouses, the Order of the Guardians was formed, watching over and distributing the Miraculouses. Many Miraculous holders existed around the world at different times, including in ancient civilizations, the Middle Ages, and modern periods. Despite existing for many years, sometime in the 19th century, a mistake made by a young member in training named Wang Fu resulted in the Order of the Guardians falling apart, their temple getting destroyed, and the Butterfly Miraculous, Peacock Miraculous, and Miraculous spellbook being lost. Fu escaped, and he kept the Miracle Box with its remaining Miraculouses.
In the present day, many superheroes exist around the world. Majestia and Knightowl were well-known and popular, even having comic books based on them. An American superhero, Victory, was able to become the U.S. President, although she had to reveal her secret identity. Superheroes in America faced alien invasions and vicious supervillains. Often, superheroes around the world would join together in battling huge threats.
Meanwhile, in recent years there wasn't any kind of superhero in France. However, Gabriel Agreste found the Butterfly Miraculous and became Hawk Moth. With his superpower, he created other supervillains in order to bring out the Ladybug Miraculous and Cat Miraculous, take them away from their holders, and use them together to wish for a secret desire. Living in Paris at the time, Fu planned to fight back and stop Hawk Moth from making his wish come true, thereby circumventing its horrible consequences. After realizing he couldn't do it alone, Fu gave the Ladybug and Cat Miraculouses respectively to Parisian teenagers Marinette Dupain-Cheng and Adrien Agreste.
When the Trash Krakken caused major problems in New York City, a group of superheroes summoned Ladybug and Cat Noir to help them defeat it. The allied superheroes succeeded in their mission, with the Parisian duo also finding a mysterious black substance that had transformed a New York civilian into the Trash Krakken.
As the danger in Paris grew, so did Ladybug and Cat Noir, figuring out the powers of their jewels, growing in allies and not only that they also gained clues to figuring out Hawk Moth's secret dream.
In the future the French Miraculous superhero team return as adults as Paris is under the threat of a new Hawk Moth.
Geography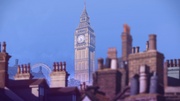 Paris, France is the primary location seen in the universe so far in the TV series. In "Startrain", Ladybug, Cat Noir and Pegasus defeated Startain and captured her akuma in the Big Ben Clock Tower in London. Other countries have been mentioned or referenced, including China, Egypt, Greece, Italy, the Patagonia region (in Argentina and Chile), the United Kingdom and its capital London, and Japan. The special "Miraculous Shanghai" will involve Ladybug going to China. Outside the TV series, Ladybug and Cat Noir journey to New York in Miraculous Adventures and team up with other superheroes to stop the Trash Krakken.
Achu, the kingdom where Prince Ali and his chaperone live, is a fictional country that exists in the universe. However, it is unknown where in the world Achu is.
Sightings
Episodes
Books and comics
Trivia
At San Diego Comic-Con International 2016, it was revealed that the universe would be expanded as a comic book universe, which would feature other Miraculous holders and other types of heroes in the world.[4]

In the second issue of Miraculous Adventures, Ladybug and Cat Noir journey to New York and team up with other superheroes to stop the Trash Krakken.
Miraculous: Tales of Ladybug is about Ladybug visiting Shanghai and meeting Chinese superheroes.[5]
Miraculous: Tales of Cat Noir focuses on Cat Noir visiting America and meeting new ZAG Heroez, suggesting that Miraculous exists in the same universe as them.[6]
Tales of Miraculous features stories of previous Miraculous holders from settings like ancient Egypt, China, Japan, and the Middle Ages.[7]

Real people from history, such as Jeanne d'Arc and Tomoe Gozen, and mythological figures, such as Herakles and Cernunnos, exist in this universe as Miraculous holders. Whether their histories and legends are the same or they have been modified has yet to be seen.

It is possible that Melodie, Kid Mime and Gavroche from Quantic Kids, a superhero team that Ladybug and Cat Noir were a part of in an unused concept, still exist in this world.[1]

Sparrow, another member of the unused team, is confirmed to exist in the universe as a superhero in the United States of America in Miraculous Adventures and "Miraculous New York.
Mercury, who was also a member of the team, appeared in Miraculous New York as an adult.
Previously, according to Astruc, it was also possible that Félix Agreste, the first version of Cat Noir before Adrien, still existed in some way there.[8] However, Astruc later stated that Félix will never appear.[9] Despite that, Adrien's cousin who is also named Félix in fact appeared in "Félix".

Majestia Issue #56, a comic appearing in "Ladybug & Cat Noir (Origins - Part 1)", is published by the company Quantic Comics, which is a reference to the Quantic Universe.
If he isn't able to explore the Miraculous universe, Thomas has another universe he's creating.[10]
Even though the Quantic Universe has some similarities to the history of the real world Universe there are some differences:

In Egyptian history, King Tut ruled Egypt 5000 years ago but in the real world it was King Menes.

King Tut's real world counterpart ruled 3,300 years ago.
He was married to Princess Nefertiti but in reality he was married to Ankhesenamun.
Also Nefertiti is depicted in reality as a queen.

In Mexican history, La Mariquita took part the War of Independence as a Miraculous holder in the Quantic Universe but she has no real world counterpart.
In Chinese history, the first known book (Miraculous spellbook) was created somewhere in between 2070 BC-221 BC but in reality the first printed book in China wasn't until 868 AD.
Multiple disastrous events such as sinking Atlantis, leaning the tower of Pisa and extinction of the dinosaurs in the real world was caused by natural disasters, faulty construction and many others reasons.

In the Quantic Universe all that destruction was done by Plagg when he used his powers in the past without his owners.

According to Plagg, genies do exist (in the Quantic Universe) but in the real world they are entirely fictional.
According to Su-Han, dragons do exist (in the Quantic Universe) but in the real world they are entirely fictional.
It's true in the real world people can live up to 100 years old and over but in the Quantic universe people can live close to about 200 years or more as in the case with Master Fu and his lifestyle or in the case of other the guardians who were trapped in place where time doesn't exist.
References
v

•

e

Places
Real life places
Museums and Monuments
Parks and Rivers
Bridges
Other places
Cities
Outside of France
Community content is available under
CC-BY-SA
unless otherwise noted.