Boba Fett Returns - The Loop
Play Sound
Non-Canon Information
This page is for a concept/character/etc. that didn't become, isn't considered, or hasn't been confirmed canon in the Miraculous Ladybug Quantic Universe continuity.
The Quantic Kids[1] was an old, unused concept of Ladybug and Cat Noir (Félix) being members of a superhero team, as requested by a producer. It failed to help sell the concept of Ladybug to broadcasters, which resulted in Ladybug and Cat Noir remaining as a duo.[2]
Sparrow exists in the Quantic Universe with Ladybug and Cat Noir, as seen in "The Dark Owl" and the comic book series Miraculous Adventures. Mercury also exists in it as seen in Miraculous New York. However, the fate of the other characters that made up the rest of the team is unknown. They may still exist in the Quantic Universe, but they may have been discarded in the same manner as Félix, with some of their attributes being incorporated into other characters.
Members
Early development members
Members added in later development
Gavroche — a male superhero.
Kid Mime — a male superhero with miming abilities. Producers replaced Sparrow with him.
Trivia
The Miraculouses did not exist in this concept, and the idea for them came to be after it was discarded.[3]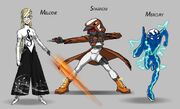 References
v

•

e

Characters
Parisians
Teenagers
Children
Adults
Animals
Groups
Characters from the past
Miscellaneous
Future characters