Spider-Man: No Way Home Trailer Dropped - The Loop
Play Sound
"
I think I'm higher on the food chain.
"

—Animan, "Animan"
Otis Césaire[1] is a zookeeper at Ménagerie du Jardin des Plantes. He is also the husband of Marlena Césaire and the father of Alya Césaire, Ella, Etta and Nora Césaire.
In "Animan", as a result of Lê Chiến Kim's mockery, Otis is akumatized by Hawk Moth and becomes Animan, an animal shape-shifting supervillain.[2]
Appearance
Physical appearance
Otis is a plump man with grayish tangelo eyes, and light brown skin tone. He has short brown hair with a full beard and sideburns.
Civilian attire
He rests glasses with large black frames on his forehead, but never wears them. He appears to be wearing a Hawaiian shirt that is pale yellow with pale pink and light amaranthtish gray palm designs. On his left wrist, he wears a bracelet that features the vampire's teeth. He also wears pale green jeans and brown work shoes.
As Animan
Animan can transform into any animal with a tails in different sizes he chooses, but will retain glowing brilliant blue-violet eyes and the akumatized bracelet on his wrist. The most common form he takes is a black panther.
For more of Otis's outfits and designs, see Otis Césaire/Designs.
Personality
As Otis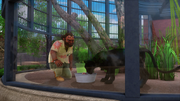 Otis is very serious about his job as a zookeeper and he feels that the animals there deserve respect. He doesn't like it when someone insults him and/or the animals. At the same time, Otis is loving and helpful, caring about his wife and daughters. He helps in the search for Adrien Agreste, who is missing, in "Santa Claws", and he and his family come to check on him once he is safe at home.
As Animan
As Animan, he supports the animals, setting them free. He goes for revenge against Kim for making fun of him and the zoo's new panther. Animan carefully chooses the animals he shape-shifts into to help him succeed, whether to get Kim or defeat Ladybug and Cat Noir.
Abilities
As a civilian
As a zookeeper, Otis is trained to work with and take care of a wide variety of animals, like panthers.
As Animan
Animan has the ability to transform into any animal he desires, even animals that are extinct such as Dinosaurs. He also has the ability to clearly communicate with other animals. However, transforming in rapid succession wears him out.
Relationships
Otis seems to dislike Kim to some extent. In "Animan", Kim and his friend, Max are looking at the new panther as she eats her food. Max tells Kim how fast the panther can move and he replies that he could easily beat the panther. Otis, the zookeeper grows aggravated by this comment and tells Kim not to bother the animal. Kim continues to taunt both the zookeeper and the panther by boasting about winning the County Athletics Tournament . Max pointed out that it would be much more likely for the panther to eat Kim rather than chase him, but Kim ignores the comment. Once again, Otis tells Kim to stop bothering the panther but he seemingly doesn't care about what Otis says. However though, Kim just remains persistent in mocking the "poor tomcat" and her "cranky nanny" as he and Max go away. Later, Otis was so upset by Kim's mockery that he gets akumatized by Hawk Moth.
As Animan, he goes for revenge against Kim for making fun of him and the zoo's new panther.
In "Santa Claws", he helps in the search for Adrien Agreste, who is missing. Later, he and his family come to check on him once he is safe at home.
Not is much as known about their relationship, but is revealed in Miracle Queen (The Battle of the Miraculous - Part 2), he is aware that he is dating his daughter, Alya Césaire, and was happy. He and his family starting to welcome Nino, and Otis starts treating Nino as his future son-in-law, it was seen as he is playfully patting Nino's back.
Family
Tree
    = Male
    = Female
    = Gender Unknown
Notes
All of the Césaires' first names are based on famous jazz singers.
Marlena is the only member of the Césaire family so far not to be Akumatized.
Sightings
Episodes
Others
Trivia
Otis' name is a reference to Otis Redding, just as the rest of his family's names are references to jazz singers.[3]
His name is never mentioned in "Animan".

Even though his name has been confirmed to be Otis Césaire, his name tag reads "Otis R." in the aforementioned episode.

Along with Wang Cheng and Lila Rossi, Otis is one of three characters who gets akumatized but does not appear in the Season 1 theme song. However, he and Wang Cheng make an appearance in the theme song animatic.
When asked what Otis' relationship is to Alya's family, Thomas Astruc jokingly replied that he is "Alya's younger brother."[4]
"Animan" is a play on the words animal and man.
Animan reappears in the two-part special event "Heroes' Day".
Gallery
| | |
| --- | --- |
| Click here to view the gallery. | |
References
v

•

e

Characters
Parisians
Teenagers
Children
Adults
Animals
Groups
Characters from the past
Miscellaneous
Future characters