House of the Dragon Trailer - The Loop
Play Sound
This article is about the episode. You may be looking for the sentimonster.
"
It's true you did make a mistake and that's why I'm gonna have to make a difficult decision. The most important thing is to learn from our mistakes and today I learned that I need an ally who can replace me in case something happens to me one day. From now on, you will keep the Miraculous of the Fox with you and I'm gonna tell you everything I know.
"

—Marinette Dupain-Cheng, "Optigami"
"Optigami" is a Season 4 episode of the series, Miraculous: Tales of Ladybug & Cat Noir.[4] As based on the series' production order specifically, "Optigami" is the 13th written and produced episode of Season 4. It is also the 91st written and produced episode of the series, overall.[1]
Synopsis
Disney Channel
Shadow Moth creates a fearsome supervillain while Marinette and Adrien can't transform into Ladybug and Cat Noir and Mayura creates a powerful sentimonster: Optigami. [5]
Plot
The episode starts with Gabriel and Nathalie on her bed. Nathalie reminds Gabriel that they found out the identities of some Miraculous holders during the events of Miracle Queen. Nathalie says that she created a sentimonster called "Optigami" after this day and that it followed all the Miraculous holders but never found out anything important. She says that sometimes Ladybug entrusts people with a Miraculous, but she has private rules that prevent anyone from revealing her secret identity. Nathalie mentions that even Optigami failed to follow her and that it is now useless but Gabriel disagrees saying that Optigami will be very helpful to reveal the identity of Ladybug. Then he points to the security vulnerability when Ladybug is retrieving the Miraculous. Then, Nathalie asks on how to gather all the Miraculous holders, which he calls Audrey who is upset with an employee. Gabriel tells her to have the ceremony to be won by his son in her introduction, which she promises that it won't be disappointed to him.
In Marinette's room, Alya explains about the invitation that Marinette received to the kwamis who asked why Marinette had been standing there looking at the invitation. The kwamis ask if they can come, but Marinette declines their offer since she is the guardian, but Trixx says that she could go because she has a holder, even Alya agrees since she knows her secret, but Marinette doesn't approve still. Later, some of her friends go the event, which Marinette and Alya are discussing their things, but Alya tries to have Marinette and Adrien together, so she tries to push Marinette into the elevator, but Marinette fears that if he and she touch hands but quickly tries to act like normal when she sees Adrien watching her. When the event is about to begin, Audrey seems furious at a crew member for not starting the show, but she explains that they are waiting for the show's moderator Alec Cataldi. Meanwhile, the sentimonster Optigami landed in a poster of Adrien watching them to show what its seeing, Nathalie sees that all the Miraculous holders in the event and she notifies Gabriel who is currently Shadow Moth. Shadow Moth walks in the bathroom, where Alec is playing a video game there, he takes an amok and creates a sentimonster of the moderator, the real Alec comes out confused about someone that looks like him. Shadow Moth commands him to go to the event, the real Alec is shocked and scared about the person posing as him. The Sentialec comes into the event and starts the show with humiliating Audrey, even Chloé starts laughing at her, but Audrey tries to humiliate him, but he keeps talking back to her making her a perfect victim to akumatize her.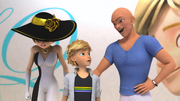 Shadow Moth feeling her humiliation sends an akuma to evilize her back into Style Queen who now has powers to turn people into golden glitter, Audrey accepts his offer and becomes Style Queen. The people at the event start panic to escape, Marinette and Alya alert each other, which Alya takes Nino to a safe place to be ready when Ladybug calls them for their Miraculouses, Senti Alec seems to still mocking her akumatized form and she responds that he will be the first to suffer, she aims but it misses him. Adrien who is protecting Chloé when Style Queen almost aims at him, but Kagami starts throwing chairs at her and tells Adrien to run to a safe area before she is turn into gold glitter. In the Nathalie's room, she notes that Kagami the holder of the Dragon Miraculous, has been defeated and command Optigami to search for the other Miraculous holders. Adrien runs into an elevator where he was about to transform but Marinette also comes into to transform and almost said "Tikki", but she told him about something else, they wait in the elevator and promise that Ladybug and Cat Noir will save them. In the event room, Style Queen is there seeing if there are others there, but Chloé shouts on where to find Alec but Style Queen refuses to listen since she laughed when she got humiliated on TV, so when she shoots to Chloé, she uses Zoé as her shield but both of them end up as gold glitter. Back in Nathalie's room, she noted that Chloé the holder of the Bee Miraculous is defeated and orders Optigami to find more of the other holders. In the emergency stairs, Max is seen guided others to run fast and escape the building immediately but Optigami sees this where Nathalie tells Gabriel where they are going, Shadow Moth tells Style Queen that the people are trying to escape which upsets her and transforms the building into a gold glitter building to trap them, then she shows up at the entrance of the building turning the people into golden glitter. Meanwhile, while they are stuck in the elevator, Marinette and Adrien try to get out but doesn't work, so Marinette texts Alya about her situation which Alya tries to guess who she is with and hints if she is an area with Adrien, which Marinette says yes to, then Nino receives a text from Adrien who says that he is trapped in the elevator with Marinette, which Nino seems happy since they are together, which Alya tries to laugh along with him, she tries to excuse herself to make a signal for Ladybug which Nino tries to join her but quickly makes an excuse that she has somewhere to go, she kissed Nino on the cheek and tells him that she will be back.
Later, Sentialec walks in the bathroom, which Shadow Moth tells him that he is no longer needed and the real Alec shocked escapes the bathroom and pretends that he was Sentialec before being turn into glitter by Style Queen. Shadow Moth alerts Style Queen that some people are trying to escape through the vents which she goes immediately, in the vent Luka and Wayhem are slowing trying to go unnoticed in the vent to escape but they see that Style Queen's beam shoots at them which they become glitter. In Nathalie's room, she notes that Luka the holder of the Snake Miraculous is eliminated. Back in the elevator, Marinette and Adrien are sitting waiting for Ladybug and Cat Noir to come, but Marinette decides to call the Kwamis using a phone that she had given to them for emergencies, she calls them which seems to be overheard by Adrien since they were loud, so Marinette tries to make an excuse that she is calling the fire department. She asks them to bring a horse which is Kaalki, but the kwami insists that she is talking about someone else and Kaalki suggests that she is talking about Fluff, but Marinette is convincing them that it is not Fluff.
Outside the lift, Style Queen hears Marinette voice from the lift. As a result, Optigami goes into the lift and sees that Marinette and Adrien is present inside the lift. Meanwhile, Marinette talks to kwami for the help. Suddenly, Adrien sees Optigami's eyes on the lift's wall and becomes alert. He goes to Marinette and signals to Optigami and tells her to be keep quiet. Understanding the situation, she ends the call. Both of them become tensed about the situation what to do. At the same time, Style Queen comes at the top of the lift. Realizing the complexity of the situation, Adrien and Marinette think that it would be better to reveal their identities to each other, so they can save people. Just when they start to express their secret identities to each other, saying that they have to tell something, Nathalie tells Shadow Moth that inside the lift, Adrien and her classmate Marinette are present, who are not in our list. So, Shadow Moth tells Style Queen that no one is present inside the lift. Thus, Style Queen, as well as Optigami both leave that place. Seeing that Optigami has gone, Adrien and Marinette gets relieved and ask each other what they were about to tell, to which Marinette tells that it was nothing important and Adrien tells that he was thinking what could be the strange eyes on the wall.
Marinette then tells Adrien that she will text Alya to get help. Then in the next scene, Kim seems tired after he ran from the stairs and states that he won as the bet he made to Max, but Style Queen says that everybody is a loser, then turns Kim into golden glitter. Back in Nathalie's room, she says that Kim the holder of the Monkey Miraculous has been eliminated. Shadow Moth then plans to get Alya and Nino, as they are the two remaining Miraculous holders, he tells Style Queen that there are two are left to find. Alya is on the stairs, then receives a text from Marinette who texts her the number for the emergency phone that she gave to the kwamis, she calls the number, but seems they can't answer her, she then receives a call from Nino, she cancels her call with Nino. Nino seeing Alya didn't pick up, probably suspects she has been turned into glitter, so he tries to not be seen and go somewhere where the villain cannot see him. Nathalie notices him walking alone, so she alerts Shadow Moth who then tells Style Queen his location, Nino walking fast to not be seen, then turns to see Style Queen turning him into glitter before he tries to run. Shadow Moth, then pulls an amok from his hand fan claiming that this will lure their last person on their list, he creates Sentinino from his ambition emotion, he tells him that he will help find Alya, Sentinino then calls Alya's name, while she is in the stairs who suddenly hears his voice calling her name, as she heard it, Kaalki's Voyage appears which Kaalki shows up telling her to get in. Alya then asks Kaalki about her using her power without a holder, Kaalki responds that she contributes to the extraordinary and doesn't cause chaos, then shows the Eiffel tower teleport to the dessert due to chaos from kwamis when they used their power without a holder. Alya then receives a text from Marinette who is informing that she brings the Bee Miraculous as she will need to use it for her plan, Alya goes to her art supply box containing the Miraculous and grabs the Bee and the Fox Miraculouses, she then transforms into Rena Rouge, she creates a Ladybug illusion to distract Style Queen. As she is about to leave, she realizes that she might bring the Turtle Miraculous to give to Nino, Longg then asks if the guardian said to do so, she responds as a precaution, Kaalki and her teleport back to the stairs with the illusion.
Rena Rouge checks if the villain is not there, then the illusion and her go separate ways, as she is about to meet up she hears Nino's voice calling her name still she runs to him, Optigami in the near distance blends in with walls seeing that Alya is transformed who is warning Nino not to speak so they don't get suspected by Style Queen. Nathalie seeing this notices she has a kwami with her, which she informs Shadow Moth who is shocked to hear that she has a kwami with her, Shadow Moth then talks as Sentinino asking why is she giving his Miraculous to him, Rena Rouge explains that she is doing something for Ladybug while she is battling Style Queen, she asks him to transform and help to defeat the villain. Nathalie says, that Ladybug and Cat Noir are the only people that give out the Miraculous until the moment they saw her, Shadow Moth then says that Alya is not just a normal Miraculous holder, but says that his plan will not be in danger, he speaks the transformations words through the sentimonster and Nathalie says to Optigami, that it must merge with the Miraculous which it does, then it runs to the area where Style Queen is battling Ladybug. Shadow Moth talking through Sentinino, informs that it will be his victory saying that Optigami will help succeed in his plan.
In the elevator, Marinette and Adrien are waiting, suddenly Rena Rouge appears, she says that Ladybug told both of them to move to a safe location when they defeat Style Queen, she tells Kaalki to use Voyage, which she does and grabs Adrien through the Voyage. Marinette then transforms in the elevator, Rena Rouge tells Adrien to stay in the place she has put for him, when she leaves Plagg suggests that they stay and wait until the villain defeat what the hero said to him, but Adrien transforms to get to the battlefield. Rena Rouge returns to the elevator, Ladybug compliments them, she then asks Kaalki about how many times she has used this power, but she probably guesses that there has been much chaos with the voyages that Kaalki used, then she puts the Bee Miraculous on, she unifies Tikki and Pollen to become "Lady Bee".
Ladybug and Rena Rouge arrive at the location, where Style Queen is batting the Ladybug illusion, she notices Carapace which she suspects that Rena gave Nino his miraculous, Rena responds that more help wouldn't hurt which Ladybug agrees since he is useful in the situation that they are in. Ladybug summons her Lucky Charm she tries to think of a way to defeat Style Queen with the object she has, but notices that she might not need her Lucky Charm to defeat, she tells Rena to call of her illusion, which she does. Lady Bee walks quietly to Senticarapace, which surprises him, she tells him that he will need to protect her, which he accepts, but Shadow Moth says that he will protect that her because nothing will stop him from winning and that he won't tell Style Queen, that he betrays her as Senticarapace. She then summons Venom, which Style Queen notices and tries to turn her into glitter, but Senticarapace summons Shell-ter on Lady Bee, which Style Queen seems more upset as she is trying to understand why her power is not working on her and she keeps firing until Lady Bee immobilizes her. Lady Bee divides Tikki and Pollen to become Ladybug again, which she breaks the akumatized object, she devilizes the akuma which Audrey is surprised to see Ladybug there. At the entrance of the building, Cat Noir summons his Cataclysm to break the door but sees that the building door is back to normal, which he opens with no problem.
Audrey is then seen to be saying that it is utterly ridiculous, but Ladybug secretly put the magical charm on her hat, Cat Noir then appears surprised to see Rena Rouge, Carapace and Ladybug, he questions how they got into the building, which Kaalki shows herself to introduce to him, which he sees. Ladybug then explains that she is sorry for not coming to get him, but it would have revealed his true identity, Cat Noir then flirts with Ladybug which she seems to be annoyed with. Ladybug calls Rena Rouge and Carapace to give back their miraculouses on top of the building, she tells Cat Noir to stay where he is, Rena Rouge explains that the villain was easier to defeat, which Senticarapace tells that she has good partners, they both detransform and gives their miraculouses back to her. Ladybug starts questioning her Lucky Charm which wasn't used in their battle, Optigami sees and hears her questioning, which Shadow Moth is full of excitement to see Ladybug fall into his trap. As Ladybug concludes that her charm was here to repair, she notices Nino's strange reaction to Alya, which he high-fives, instead of doing their secret handshake, which she remembers, so she turns around telling that they will need to be more careful since Shadow Moth knows some of the identities of the people that Ladybug has given a Miraculous to, so she points out that the Nino, that Alya gave the miraculous to wasn't the real one, but a sentimonster created by Shadow Moth, which shocks both Nathalie and Shadow Moth as they questioned on how she found out the deception. Alya in shock, sits on the floor, while Ladybug goes to the area where Cat Noir, she tells him to use his Cataclysm on the miraculous, at first Cat Noir is shocked since it is a miraculous, but she insists that he must do, so he does, Optigami comes out of the broken Miraculous, which cuts the communication of Nathalie and Shadow Moth angered by this, says that one day he will get her, he releases Sentinino from existence, also releasing Optigami from existence too.
Ladybug then throws her Miraculous Ladybug to repair the damage. After the repair, Cat Noir asks Ladybug how she knew there was a sentimonster in the miraculous. She tells him that her lucky charm showed her that something was missing still. She also says that Shadow Moth was almost close to figuring out her true identity. In Marinette's room, Alya is saying that Shadow Moth almost demasked Ladybug because of her choice of giving the Turtle Miraculous without Ladybug's decision, Marinette says that it's true that they are about to be found, but what's important is to fix mistakes and learn from it, also that she will need an ally to replace her if something happens to her. Marinette then gives Alya the Fox Miraculous permanently, telling her that she will teach everything she has known to Alya. The scene ends with both girls hugging each other. In Nathalie's room, Gabriel tells that they don't know their enemies well. He suspects that Alya is in a special position to the guardian, so they take an interest in her, hoping that she knows more about Ladybug than they do.
Characters
Major characters
Minor characters
Trivia
This is the fourth time Audrey gets akumatized into Style Queen, following "Style Queen", "Mayura" and an off-screen akumatization, as seen in "Mr. Pigeon 72".
This is the fifth episode to be named after a Sentimonster, the others being "Reflekdoll", "Ladybug", "Mega Leech", and "Guiltrip".

This is the second time the titular Sentimonster isn't related to an akumatized villain after "Ladybug".

It is revealed that Nathalie is still sick, and bedridden in her room, like in "Miraculous New York".

This is further supported by the fact that in "Lies", she sends a voice message to Adrien, without giving him his tablet like she usually does, how in "Mr. Pigeon 72", and "Queen Banana", she isn't with Adrien, holding the tablet Gabriel speaks from, instead of being held by Bob Roth, and Adrien, respectively, and the fact that she isn't seen at her desk, like she usually is, in "Mega Leech".

The thumbnail of the official trailer features Style Queen next to Optigami, making it the fifth one to have some other character other than the titular one on it, following "Ikari Gozen", "Félix", "Ladybug", and "Mega Leech".

This also makes Style Queen the sixth character to appear in more than one thumbnail, following Mayura, Lady Wifi, Princess Fragrance, Reflekta, and Malediktator, as she appears in the one for "Style Queen".

It's confirmed that Nathalie and Gabriel know the identities of all of Ladybug and Cat Noir's allies, following the events of "Miracle Queen", including that Nino is Carapace. Although, in Nathalie's screen, Chloé is shown to be Queen Bee, even though she was removed from the superhero team.

It's either likely Gabriel and Nathalie thinks Chloé would still use the Bee Miraculous or they don't know Chloé's position as Queen Bee is permanently revoked but still had Style Queen eliminate her just in case despite Shadow Moth seeing Vesperia in "Queen Banana".

Ironically when Style Queen eliminated Chloé, she also hit Zoé, the new Bee Miraculous holder.

As of this episode, they are aware of Ladybug's new look but don't know how she did it.

The clips of Nino, Kagami and Max receiving their Miraculouses, as captured by Optigami, appear to be from "Mega Leech".

If Optigami was spying on them in that said episode, Gabriel and Nathalie probably would have known about Zoé being the new Bee Miraculous holder, but since she wasn't seen on Nathalie's tablet, it is safe to say they don't know about her.

The concept art of Lady Bee had accidentally been released by Lindalee Rose in early 2021, but Thomas Astruc claimed it was old and discarded.

It's possible that the concept was reintroduced sometime later, or that it was deliberately denounced to keep its eventual appearance a surprise.
He also mentioned that the concept and final designs weren't the same, which is also true.[6]

It is revealed that Marinette gave the Kwamis an emergency phone in the Miracle Box which she can call when in danger.

Its contact appears as a blank red profile picture on Marinette and Alya's phones.
The fact that they can use a phone shows they have adjusted to modern technology since "Truth".

However, it's still unknown how they can be heard through the phone, as kwamis are not supposed to be visible or audible through technology.

Alya asks Kaalki the same question Ladybug asked Trixx in "Gang of Secrets".
Rena Rouge's transformation theme is changed once again.
It is shown that Sentimonsters can be Miraculous holders.

However, despite them looking like real humans, they don't or can't have the same memories as the person they look like implying that likely as long as they stay intact and how long they have been around humanoid sentimonsters can have their own memories.

As of this episode, Alya Césaire will permanently hold the Fox Miraculous, meaning she no longer needs Ladybug to give it to her.

Alya becomes the first person, after Marinette and Adrien, to get hold of a Miraculous from the Miracle Box permanently.

Marinette chooses Alya as her successor in case something happens to her the same way Master Fu chose Marinette back in "Backwarder".

Since Marinette was going to tell Alya everything it's likely she finds out about Lila's lying, Chloé's betrayal (if she didn't know before this), and possibly the identity of the other temporary Miraculous holders.

This episode included the most sentimonsters out of all other episodes, with Sentialec, Sentinino, and Optigami.
This is the second episode that features a post-credit scene, the first being "Miracle Queen".
Gabriel and Nathalie are aware that Alya has a "special status" since Ladybug became the guardian and decide "it's time for [them] to take an interest in her".
Due to the incident in "Miracle Queen" as Ladybug and Cat Noir, Marinette and Adrien are aware that Shadow Moth has been using the information he gained against them let alone spying on them.

Despite Chloé's betrayal and Shadow Moth's knowledge, Ladybug continued to give Miraculouses to their allies. Which is understandable because with the severity of Shadow Moth's attacks and there being no time to pick new charges as Ladybug realized that problem back in "Catalyst".

Meaning this shows that Ladybug trusts the other Miraculous holders except Chloé to use the Miraculouses she choose for them, as seen that she had Carapace, Pegasus and Ryuko help her out on other missions.

And possibly since most of their allies didn't break the rules of their free will, Ladybug likely felt sympathy for the others.

This is one of the few times where a Miraculous is destroyed. Within the current timeline, this is the fifth time a Miraculous is destroyed, following the Rabbit Miraculous and Cat Miraculous in "Timebreaker", Bee Miraculous in "Queen Wasp" and the Butterfly Miraculous in "Miraculous Shanghai".
Kaalki uses her powers the most in the episode.

She causes the Eiffel Tower to end up in a desert, the Arc de Triomphe and Grand Palais to end up on the moon, a train to end up under the sea, the TVi building to end up in a volcano, and a car, bus, and van to be left floating in space.

There are some references from previous Miraculous episodes:

The Lucky Charm being a powder compact like in "Pixelator" but unlike that episode this one isn't used to defeat a villain. Meaning this one of several episodes where the same Lucky Charm appears in two different episodes.

And like the mini Miraculous Box back in "Mayura", the mirror showed the same purpose warning Ladybug of danger.

This is episode has some resemblance to "Oblivio":

Both end up trapped in an elevator and are released by a kwami.
Both share a tender moment when their hands touch each other.
Luka and Wayhem sneaking through the vents to escape Style Queen is similar to what an amnesic Marinette and Adrien did.

Gabriel placing a sentimonster inside a Miraculous is similar to what Ladybug did with her Lucky Charm objects in "Santa Claws" and "Gigantitan".
Gabriel using a humanoid sentimonster to deceive and trick someone is similar to what Mayura did in "Ladybug".

Just like how he played on Alya's feelings for Nino, Gabriel played on Chloe's manipulating her back in "Miracle Queen" but unlike Chloe and "Lady Wifi"; Alya showed remorse for her mistake.

Alya nearly caused the same mistake as she did in "Lady Wifi".

However her mistake wasn't completely bad either despite giving the Turtle Miraculous to Sentinino, she saved Ladybug from becoming golden dust, therefore, giving Shadow Moth a victory and prevented him from spying on the heroes any further.

Like in "Simon Says" and "The Evilustrator", this is the first time Adrien meets Alya as her alter ego, Rena Rouge.
Alya not noticing the difference between her real boyfriend from a sentimonster doppelganger is the same trick the titular villain fell for in "Miraculer".
Ladybug going into the sewers to evade detection is similar to what she did in "Mayura" and "Desperada".
Like in "Cat Blanc", "Ladybug" and "Queen Banana", Gabriel set everything up.

According to Sass, horses and rabbits have a common ancestor. Technically all life on Earth has a common ancestor, but both horses and rabbits also belong to the group Boreoeutheria.
If the Optigami sentimonster has been active ever since "Miracle Queen", it's also likely or unknown that Gabriel and Nathalie knew about Su-Han's existence as a guardian too.
This is one of the several times where the summoning sequences for Ladybug's and Cat Noir's powers aren't seen.
This episode shows that Unification can also be ended by speaking a kwami's detransformation phrase.
Errors
In the English dub, Chloé's voice in the "Miracle Queen" flashback has a different tone than in the actual episode.
All of Audrey's Style Queen Magazine posters incorrectly spell "Magazine" as "Magasine".
When Kim walks to the elevators in the lobby, the blonde part of his hair is missing.
When Alya texts Marinette to help get her out of the elevator, the camera on her cellphone is missing.
Despite Kim heading to the award ceremony by taking the stairs instead of riding on the elevator with his friends, he didn't make it there in time until much later after Shadow Moth akumatized Audrey into Style Queen, but he can be seen in the audience sitting next to Luka while Sentialec is humiliating Audrey on live TV.
Although Kwamis cannot be seen or heard through technology, Marinette could still hear the kwamis through her cellphone.
When Ladybug fuses the Ladybug and Bee Miraculouses, the animation of her fusing (not the background) is reused from "Miracle Queen". As a result, the Dragon Miraculous erroneously appears on her neck.
When Nathalie is directing Optigami towards the elevator, she can see the Sentimonster through her tablet, despite the fact that she can only see things happening through its perspective.
When Lady Bee used Venom, she did not require her spinning top to activate it.
When Ladybug de-akumatized Style Queen, the Bee Miraculous vanishes and later reappears after she finished.

It later disappears again once Ladybug, Rena Rouge, and Senticarapace go on the roof. It's unknown if she took it off off-screen beforehand.

Before Ladybug secretly places the Magical Charm on Audrey's hat, the Bee Miraculous is back in its charged mode.
When Max got eliminated by Style Queen, his icon doesn't turn red on Nathalie's device like the others.
Max and the people with him appear in the wrong room after the Miraculous Ladybug is used.
Throughout the whole episode, the Peacock Miraculous on Shadow Moth's chest is in its activated form, instead of the charged.
Despite Max being taken before Luka, when Luka is taken Nathalie's tablet shows Max is still active, even though Shadow Moth then says 'Only 3 left'.
When Marinette entrust the Fox Miraculous to Alya, permanently, it is in its charged mode; despite the fact that Trixx was not inside it.
Kim's name was written as Kim Nguyen instead of his real name.
When Alya transformed in Marinette's room, it shows an old transformation with different eyes than her current costume.
Gallery
| | |
| --- | --- |
| Click here to view the gallery. | |
References