Cobra Kai Season 4 - The Loop
Play Sound
"
The boy I'm crushing on is you, Kim.
"

—Ondine, "Syren"
Click here to see quotes from Ondine.
Ondine is a swimming student.
In "Syren", after Kim ignores her, she is akumatized by Hawk Moth into Syren, a mermaid supervillain.[3]
In "Ephemeral", during an alternate timeline, Ondine is re-akumatized by Shadow Moth into Syren.
Appearance
Physical appearance
Ondine has peach skin, long red hair, brilliant turquoise eyes, and several freckles on her face and body.
Civilian attire
The only costume shown from her is a red-and-black swimming leotard, black swimming goggles with dark blue lenses, and a black swimming cap.
As Syren
As Syren, she has brilliant crimson skin, black freckles on her shoulders and elbows, and a lighter crimson face with smaller dark freckles. She has short vivid amaranth hair, and two silver circular horns sticking out of the top of her head. Her eyes are brilliant amaranth with light arctic blue sclerae. Her black strapless outfit has a fish-scaly look and a light pink lining. Her feet connect together to make a two-pointed pink fin.
For more of Ondine's outfits and designs, see Ondine/Designs.
Personality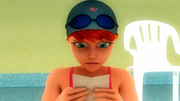 Ondine is a sweet and fun girl who enjoys playing games and swimming. She stays cheerful for the most part, although she can become incredibly upset and distressed when faced with huge disappointment, like Kim unintentionally ignoring her attempts to go out with him and showing interest in Chloé instead. She has a huge crush on Kim, even though he does not realize this for the most part, and is shown being overjoyed when Kim asks her to go out to the movies with him.
As Syren, her love for Kim becomes very possessive and obsessive, and she is determined to make him her prince. If anyone threatens her relationship with Kim, such as Ladybug or Cat Noir, she is easily provoked into attacking them. She is completely indifferent to the effects her actions have on others, never once considering the citizens trapped or hurt because of her flooding of Paris.
Abilities
As a civilian
Ondine is an excellent swimmer.
As Syren
Syren has the power to flood all of Paris with her tears and turn it into her own personal domain. She is able to swim incredibly fast and breathe underwater and is also able to blow bubbles filled with air, allowing others to breathe underwater. She says a kiss from her will turn Kim into a merman, allowing him to breathe and live underwater without a bubble, although we never see her utilise this ability.
Relationships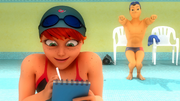 Ondine shows romantic interest in Kim in "Syren", but he is oblivious to her feelings. When akumatized into Syren, she plans to make Paris an underwater kingdom for the two of them. She has apparently tried to confess to him many times before but has never been successful. He does realize her feelings for him when she is akumatized, and at the end of the episode, he asks her to go to the movies with him, much to her joy.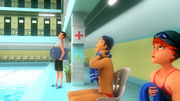 Ondine has not explicitly talked about them, but when she sees them jumping above the pool as they work to gather some escaped animals, she doesn't appear to be scared. In "Frightningale", she appears in Clara Nightingale's music video wearing a Ladybug mask, implying she likes Ladybug to some extent.
As Syren, she despises Ladybug as the latter tries to set Kim free multiple times. She has no problem attacking her and Cat Noir brutally to get her way.
Sightings
Episodes
Others
Trivia
Her akumatized form was first revealed in a promotional video for Season 2 from TFOU.[4]
Syren reappears in the two-part special event "Heroes' Day".[4]
Her name and her akumatized form might be a reference to an Undine, a species of water elementals or water nymphs.

Also, Ondine is the name of a girl from the film Ondine in 2009. Her role in the film was a mermaid who accidentally got caught in the nets of a fishing boat and got brought to land.
Gallery
| | |
| --- | --- |
| Click here to view the gallery. | |
References