Jurassic World: Dominion Dominates Fandom Wikis - The Loop
Play Sound
Click here to see quotes from Nooroo.
Nooroo[5] is the kwami of Transmission[6] who is connected to the Butterfly Miraculous.[1] With his power, Nooroo's wearer can use the brooch to transform into a butterfly-themed superhero.
Nooroo and his Miraculous are currently active, for he is forced by Gabriel Agreste to help him transform into the supervillain, Hawk Moth.[1]
At some point in the future, Nooroo and his Miraculous will fall out of Gabriel's possession and be used by an unknown person for the same reason as Hawk Moth: to acquire the Miraculous of Ladybug and Cat Noir.
Appearance
Nooroo is a light purple, butterfly-like creature who is 10 centimeters tall.[3] He has butterfly wings that have a long tail with a tip at the end of each lower wing and dark purple eyes. There is a slightly dark purple spiral mark on his forehead and one on each lower part of the back of his wings.
For more of Nooroo's designs, see Nooroo/Designs.
Personality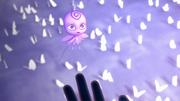 Nooroo is a knowledgeable, helpful, and empathetic kwami. He shows a bit of his curious side in "Gorizilla" when Gabriel thought Adrien might be Cat Noir. Like Wayzz, Nooroo has a formal side, calling his holder Master instead of his real name. Despite his intellect, Nooroo apparently can be too trusting for his own good as he apparently provided Gabriel with most of the information he desired without realizing his wicked intentions until it was too late.
Though he reluctantly succumbs to Gabriel's demands to help him get the Ladybug Miraculous and Cat Miraculous, Nooroo is distressed that he is helping someone use the Butterfly Miraculous for evil reasons. When Gabriel later learns that there are more kwamis and tells him that he wants to find them all, Nooroo is scared and concerned for his friends. But despite being afraid and worried deep down he felt great joy when his fellow kwamis were saved in "Battle of the Miraculous". Meaning that he never gave up hope that he'd be saved someday showing that Nooroo is hopeful.
In "Stormy Weather 2", Nooroo demonstrates a remorseful side, being aware of the damage that's been happening with his powers. He has also stated to Gabriel several times that his powers are not meant to be used in the way Gabriel is using them, showing a responsible side.
In addition to this, Nooroo is sometimes scared of Gabriel and is quite meek with him, such as in "Syren", when Gabriel interrogated him on how to obtain more powers. In "Sandboy", when he attempts to sneak away but is caught by Gabriel, he appears frightened and meekly tries to explain his motives.
Just like Tikki who took on some of Marinette's personality traits in "Hack-San", it seems that Nooroo is taking on Gabriel's habit of using drastic measures to fix problems. Remembering the encounter with Robostus, Nooroo hoped with him akumatized again they'd be free meaning like Gabriel he isn't thinking things through.
Abilities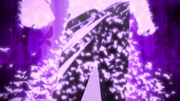 Nooroo is able to fly, levitate, phase through solid objects, and carry things that are larger and/or heavier than him.
As a kwami, Nooroo possesses and grants the wielder the power of Akumatization, transforming his wielder into a butterfly-themed superhero by entering the Butterfly Miraculous.
Like his fellow kwami, Nooroo can automatically speak any and all languages in the world, as he does not know who his next holder will be, therefore not being able to tell what language they might speak, which could cause problems for both parties, due to language barriers.
Similar his owners just as they can create akumas as well as give and take away powers from their champions that means it's likely that Nooroo is able to do it too but it's unknown what his version of akumatization, the reverse process even looks like, or if he can create Megakumas.
Relationships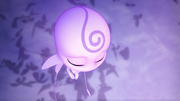 Nooroo is treated like a slave by Gabriel and is completely under his will. He isn't pleased with his treatment or being forced to help a villain, but he submits to Gabriel's commands as he has no choice and tells him everything he wants to know. While Nooroo does attempt to tell him that the Miraculouses aren't meant to be used for evil, Gabriel refuses to listen and even yells at him.
Nooroo isn't allowed to be more than a few feet away from Gabriel or communicate with anyone else besides him as seen in "Sandboy". He also isn't always sure what Gabriel is thinking or feeling, surprised when Gabriel renounces him in "The Collector" and "Queen Wasp". Despite his master mistreating him all the time, Nooroo still cares about Gabriel's condition as seen in "Mayura" after the latter de-transforms upon suffering from a huge defeat.
Nooroo continues to still care about Gabriel in "Miraculous Shanghai", when he voiced concerns about him messing with the Prodigious' guardian to the point of advising him to give up fearing Mei Shi's wrath, which he had a right to be scared, as Gabriel akumatizing him led to them both being eradicated.
In "Stormy Weather 2", despite being afraid of Gabriel, Nooroo does gain the courage to advise him to spend more time with his son and to stop his dark path before he loses him, though Gabriel refuses to listen and even seals his mouth shut.
Nooroo hasn't met Adrien in person, but he does know that he is Gabriel's son and expresses curiosity over the possibility of him being Cat Noir in "Gorizilla".
During "Stormy Weather 2", Nooroo is even caring towards Adrien. When Gabriel senses negative emotions, Nooroo believes that they might be Adrien's and advises Gabriel to spend more time with him. As well as telling Gabriel that, if he continues on his dark path, he runs the risk of losing what family he has left.
In "Ephemeral", Nooroo briefly meets Adrien, but thanks to Sass's Second Chance, their encounter was erased.
When he became active again 170 years after the temple's destruction it's mostly likely Nooroo believed that if he and Duusu had survived, then so did his friends. After the rise of Ladybug and Cat Noir, he became joyful that Plagg and Tikki were alright along with his other friends through the French Miraculous superhero team.
Nooroo appears to be quite close to the other kwamis and likely misses them a lot. In "Sandboy", the kwamis try to communicate with Nooroo to wish him a happy 350000th cycle and save him from Hawk Moth's control, but the plan goes awry. When Gabriel later tells Nooroo that he wants to capture all the kwamis as to have unlimited powers at his disposal, Nooroo becomes very concerned for his friends. As of "Battle of the Miraculous", his worry became a reality as Nooroo was likely aware that the Kwamis' powers were being used for evil.
But through the actions of Ladybug, Cat Noir and Master Fu, Nooroo likely took in the pleasure knowing that his kwami friends were safe and still held on to hope that they, along with their wielders, would rescue him one day.
Unlike Tikki and the others, Nooroo didn't know Master Fu personally, but through his siblings powers, was aware that they were under a guardian's protection and was happy that just like them a guardian had survived the Order's destruction as well. And like the others he too was aware of the Guardian's Code, and when Master Fu surrendered his memories, it's likely he was sad that he had to say goodbye to a guardian he didn't even know as well as couldn't give his thanks to Master Fu for protecting his siblings.
Nooroo appears to be friends with Duusu, and in "Reflekdoll", he seems to be deeply concerned for his sporadic personality. Duusu is currently the only kwami he is able to meet in person.
In "Truth", Duusu's Miraculous is repaired, which heals his scatterbrained personality, and he is ecstatic to see Nooroo, telling him how he felt like he was trapped in a nightmare being used for evil. Nooroo regretfully tells him that it was no nightmare right before both are forced to transform Gabriel into Shadow Moth.
History

Click here to view the history of Nooroo.
Sightings
Episodes
Comics and books
Other
Trivia
Nooroo's name is an African variant of the name Nuru meaning "born in daylight" or "light" referencing that butterflies are diurnal. His name also means "the time of night", referencing from his moth based appearance and that most moths are nocturnal.

The word Nuru also means "to paint; to plaster; to lacquer; to varnish; to spread; to smear; to put up (wallpaper)" in Japanese.

Nooroo is also the name of a locality in northern New South Wales, Australia, northwest of the town of Stroud.
Both the butterfly and the moth symbolize change or personal evolution. This is likely in connection with his ability to corrupt and transform others into his henchmen.
The swirl on Nooroo's head and the lower part of his wings resembles the proboscis of a moth or butterfly.
As of "Sandboy", Nooroo is the youngest of the known kwamis.
At present, Nooroo, along with Duusu and Liiri, are the only known kwamis to have fallen into the hands of a villain.
In Miraculous: Les Aventures de Ladybug et Chat Noir, Nooroo states that he grants the power of generosity.
In "Hawk Moth and the Akumatized Villains", Marinette has plans for Nooroo once he is free, by using his powers for good once Hawk Moth is defeated.
Nooroo is the third kwami to have his Miraculous destroyed as of "Miraculous Shanghai", following Plagg in "Timebreaker" and Pollen in "Queen Wasp".
Gallery
| | |
| --- | --- |
| Click here to view the gallery. | |
References