We're Getting Mutants in the MCU - The Loop
Play Sound
"
Don't be amused, it's just the news!
"

—Nadja, "Darkblade"
Click here to see quotes from Nadja Chamack.
Nadja Chamack[2][3] (called Nadia Chamack in some episodes) is a TV news reporter and Manon's mother.
In "Prime Queen" after Arlette cancels her show, she is akumatized by Hawk Moth into Prime Queen, a television and media controlling supervillain who is able to travel through screens.[4]
Appearance
Physical appearance
Nadja stands at a medium height with pale skin, moderate red eyes, and small lips with deep raspberry colored lipstick. She has short hair with a gradient of strong raspberry to moderate rose color.
Civilian appearance
She wears a cuffed moderate blue blazer with a deep purple button and lining. Underneath, she wears a moderate mulberry-colored blouse. She has rose gold earrings. Around her neck, she has a gold chain necklace with a pale, light grayish-green five-petaled flower charm. She also wears a white watch on her right wrist, white jeans, and ankle-length deep scarlet high-heeled red shoes.
As Prime Queen
She wears a pixel-textured head helmet with a light blue visor, while her hair, being stiff, shinier, and wilder, is on the outside. Because of the visor, her lips and pupils are glowing pink while the rest of her face is blue. She wears a deep cornflower blue pixel-textured shoulder pad jumpsuit with a pattern of glowing light blue rectangular outlines connected with lines. Her lower arms and lower legs are vivid cerise, and around her legs above the ankles is a thicker band with a glowing blue edge. The bottom of the suit combines with vivid cerise triangular wedge heeled-dress shoes.
For more of Nadja's outfits and designs, see Nadja Chamack/Designs.
Personality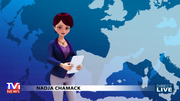 Nadja is nice, informative, and interested in getting the details of an event to Paris. She gets impatient if she has to wait too long, and she sometimes goes too far in her quest for news, being insensitive with Armand when she tries to interview him after his election loss to André Bourgeois in "Darkblade". However, she is fearless in her quest to spread the word, even willing to interview the titular villain of "Pixelator" and calling herself the reporter who "spreads the villains' voice." Through all of her reports, she is professional and formal, but at the same time, she willingly expresses concern or happiness during particular instances. She is friendly to others, and she is very motherly to her daughter, though willing to discipline her. She is also able to remain professional for the most part; when her clothes were insulted by Audrey Bourgeois in "Style Queen", she looked rather cross and offended but did not otherwise react.
She is also very understandable and forgiving to others too such as with Marinette in "The Puppeteer". As well as with Ladybug and Cat Noir, upon figuring out that they were helping the American Heroes defeat Hawk Moth in New York.
Prime Queen, while good at onscreen presentation and strategics, is haughty and demanding, wanting Ladybug and Cat Noir to announce that they are in love. Her obsession with the heroes makes her more than willing to force them to reveal their identities on live television for Hawk Moth, and she blackmails them by endangering civilians Chloé and Alya without remorse. However, her desire for answers makes her act rashly, her aggravation of not being able to see Ladybug and Cat Noir detransformed and kiss driving her to travel to them, falling for their trap.
Abilities
As a civilian
Nadja is a very persistent news reporter in her job, using whatever means necessary to find a story even if it gets into others' personal lives.
As Prime Queen
Prime Queen's power allows her to travel between television screens. Any television affected by her power can be used by others to travel from place to place. For communicating with others, she can control television screens to broadcast her actions from another television screen. However, if the television screen is destroyed, she can't use it to teleport or broadcast anymore.
Additionally, she is decently skilled in combat, and she is effective at tying Chloé up in a blue power cord.
Family
Tree
    = Male
    = Female
    = Gender Unknown
Relationships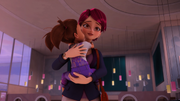 Manon is Nadja's daughter, whom she loves. While she can be very stern with her, like when she finds out Manon has one of Marinette's dolls and mistakenly believes she stole it, she means well, caring about her safety and wanting her to learn good virtues. Although Nadja has gotten used to Manon's baby doll eyes, she notes that Manon can be "very persuasive." She also worries greatly when she can't go and find Manon in "The Puppeteer", and she is relieved once she reunites with her.
In "Gamer 2.0", she spends time with her daughter at the park and they embrace each other after Ladybug returns everything to normal.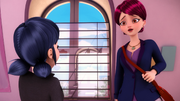 Nadja appreciates that Marinette babysits Manon for her, and she understands Marinette's difficulty with Manon sometimes and her intentions to do the best she can with her. She forgives Marinette for her giving Manon a doll against her orders in "The Puppeteer", and although she gets impatient waiting for cake delivery at Tom & Sabine Boulangerie Patisserie that Marinette is supposed to retrieve for her in "Timebreaker", she is content once Marinette shows up, apologizes, and gives her the cake. In Marinette's latest Instagram post, Nadja comes to her asking for help in brainstorming ideas making a bridal reception dress for her niece.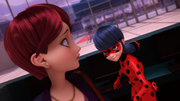 With Ladybug, Nadja is grateful for her and Cat Noir's work to keep Paris safe. Many of Nadja's news reports are related to the villains that create trouble and the heroes that defeat them. During Manon's akumatization, Nadja feels slightly better after Ladybug reassures her that they'll find her daughter, and she thanks her when she is with Manon once more. Her interest in Ladybug also extends to knowing if she and Cat Noir are dating, but her asking and prodding push Ladybug too far in "Prime Queen". It becomes her obsession to see the duo romantically together while being Prime Queen. She later accepts with calm understanding when Alya tells her that the superhero duo isn't dating "yet."
At first, she was stunned that Ladybug and Cat Noir didn't show up to defeat the Robostus sentimonster but quickly understood their absence upon hearing about them stopping Hawk Moth in New York on the news.
Sightings
Episodes
Others
Trivia
Her name is misspelled as "Nadia Chamack" when Rose watches her news report in the episode "Princess Fragrance".

In the earlier episodes of Season 1, she is called Nadja Chamack. However, in some episodes of Season 2, she is called Nadia Chamack.

In "Timebreaker", she ordered a cupcake cake in the shape of the Eiffel Tower from Tom & Sabine Boulangerie Patisserie, which Marinette helps her get while her parents are gone.
She and Sabine are good friends, and she occasionally has Sabine's daughter, Marinette, babysit Manon.
Her catchphrase is "Don't be bemused, it's just the news!" as seen in various episodes.
Prime Queen reappears in the two-part special event "Heroes' Day".[5]
Prime Queen appears another time in "Gamer 2.0" for Gamer's powers.
Nadja's broadcasts have been interrupted several times by akuma attacks, often with her getting attacked or transformed by the villain in question.

She was turned into a knight by Darkblade.
She was absorbed into the Collector's book.
She was tackled by a number of Sapotis.
She was chased off the stage by rogue equipment because of Robostus.
She was infected by Zombizou's kisses live on the air.
She was touched by one of the raven-pigeon hybrids of Mr. Pigeon in "Mr. Pigeon 72".

It is revealed that she is one of Sabine Cheng's painting students as shown in "Qilin".
Gallery
| | |
| --- | --- |
| Click here to view the gallery. | |
References