| | |
| --- | --- |
| | This page lists designs and outfits for Mylène Haprèle. Both final and conceptual designs are presented here. |
Final designs
Mylène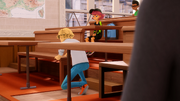 Mylène is short and chubby with golden brown eyes and blonde hair, with some strands dyed green, blue, and magenta, put in dreadlocks. One dreadlock on her left side of her head has a purple cat bead, and another dreadlock on her left side has a golden loop.

She wears a pink bandanna to hold her hair back, and she has a necklace with a stone pendant. She wears a periwinkle shirt with a white silhouette design on the front of a bird holding a branch with leaves, which is underneath an olive green hoodie jacket. There are pins attached to her jacket: on the right side, she has a daisy pin; on the left side, she has a ladybug pin, a panda pin, and a yellow and green pin. Additionally, she wears dark gray jean shorts, black leggings, and dark purple and white sneakers.
First appearance: "The Bubbler"
Horrificator
Horrificator is a large salamander-like monster, the top half of her body mainly pink and the bottom half, along with her forearms, mainly purple. She has three yellow eyes with red pupils, the third eye being in the middle of her forehead, and periwinkle tentacles with spots are on the back of her head. Her head has freckles; her mouth has sharp, jagged white teeth, and her tongue is light blue. She has dark purple claws on her hands, while the claws her her feet are brown, the toes being tan-colored. Also, she has a long purple tail. The pin that Ivan gave her is attached next to one of her head tentacles, but is hidden by her pink goo.
First appearance: "Horrificator"
Scarlet Horrificator
As Scarlet Horrificator, her appearance almost remains the same, except most of her body is inverted red.
First appearance: "Catalyst (Heroes' Day - Part 1)"
Knight minion
Transformed by Darkblade, Mylène becomes a knight in dark gray armor with bright green designs on her epaulet and helmet.
First appearance: "Darkblade"
Mylène wears an outfit similar to her regular clothes. However, her bandana is solid pink, her daisy pin has less petals, and she is missing the the yellow and green pin and the panda pin.
Final design accessories
Crossbone pin
Ivan gives Mylène a black pin with white skull crossbones on it to cheer her up after she gets scared during the class' filming project. She wears it on her bandana.
First appearance: "Horrificator"
Floppy sun hat
Mylène wears a pink floppy sun hat with a brown leather band that has ridges.
First appearance: "Despair Bear"
Heroes' Day pin
To commemorate the celebration of Heroes' Day, Mylène wears a pin that has the French flag, with a blue and white silhouette of the French Imperial Eagle symbol.
First appearance: "Catalyst (Heroes' Day - Part 1)"
Comic designs
Mylène's comic book appearance is the same as her appearance in the television series.
Swimsuit
Mylène wears a periwinkle one piece swimsuit.
First appearance: "Miraculous Adventures Issue 2"
Community content is available under
CC-BY-SA
unless otherwise noted.