Wiki Targeted (Entertainment)
Play Sound
| | |
| --- | --- |
| | This page lists designs and outfits for Mr. Damocles. Both final and conceptual designs are presented here. |
Final designs
Mr. Damocles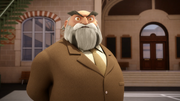 Mr. Damocles is a stout man with amber eyes. He has large, bushy black eyebrows, gray sideburns and beard, and a light gray mustache.

He wears a brown dress jacket with a white button-up undershirt, and he has a tie that is a lighter brown than his suit. His pants are a darker shade of brown than the jacket, and his shoes are brown loafers.
First appearance: "Mr. Pigeon"
Dark Owl
His eyes are round and yellow. His face is covered with a black mask, while there are brown circles with white edges around his eyes. The mask also includes two tuft-like points with brown tops that come out above his eyes and point backwards. His beard is brown, his mustache notably having tips sticking out, and two black vertical stripes go up it. He wears a black suit that includes brown covering and padding over his upper body, arms, and legs. The covering includes black or darker lines, and a brown symbol of an owl's face appears on the chest. Above his hips, he has a brown belt with two pockets towards his right side holding objects based on his symbol. He wears brown gloves that have two ridges each, brown boots with black soles, and a long cape that is black on the back and brown on the other side. The cape can also transform into a pair of wings that has a gray mantle along with several black feathers on either side of the wings.
First appearance: "The Dark Owl"
Reflekta duplicate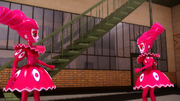 After Reflekta zaps Mr. Damocles, he takes on a feminine appearance becoming a physical copy of her.
First appearance: "Reflekta"
The Owl
Mr. Damocles wears a costume based off of Knightowl's outfit. He wears a light brown mask with two upward-pointing tips, and orange section over his nose, and black edges around the eyes holes. His suit includes a brown vest-like section with a diamond button, a solid brown lower body, and light brown sleeves for his arms and legs. Worn around his neck, his cape has a dark brown side facing away from his body and an orange side facing inward. On his chest on his suit, he has a black, orange, and white owl logo, and over his sleeves, he has dark brown elbow pads. He wears a thick orange belt with a black back around his waist, which he uses to carry his boomerang and grappling hook gun with. There are brown sewn patches of fabric over his knees on his pant legs, and he wears black boots with light brown soles.
First appearance: "The Dark Owl"
Conceptual designs
Later concept Mr. Damocles
While similar to his final design, Mr. Damocles wears a dark gray tie.
v

•

e

Character designs
Other characters
Teenagers
Children
Adults
Animals
Community content is available under
CC-BY-SA
unless otherwise noted.