Wiki Targeted (Entertainment)
Play Sound
"
Nino, why don't you have a seat in the front row this year?
"
Miss Bustier's classroom is a classroom in Collège Françoise Dupont. Caline Bustier teaches her students here, although other teachers will sometimes teach here as well.
Appearance
The classroom has pale brick walls, brown wooden baseboards, and a pale brown wooden floor. Large windows are on two parallel walls, one showing the courtyard within the school and the other showing the landscape outside the school.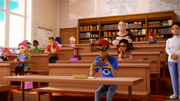 There are three doors to the room: one goes into the school hallway, one is led up to by wooden stairs to the right of the chalkboard at the front wall, and a third is on the left of the back wall. The front wall of the classroom has a large chalkboard, and the other walls have maps attached to them.
The front of the classroom includes a chalkboard and desk with a chair and a computer for the teacher. The floor goes up in levels across from the front of the classroom. Four wooden desks with attached benches, with enough room for two students each, are on each side of the levelled floor, with walkways running between them and on their sides, and brown flooring placed underneath them. There is a light red carpet under the desks. The back of the room is largely covered by wooden bookshelves well-stocked with a variety of different books.
Sightings
Episodes
Other
Trivia
Miss Bustier's classroom has been the site of multiple akumatized villain attacks.

In "Rogercop", the titular villain enters the classroom while looking for André Bourgeois.
In "Horrificator", the titular villain hides under Miss Bustier's desk, captures Nathaniel, and fights Ladybug and Cat Noir.
In "Stoneheart (Origins - Part 2)", Stoneheart breaks down the classroom door, grabs Mylène and Chloé, and leaves through the wall, leaving an enormous hole.
In "Antibug", Vanisher pesters Chloé during class.
In "Zombizou", the titular villain bursts into the classroom and attempts to infect Chloé with a kiss, only for Chloé to use Sabrina as a human shield and have the kiss infect her instead. Later, Ladybug fights three of Zombizou's zombies in the classroom.

In "Antibug", Ms. Mendeleiev uses Miss Bustier's classroom.
Gallery
| | |
| --- | --- |
| Click here to view the gallery. | |
v

•

e

Places
Real life places
Museums and Monuments
Parks and Rivers
Bridges
Other places
Cities
Outside of France
Community content is available under
CC-BY-SA
unless otherwise noted.