This site contains

Spoilers!

Please check the wiki's

regulations

before editing.
Current premieres
World premieres
No new world premiere dates are known.
French premieres
Season 5 will begin airing around September 2022 on TF1/TFOU
Recent news
Recently, there has been a leak of the miraculous bible containing various information from multiple seasons. The wiki does not condone discussing, linking to, or sharing any leaks on the wiki, the wiki discussions, the comment sections, or on the Discord server. Do not share, or request a copy of the leaked file(s), and do not use any of its contents on wiki articles as any of these may result in a ban.
Read the official announcement here.
Ladybug & Cat Noir: The Movie news
As of May 25, the wiki uses the updated "Ladybug & Cat Noir: The Movie" title instead of the old "Ladybug & Cat Noir Awakening" title.
The synopsis for the movie was revealed: "LADYBUG & CAT NOIR: THE MOVIE is an animated musical, romantic fantasy adventure based on the eponym global entertainment phenomenon. Ladybug & Cat Noir light up the screen as their quest teaches the audience about family, bonds, responsibility and the hearts of two young souls."
The screenshot says "To be continued", so a follow-up movie is expected
Random Quote
"
Hahahahaha, you're flattering me. It is so kind of me though, isn't it?
"
}}
Help the Wiki
This wiki is constantly growing as new information about Miraculous: Tales of Ladybug & Cat Noir is released, so anyone helping to build this wiki is appreciated.
To write a new article, just enter the title in the box below.
Discord
| Visit our Discord for more discussion about Miraculous! | |
| --- | --- |
---
Read the Discord Policy before using the server. You must be 13 in order to join the Discord.
Next Episode
HIATUS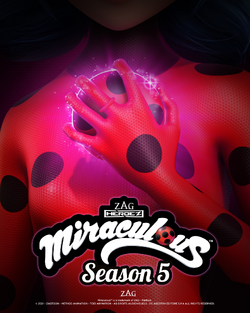 Season 5 is currently on hiatus. No new release dates are known.
Recent Blogs
(Hey guys! Here is chapter 5! Enjoy!)
What she did…jumping through the portal…was reckless. It could ruin the entire mission.
Finally! Finally…she saw …
Fanon
As the Miraculous Ladybug Wiki is a canon database, it is not the ideal place for fanon material. If you're someone who would like to create such material, please check out our sister wiki, the Miraculous Ladybug Fanon Wiki!
Current Shows

Upcoming Shows