"
When I grabbed the diary, this crazy box clamped down around my hand!
"
Marinette's magic box is a wooden box that Marinette Dupain-Cheng made to store her diary. Its purpose is to prevent anyone from stealing the diary and discovering important secrets, such as her being Ladybug.
Appearance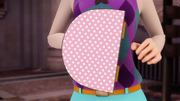 The magic box is a semi-circular chest with a similar shape and color theme as the diary with a keyhole located on the edge. Inside is colored red with an oval-shaped mirror on the top half in the center. The chest comes with a yellow key with a red ribbon that Marinette carries with her. Its lock is designed similar to a ladybug but with a pink shell instead of red.
If someone tries to pick up Marinette's diary while the chest is open, it will close and lock, trapping the invader's hand inside. The only way to unlock it is with a key that Marinette keeps with her.
Sightings
Episodes
Others
Trivia
In "Darkblade", Sabrina Raincomprix tries to steal Marinette's diary for Chloé Bourgeois, but the box traps her hand. At the end of the episode, Marinette frees Sabrina's hand.
Gallery
| | |
| --- | --- |
| Click here to view the gallery. | |
v

•

e
Objects
Technology
Computers
Cellphones
TV channels
TV shows
Clothes and accessories
Clothes
Bags
Jewelry
Other accessories
Gabriel
Community content is available under
CC-BY-SA
unless otherwise noted.