Spider-Man: No Way Home Trailer Dropped - The Loop
Play Sound
"
But what if Nathaniel doesn't like it? I'll be so embarrassed. I'll have to change schools so I'll never run into him again.
"

—Marc Anciel, "Reverser"
Click here to see quotes from Marc Anciel.
Marc Anciel is a student in Ms. Mendeleiev's class at Collège Françoise Dupont.
In "Reverser", after Nathaniel disregards him and his writing and rips his journal in half, he is akumatized by Hawk Moth into Reverser, an inverting supervillain.
Appearance
Physical appearance
Marc is a fairly tall and slender teenage boy with a somewhat feminine appearance, with messy Rock style black hair, vivid pistachio colored eyes with visible lashes, thick eyebrows, pink lips, and a slender face with a pointed chin.
Civilian attire
He wears a loud V-neck rainbow tie-dye shirt which displays the colors in a ripple pattern originating from the center. Over his shirt, he wears a bright red jacket with hood and white drawstrings, and pink lining on the inside. He wears moderate azure jeans with the bottoms rolled up and a number of horizontal rips around his knees. He wears a pair of black boots with faint "Oil Slick" rainbow blotches.
He also wears a pair of black leather fingerless gloves, a black leather collar around his neck, and a square-nails belt with a square silver buckle. Hanging from his belt are a pair of square-nails chains that hang around his thighs. His nails are painted black.
As Reverser
Reverser is in a checkerboard patterned suit with a hood that is attached to it. The left side of his suit has solid black markings, like on his hood, hair, eyebrow, iris of the eye, pupil, lips, chest, arm, waist, fingers, and pant leg. On the right side, his inner hood, face, sclerae, teeth, palm, feet, half of a circle on the chest, are black. Reverser's weapons are small black and white paper airplanes that can reverse the abilities or the personality of the person who is hit. He rides on a large paper hoverboard.
Personality
Like Juleka, Marc is very shy and nervous around others. This is shown when Marinette pulls Marc into the art room to introduce him to everyone. He is also quite shy in front of his first friend at the school, Marinette, refusing to show her his stories. He likes to write stories (particularly about Ladybug and Nathaniel) but is sheepish and self-conscious when people read them. When he runs away in embarrassment out of the art room, he runs into a pillar and drops his notebook and Marinette picks it up and reads it. When she hands the notebook back to him later on, Marc immediately turns red. Like Marinette, he is sweet and kind but also quite clumsy, especially when around someone he has feelings for.
As Reverser, he is demanding and clever, realizing that Ladybug's graceful agility made her difficult to strike. He endangered civilians in order to make Ladybug an easy target when she went to help the affected cyclist. He is also confident, leaning on a bit overconfident. After he struck Ladybug and Cat Noir with his airplanes, he sees the heroes as harmless and believed he had time to obtain his revenge on Nathaniel and Marinette before dealing with them. He is also cruel, reversing anyone even those who haven't done anything to him, like with making the art club hate art and music, and making André Bourgeois send the dumpters that were in space back to Paris. He does sympathize those who are mistreated, like with what happened between him and Nathaniel, as he saw how Chloé treated Sabrina like a slave so he struck both of them to make Chloé tend to Sabrina instead.
Abilities
As Marc
Marc is an excellent creative story writer. His Ladybug stories, based on Nathaniel's drawings, impress Marinette (the real Ladybug) so much that she pushes him to work with Nathaniel to make the Ladybug/Mighty Illustrator comic. Since the two of them complete the comic, it is implied that Marc's writing skills are strong enough for him to write well in script style as well as in short story style.
As Reverser
Reverser has enhanced physical characteristics: speed, agility and strength. Reverser rides on a large paper hoverboard, which has the ability to fly around at will. He can also make small black and white paper airplanes with the ability to reverse the abilities or a personality trait to its opposite, by calling out what trait he wishes to reverse. Notable examples are when he made Ladybug become extremely clumsy after hitting her with a paper plane, or when he made Cat Noir a coward (which explains why Reverser called them Ladyclutz and Scaredy Cat). This can also affect specific actions, as Reverser was able to make André Bourgeois bring the trash containers in space back to Earth.
Relationships
Marc often looks at Nathaniel's drawings online and uses them for inspiration for his stories. He is delighted when he gets a chance to see them in person. When Marinette suggests showing Nathaniel his writings so they can make a comic book together, Marc fears what might happen if Nathaniel doesn't like his stories, so he takes Marinette's offer of showing the book without saying who wrote it. But when Nathaniel angrily rejects Marc's offer of making a comic book together after mistakenly believing that the latter was playing a joke on him, Marc ends up getting so upset that he is akumatized by Hawk Moth. However, after he is deakumatized, the misunderstanding is cleared up, and the two start making a comic book together.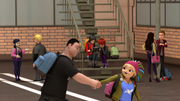 They can be seen together in later episodes such as "Frozer" and "Mayura". In "Frozer", as Adrien is looking at each of the school's couples, Nathaniel and Marc are seen sitting on the staircase together looking at a book. In "Mayura", Nathaniel places his hands on Marc's shoulders as they all cheer for Marinette, which shows that their bond has deepened and that there is a high level of trust between the two. From the way Marc acts around and talks about Nathaniel, it can be inferred that Marc has a "fondness" toward him; this was later confirmed on Twitter by Feri.[5]
In "Hack-San", when Robostus commands a mind controlled Marc to give him his most precious possession, the thing he offers to the villain's digital prison is Nathaniel.
As Reverser, he seeks revenge on Nathaniel for the emotional pain caused by his rejection. His intent is to reverse Nathaniel into being willing to make the comic book.
Marc appears to be on good terms with Marinette, but he is shy about showing his writings to her. Regardless, he takes her advice of teaming up with Nathaniel to create a comic book and allows her to give Nathaniel his writing without saying who wrote it. However, after a misunderstanding, Marc believes that Marinette is meddlesome and a liar. After he is deakumatized, though, he is no longer mad at her and along with Nathaniel dedicates their first Ladybug comic book to her. He also attends the picnic celebrating her and cheers her on as their "Everyday Ladybug".
Marc appears to be a fan of Ladybug and often writes stories inspired by her fights against akumatized villains. Also in "Frightningale", he wears a Ladybug mask in Clara Nightingale's music video. Despite his timid personality, Ladybug's courage and determination inspires him to join the battle against the army of scarlet akumas.
As Reverser, he targets Marinette, believing (partly correctly) that it is her fault that Nathaniel rejected him. His intent is to reverse her into being hated by everyone. However, he doesn't like her interfering with his plans. His strategic talent leads him to realize that he can force her into a vulnerable situation by targeting innocent bystanders, making her defend them.
Sightings
Episodes
Others
Trivia
Marc made his first appearance in "Frightningale" as a dancer for Clara Nightingale's music video alongside Nathaniel, Mylène, Ivan, and Sabrina.[6]
His first name was revealed in a UK episode synopsis on May 19, 2018.[7]
His akumatized form was first seen in a photo taken by Jeremy Zag of the show's production for Season 2.[8]
On May 21, 2018, Thomas Astruc revealed on Twitter that a (at the time unspecified) character was based on a personal friend of his named Hope Morphin, who is genderfluid and bisexual.[9] A few hours after "Reverser" premiered on Family Channel, Morphin themself revealed that the character Astruc was referring to was Marc, and also that Marc is androgynous.[10] Feri González confirmed this,[11] and also later confirmed on Twitter that Marc identifies as part of the LGBTQ+ community and has a "fondness" for Nathaniel.[5][12]

Marc's full name, Marc Anciel, is a play on the French word "arc-en-ciel", which translates to "rainbow" in English. This wordplay both references his multicolored outfit and him being a part of the LGBTQ+ community.

Hope Morphin has confirmed that Marc's three favorite animals are the sheep, peacock, and goat.[13]
His visible eyelashes and pink lips may imply that he wears makeup.
Reverser appears another time in "Gamer 2.0" for Gamer's powers.
Gallery
| | |
| --- | --- |
| Click here to view the gallery. | |
References