| | |
| --- | --- |
| | This page lists designs and outfits for Lila Rossi. Both final and conceptual designs are presented here. |
Final designs
Lila
Lila is at an average height, with tan skin and olive green eyes. Her hair is long and chestnut brown with bangs and her hair is loosely tied on the bottom and shorter strands on each side of her head with orange bands.

She has red-orange wristbands on her right arm. She wears a red-orange jacket over a dark gray romper that has tiny white spots. Additionally, she wears light gray tights and brown high heel boots.
First appearance: "Volpina"
Volpina
Volpina wears an orange mask with black edges, and her hair bands are black. On top of her head, two fake orange ears with white and black insides are attached. The top of her hair is black and then ombrés down to light brown with the tips of her hair being white. She also has orange lipstick. The necklace with a fox tail hanging off of it is worn around her neck.

Her outfit is orange with a white section going down the front. Wrapped around her waist is an orange sash based off of a fox tail. The edges of her collar and the tops of her upper arms have black lines, and her forearms and lower legs are solid black, with the soles of her feet being white with an orange fox foot printed on each. Coming from her back is a fake fox tail with black lines. Her weapon is a replica of the flute staff.
First appearance: "Volpina"
Chameleon
As Chameleon, her appearances generally stay the same, although she has the ability to physically change if she kisses her victims and possesses their forms.

When Chameleon possesses the form of Adrien, Cat Noir, Quentin and an oyster respectively, she takes on a masculine appearance and become physical copies of them afterward.
Lila wears an outfit similar to her regular clothes except her romper is solid brown and she wears light brown tights. Her hair is styled the same except she has a cowlick on top.
Final design accessories
Final designs from imagination
Serenade dress
In Marinette's fantasy, Lila wears a Renaissance gown with puffy sleeves. Her hair is held in place by a French hood.
First appearance: "Volpina"
Hollywood star
In Marinette's fantasy, Lila wears her traditional hairstyle with a pair of sunglasses. She has on her regular outfit minus the jacket.
First appearance: "Volpina"
Conceptual designs
Old concept Lila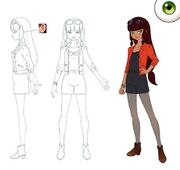 Lila wears her regular clothes, but she also has a pair of black shades with purple lenses.
Other
Community content is available under
CC-BY-SA
unless otherwise noted.