We're Getting Mutants in the MCU - The Loop
Play Sound
Non-Canon Information
This page is for a concept/character/etc. that didn't become, isn't considered, or hasn't been confirmed canon in the Miraculous Ladybug Quantic Universe continuity.
Kenya's father is a man who lives in New York with his daughter Kenya.
As established in "Miraculous Adventures Issue 4", after coming into contact with mysterious black goo while retrieving his daughter's favorite toy, Mr. Squid, he transforms into the Trash Krakken, a giant destructive monster.
Appearance
Physical Appearance
Kenya's father has brown skin, light brown eyes and light brown hair.
As Trash Krakken
The Trash Krakken is made out of mud and trash. It has lime green eyes, a huge slimy, green body with various types of objects absorbed onto its body, multiple tentacles that are dangling on its back, and large pointy teeth sticking out of its mouth.
Personality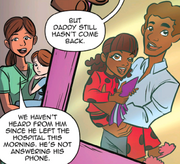 The father is loving and compassionate, willing to go into the sewers to find his daughter's precious toy.
As the Trash Krakken, he is mindless but ferocious, creating damage everywhere and lashing back at anything it considers a threat.
Abilities
As a villain
The Trash Krakken can dig into the earth, creating a huge crack within New York City. Like a "living quicksand," it absorbs anything that it comes into contact with, from trees and banana peels to human beings, and it is invulnerable to a wide variety of attacks. It can also attack others with its tentacles, which, like the rest of its body, absorb what they touch.
Family
Tree
    = Male
    = Female
    = Gender Unknown
Sightings
Comics and books
Trivia
A van that closely resembles the Mystery Machine from the Scooby-Doo franchise is seen stuck in the Trash Krakken's body in the third issue.
The Trash Krakken is similar to an akumatized villain, being a regular person transformed by an infected object into a super-powered being or creature. However, the origin of the goo that covered Mr. Squid is unknown.
Gallery