| | |
| --- | --- |
| | This page lists designs and outfits for Kagami Tsurugi. Both final and conceptual designs are presented here. |
Final designs
Kagami Tsurugi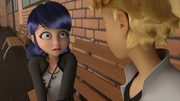 Kagami is at average height with pale skin, freckles, short black hair with blue reflections, and light brown eyes.

Kagami wears a white long-sleeved blazer that has black outlines around the collar, running down across her waist all the way to the bottom to the hem, cuffs and two black accents on the top of the fastened outer pockets. The blazer also has two gold pockets around the waist and each side of the cuffs. On the top right of her chest is an attached logo that is shaped as a reuleaux triangle. The logo includes her family's crest, with the gold sign of Japanese kanji for "female" (女) fastened on top of green, white and red fabric with a gold outline surrounding the logo. Underneath, Kagami wears a black collared blouse with many gold buttons. Attached to the collar is a red tie with blue parallel lines which intersects with each other.

Moreover, Kagami wears a red skirt with an asymmetrical texture that has blue and white intersecting vertical and horizontal lines. She wears tight black leggings and a pair of red sneakers with white toecaps, laces, a black logo on the heel counter, and black soles.

On the ring finger of her right hand, she wears a black ring that has her family's crest and has two long outward spikes stretching from the mark.
First appearance: "Frozer"
Riposte
Riposte's face is silver, and her eyes are red. She has a silver helmet with angular sides and a red circle on the center of the forehead with the Tsurugi logo. Her body outfit is silver armor, including a breastplate, pauldrons, and tassets, while her arms and legs are solid silver. On her feet, she wears silver high-heel shoes. Her left hand seems to be or holds a sword-like extension with a triangular guard and a red circle bearing the Tsurugi crest on the center of the guard.

After being reakumatized in "Catalyst", Riposte's appearance remains the same, except most of her body is colored red, and she wears a pin that resembles an akuma on her waist.
First appearance: "Riposte"
Oni-Chan
She has a white outfit with an image of a rose that has a thorn sticking out from the top of the flower, red spikes on the shoulders, a red unicorn's horn, and spider like mandibles.
First appearance: "Oni-Chan"
Fencing uniform
When Kagami is fencing, she wears a traditional fencing mask that is pure white that has several gray stripes surrounding it with gray wired mesh, which is completely covering her face. Additionally, her red tights stay the same except they now have two stripes on each of the sides. She also wears a pair of white fencing socks that are tucked under her tights, red sneakers that have white soles and striped laces, and a single protective white glove that has three red stripes on the front which she wears on her right hand.
First appearance: "Riposte"
Final design accessories
Skating accessories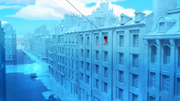 When skating, Kagami wears a pair of light blue stitched gloves with the cuffs and thumb section being dark blue, and a snowflake symbol on the centre. She also wears a pair of elbow and knee pads that are light blue with a dark blue outline and a double black strap, and a pair of white skating shoes with the soles, heels and the underneath being dark blue, and the blades being gray.
First appearance: "Frozer"
Heroes' Day pin
To commemorate the celebration of Heroes' Day, Kagami wears a pin that has the French flag, with a blue and white silhouette of the French Imperial Eagle symbol.
First appearance: "Mayura (Heroes' Day - Part 2)"
Conceptual designs
Old concept Oni-Chan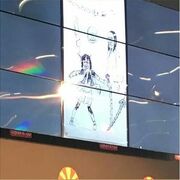 TBA[1]
First appearance: "Oni-Chan"
References
Community content is available under
CC-BY-SA
unless otherwise noted.