Spider-Man: No Way Home Trailer Dropped - The Loop
Play Sound
"
I am not a horse; I am a noble steed! I was the companion to the most glorious heroes!
"

—Kaalki, "Optigami"
Click here to see quotes from Kaalki.
Kaalki[6] is the kwami of Teleportation who is connected to the Horse Miraculous.[7] With her power, Kaalki's wearer can use the glasses to transform into a horse-themed superhero.
Kaalki is currently living with Marinette Dupain-Cheng while her Miraculous is dormant within the Chinese Miracle Box. When the situation requires it, she temporarily becomes active to help Max Kanté transform into Pegasus.
Appearance
Kaalki is 10 centimeters (or 4 inches) tall[3] and is gray with a white mane, muzzle, arms, legs, and underbelly. She also has light green eyes, eyelashes, pointed horse ears with white insides, and a thick white tail that curves outwards.
Personality
Kaalki is very polite and speaks with proper grammar, although she seems to be an elitist, given that she asked Max if he was someone glorious and famous. This suggests that she favors people of renown to wield her Miraculous. That said, this does not come at the expense of her refusing to work with those who don't meet her preferences.
She also seems to be quite prideful, as in "Optigami", she got offended at the thought of being called "a horse", preferring to be called "a noble steed", all while bragging about how she was a faithful companion of the most glorious heroes. Kaalki also believes that her power, when used by her, can only set off exceptional events and not catastrophes, despite the fact a kwami's power, when used without an owner, will always cause a major calamity of some kind.
Abilities
Kaalki can fly, levitate, and phase through solid objects. She can also carry objects that are larger and/or heavier than herself.
As a kwami, Kaalki is able to transform the holder of the Horse Miraculous into a horse-themed superhero, with the power of Voyage.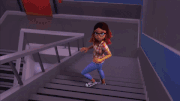 Kaalki's version of Voyage is unrestrained. However, like Max as Pegasus, she too can open portals to anywhere or anyone she is thinking about. But it can temporarily create a vacuum effect that sucks in things that are nearby and scatter them to different locations randomly, those locations being either close by or as far away as outer space itself.
It can also open a massive portal in a different location that can teleport gigantic structures to random locations.
Relationships
Kaalki and Ziggy are seen dancing together at the party that celebrates Nooroo's birthday in "Sandboy". After they broke their connection with Hawk Moth, Ziggy is seen attending to Kaalki, which shows that the two kwamis are possibly close friends, or simply get along with each other.
When Kaalki and Max met for the first time in "Startrain", he was friendly with her and only vaguely surprised at the sight of a kwami for the first time; but being that Kaalki was rather picky about holders, she immediately asked him if he was someone glorious and famous, only to stop when Ladybug assured her that Max was fit for the job. As of "Party Crasher", the two continue on working together in helping their allies against Hawk Moth. In "Miracle Queen", she was likely worried that Max was wearing the Miraculous to be used against his friends.
Even though their interaction is brief, she listens to Ladybug's instructions without question seen in "Startrain". She even helped Marinette with her plan in rescuing Tikki and Plagg in "Kwamibuster", and cheered for her after the plan worked.
She briefly meets Adrien as his hero alter ego, Cat Noir in "Startrain".
After Marinette is captured by the titular villain in "Sole Crusher", Tikki tells Kaalki use her power to teleport and warn Cat Noir. When she arrives to his room, she tells Adrien about the new villain and that Ladybug can't fight at the moment, all while apologizing to him for what she did to his room when she teleported there.
Alya meets Kaalki and her fellow Kwamis after Marinette tells her that she is Ladybug. Rena Rouge and Kaalki team up to help Ladybug in "Optigami".
History
Before Season 2
When the concept of teleportation came into existence, so too did Kaalki. Before the Miraculous jewels were created, Kaalki and the other kwamis traveled all over the universe unable to interact with humans. Then, thousands of years ago, a mage created the Miraculouses. First she started with the ancient Chinese Horse Miraculous holder in China. When her Miraculous was not being worn, Kaalki was dormant in the Horse Miraculous, which was stored inside the Miracle Box.
Somewhere in between 400-100 years ago, Kaalki had unknown owner that used horse drawn carriages as a mode of transportation.
Season 2
During Season 2, Kaalki was dormant in the Horse Miraculous.
In "Sandboy", Kaalki was celebrating Nooroo's birthday in the Miracle Box with the others kwamis and she was excited when Tikki and Plagg arrived. She marveled at the gift Tikki brought, a marker, and she played with the other kwamis. When it came the time to find Nooroo, Kaalki got into position in an effort to contact him, but the kwamis contacted his wielder instead. Upon hearing his voice, she shuddered at the thought of being his slave, but they prevented him from discovering their location by cutting off the connection. They realized if they contacted Nooroo's wielder, rather than Nooroo, then someone must have been akumatized and that Tikki and Plagg's wielders were in danger. Kaalki instructed Tikki, Plagg, and Wayzz to find their owners.
Season 3
In "Startrain", while Kaalki was dormant inside her Miraculous, she was temporarily given to Marinette by Master Fu, enabling her go on a school field trip to London and return to Paris if there was trouble while she was away. However, trouble didn't come to Paris but stowed away on a train causing Max's mother to be akumatized into the titular villain and blasting everyone into space. Needing to capture the Akuma and save everyone board the train at the same time, Kaalki was activated and introduced herself to her holder, Max Kanté, who transformed into the hero Pegasus. With her power of Voyage, the trio was able to stop Startrain and bring everyone back down to earth. Afterwards, Kaalki was returned to her Miraculous and Ladybug.
In "Kwamibuster", she was activated along with her kwami brothers and sisters to help Multimouse enact her plan of rescuing Tikki and Plagg. During the confrontation, Kaalki was one of the few kwamis captured but was set free with the help of Multicat. After Kwamibuster's defeat, Kaalki and others cheered for Marinette as their plan was a success and her and the Horse Miraculous were returned to Miracle Box.
In "Miracle Queen", Kaalki was activated by a possessed and hypnotized Max transforming him into Pegasus and her powers were used against the heroes until they managed to deakumatize the titular villain. After Hawk Moth and Mayura fled and the role of guardian was passed to Ladybug, Kaalki and her Miraculous were retrieved and returned to the Miracle Box.
Season 4
In "Truth", Kaalki was accidentally released from the Miracle Box when Marinette tried to figure it out in and explored Marinette's room. Then, she looked out at Marinette's window amazed that there was no longer horse drawn carriages advising the others to come out until she was grabbed by Marinette. During a video call on her new guardian's computer, she and the others surrounded the screen in amazement. When Marinette leaves for her date with Luka he and his siblings hid with the Miracle Box. After the titular villain's defeat, Kaalki and the others saw that Marinette was sad about breaking up with Luka to the point of tears, she didn't know exactly how to help but joined with her siblings in giving their new guardian a group hug.
In "Gang of Secrets", she was seen talking with the other kwamis until their guardian arrives home. Later, hears Marinette voiced her distress about being condemned to a life of secrets and lies forever because of her alter ego. When they hear someone coming the kwamis hide in the Miracle Box and after the Gang of Secrets had been defeated Kaalki and the others look on as Marinette unveils her secret to Alya.
In "Mr. Pigeon 72", Kaalki was seen in Marinette's room watching along with Longg and Xuppu as Marinette paced herself crazily in an attempt to figure out how to stop future akumatizations. Then, seeing some of her siblings playing with one of Marinette's designer hats she decided to join the fun. Afterwards Kaalki and the kwamis help clean up Marinette's room.
In "Furious Fu", hearing that Master Fu was returning, Kaalki along with the other kwamis expressed dear desire to see him despite Marinette trying to keep them hidden for their safety and when his new guardian voiced concerns about leaving the Miracle Box unguarded. She realized if someone stayed to guard the box, the others could go but when they cheated their way out so all of them going they were stopped by Marinette with no choice they used the "pup dog eyes" on her and Marinette reluctantly agreed. However Kaalki and her siblings had a hard time keeping quiet while in Marinette's bag but heard that Master Fu is doing well and become a great painter.
But returning home, Kaalki realized that Su-Han had returned to reclaim the box as he was the previous guardian before Master Fu's incident and with Su-Han's strictness she sadly returned to the box. After seeing Ladybug's valiant actions against the titular villain, Su-Han realized that Master Fu's choice wasn't so bad allowing her and the others to stay with Marinette.
In "Sole Crusher", upon hearing that their guardian had been captured, Kaalki got permission from Tikki to use her powers to find Cat Noir and warn him of the situation that The Guardian was unable to transform . After the message had been delivered, she returned back to Marinette's room.
In "Optigami", Kaalki helped Ladybug, Rena Rouge, and others travel to different places, like Marinette's room and an elevator. However, because she used her power, Voyage, without an owner, it caused structures to get teleported to random places, like the bottom of the ocean, inside an active volcano, and the moon.
In "Sentibubbler", Marinette fused Kaalki with Tikki to help Marinette transform into the superheroine Pegabug.
In "Wishmaker", after hearing her guardian explain what career was and yet seeing Marinette being indecisive about her future, Kaalki along with her fellow kwamis came up with many suggestions until she and the others were silenced by Sass suggesting they listen to their guardian still being indecisive Kaalki and the other kwamis see Marinette leave for the Career Expo.
In "Simpleman", Kaalki like the other kwamis were hiding while Marinette was babysitting Manon and her friends upon hearing his guardian offer to play hide and seek he along with Xuppu and Stompp knowing it's a bad idea shook their heads no. However she, Fluff and Xuppu were found by the kids being passed off as plush toys and with Kaalki being called "Sock" until Marinette found another way to pacify them.
In "Dearest Family", after Tikki ate the pieces of galette, Marinette brought for them, the kwamis quickly realized what she did. Kaalki huddled together with others when they realized the danger Tikki's hunger for candy can represent, despite the kwami of Creation refusal at that. When Tikki and Marinette the kwamis flew around in a panic. Shortly after she watched Marinette, realize that Sass' warning was real and transforms to stop Tikki only to be affected by his sibling's hunger, which scared her.
Hearing a commotion downstairs, Kaalki and the others were commanded to hide. After Ladybug saved her family Kaalki and the kwamis see her return with pieces of galette for them. Despite that they were still nervous regarding Tikki, until Marinette ensured them that Tikki will control herself and the kwamis ate the pieces of galette happily.
Sightings
Episodes
Other
Trivia
Kaalki was first revealed from a second season trailer on August 31, 2017.[8]

Her name was confirmed in the credits of the Latin American Spanish dub of "Sandboy".[9]

Some of the things that a horse is a symbol for have also been used as methods of transportation for millennia.
The horse is the seventh animal of the Chinese zodiac.
In the English dub, she speaks with a British Received Pronunciation accent.
Her name is a reference to Kalki, the tenth Avatar of the Hindu God Vishnu who is depicted with a white horse.
Kaalki's preference for famous and glorious wielders may be a reference to the horse's association with famous and valiant knights in history and culture.
In "Truth", Kaalki was amazed by all the cars that were outside replying that there wasn't even one horse pulled carriage implying the last time she had an owner they used said carriages to get around.

This may imply that she, before Max, didn't have an owner ever since, at least, until the late 17th century to end of the early 20th century.

Kaalki is the third kwami to use her power without a holder. The other two are Plagg and Trixx.

Unlike the other kwamis, Kaalki was told to use her powers despite the risk of causing a catastrophe. Fortunately, the damages she caused were minimal, compared to the ones caused by Plagg and Trixx.
As of "Optigami", Kaalki is the Kwami who has used her power the most on screen, with a total of 6 times.
Gallery
| | |
| --- | --- |
| Click here to view the gallery. | |
References
v

•

e

Characters
Parisians
Teenagers
Children
Adults
Animals
Groups
Characters from the past
Miscellaneous
Future characters