We're Getting Mutants in the MCU - The Loop
Play Sound
"
I am not a horse; I am a noble steed! I was the companion to the most glorious heroes!
"

—Kaalki, "Optigami"
Click here to see quotes from Kaalki.
Kaalki[6] is the kwami of Teleportation who is connected to the Horse Miraculous.[7] With her power, Kaalki's wearer can use the glasses to transform into a horse-themed superhero.
Kaalki and her miraculous are currently owned by Gabriel Agreste, who uses it for evil purposes.
Appearance
Kaalki is 10 centimeters (or 4 inches) tall[4] and is gray with a white mane, muzzle, arms, legs, and underbelly. She also has light green eyes, eyelashes, pointed horse ears with white insides, and a thick white tail that curves outwards.
Personality
Kaalki is very polite and speaks with proper grammar, although she seems to be an elitist, given that she asked Max if he was someone glorious and famous. This suggests that she favors people of renown to wield her Miraculous. That said, this does not come at the expense of her refusing to work with those who don't meet her preferences.
She also seems to be quite prideful, as in "Optigami", she got offended at the thought of being called "a horse", preferring to be called "a noble steed", all while bragging about how she was a faithful companion of the most glorious heroes. Kaalki also believes that her power, when used by her, can only set off exceptional events and not catastrophes, despite the fact a kwami's power, when used without an owner, will always cause a major calamity of some kind.
Abilities
General Skills
As her holders when using Voyage they have to be good at remembering faces of people and places so it's likely that Kaalki has a good memory.
As a Kwami
Kaalki can fly, levitate, and phase through solid objects. She can also carry objects that are larger and/or heavier than herself.
As a kwami, Kaalki is able to transform the holder of the Horse Miraculous into a horse-themed superhero, with the power of Voyage.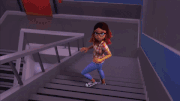 Kaalki's version of Voyage is unrestrained. However, like Max as Pegasus, she too can open portals to anywhere or anyone she is thinking about. But it can temporarily create a vacuum effect that sucks in things that are nearby and scatter them to different locations randomly, those locations being either close by or as far away as outer space itself.
It can also open a massive portal in a different location that can teleport gigantic structures to random locations.
Relationships
Kaalki and Ziggy are seen dancing together at the party that celebrates Nooroo's birthday in "Sandboy". After they broke their connection with Hawk Moth, Ziggy is seen attending to Kaalki, which shows that the two kwamis are possibly close friends, or simply get along with each other.
When Kaalki and Max met for the first time in "Startrain", he was friendly with her and only vaguely surprised at the sight of a kwami for the first time; but being that Kaalki was rather picky about holders, she immediately asked him if he was someone glorious and famous, only to stop when Ladybug assured her that Max was fit for the job. As of "Party Crasher", the two continue on working together in helping their allies against Hawk Moth. In "Miracle Queen", she was likely worried that Max was wearing the Miraculous to be used against his friends.
Even though their interaction is brief, she listens to Ladybug's instructions without question seen in "Startrain". She even helped Marinette with her plan in rescuing Tikki and Plagg in "Kwamibuster", and cheered for her after the plan worked.
After the event's of "Miracle Queen", like the rest of her siblings Kaalki moves in with Marinette as she becomes the new guardian.
She briefly meets Adrien as his hero alter ego, Cat Noir in "Startrain".
After Marinette is captured by the titular villain in "Sole Crusher", Tikki tells Kaalki use her power to teleport and warn Cat Noir. When she arrives to his room, she told Adrien about the new villain and that Ladybug can't fight at the moment, all while apologizing to him for what she did to his room when she teleported there.
Alya meets Kaalki and her fellow Kwamis after Marinette tells her that she is Ladybug. Rena Rouge and Kaalki team up to help Ladybug in "Optigami".
History

Click here to view the history of Kaalki.
Sightings
Episodes
Other
Trivia
Kaalki was first revealed from a second season trailer on August 31, 2017.[8]

Her name was confirmed in the credits of the Latin American Spanish dub of "Sandboy".[9]

Some of the things that a horse is a symbol for have also been used as methods of transportation for millennia.
The horse is the seventh animal of the Chinese zodiac.
In the English dub, she speaks with a British Received Pronunciation accent.
Her name is a reference to Kalki, the tenth Avatar of the Hindu God Vishnu who is depicted with a white horse.
It's possible that Kaalki's concept is linked to the concept of wormhole, which is a speculative structure linking disparate points in spacetime.

Because wormholes are said to link different points in both time and space, it's possible that Kaalki's power, Voyage, is related to Fluff's, Burrow, which is further supported for how both powers create portals that allows the user to travel through space and time respectively.

Kaalki's preference for famous and glorious wielders may be a reference to the horse's association with famous and valiant knights in history and culture.
In "Truth", Kaalki was amazed by all the cars that were outside replying that there wasn't even one horse pulled carriage implying the last time she had an owner they used said carriages to get around.

This may imply that she, before Max, didn't have an owner ever since, at least, until the late 17th century to end of the early 20th century.

Kaalki is the third kwami to use her power without a holder. The other two are Plagg and Trixx.

Unlike the other kwamis, Kaalki was told to use her powers despite the risk of causing a catastrophe. Fortunately, the damages she caused were minimal, compared to the ones caused by Plagg and Trixx.
As of "Optigami", Kaalki is the Kwami who has used her power the most on screen, with a total of 6 times.
Gallery
| | |
| --- | --- |
| Click here to view the gallery. | |
References