Wiki Targeted (Entertainment)
Play Sound
| | |
| --- | --- |
| | This page lists designs and outfits for Juleka Couffaine. Both final and conceptual designs are presented here. |
Final designs
Juleka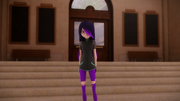 Juleka stands at a medium height with copper eyes and long black hair, with violet tips on the ends of her hair and her bangs covering her left eye.

On her face, she has pale lavender lipstick. She wears a black shirt with a swan-necked collar and sea green lined collar and side pockets, a black lace short sleeves On her hands, she has black fingerless lace gloves that have a diamond pattern design and end halfway up the forearm. She also wears purple pants with holes above the knees and black high top sneakers with white soles. Her fingernails are painted grey with black nail art of intricate patterns on each one, with different designs on each hand.
First appearance: "The Bubbler"
Reflekta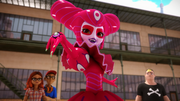 Reflekta's face is white, and she has hot pink circle markings around her eyes, along with purple lipstick. On the tips of her eyelashes, there are small light green spheres. Her eyes remain copper. Her hair is shiny and pink with light purple stripes, and two twisted ponytails stick upward on each side of her head. She has side bangs, and at the center of the front her hair, there is a white upward almond-shaped eye with a light purple outline and a pink pupil.

She wears a pink dress with a collaret, light purple stripes around her waist, and eyes like the one on her hair around her puffed sleeves and her skirt. The tips of the collaret and the skirt have light pink edging, and her arms and legs have pink gloves and leggings. Her long green fingernails stick out of the end of her gloves, and on the back of her right hand, she has a pink eye design with a black outline, the center being a black jewel that opens up to reveal a small circular mirror. At the bottom of her feet, she has pink thick high heels, and miniature eyes without pupils appear above the feet.
First appearance: "Reflekta"
White Outfit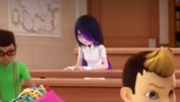 She has her normal face, however, she wears white clothes. It looks like she wears a white shirt with white bracelets.
First appearance: "Copycat"
Knight minion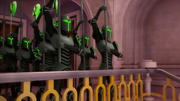 Transformed by Darkblade, Juleka becomes a knight in dark gray armor with bright green designs on her epaulet and helmet.
First appearance: "Darkblade"
Younger Juleka
In this past class picture, Juleka wears her regular outfit. The only difference is that her shoes are gray with white soles.
First appearance: "Reflekta"
Winter outfit
Juleka wears a black pea coat with a dark gray flower pattern and a handed collar over her regular outfit, and she has plain black fingerless gloves.
First appearance: "Santa Claws"
Juleka's hair covers her right eye, her lace sleeves are lighter, and she does not wear her gloves.
First appearance: "The Notebook"
Modelling outfit
From Marinette's fashion line, Juleka wears a navy blue three-quarter length sleeved shirt with white horizontal stripes on her torso which slowly fade into grey. She also wears a pair of blue capri jeans. As shoes, Juleka wears red espadrilles. She wears jewellery, including silver rings, bracelets, a pair of green jewelled earrings, and a beaded necklace with a green jewel identical to the one on her earrings. To finish off her look, Juleka wears a red beret on her head.
First appearance: "Reflekdoll"
Final design accessories
Chef hat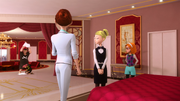 During the class field trip at Le Grand Paris hotel, while she works in the kitchen, Juleka wears a white chef hat with the hotel's logo on the band brim.
First appearance: "Pixelator"
Hand mirror bracelet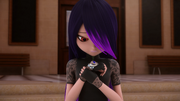 Juleka wears her hand mirror bracelet on her right hand on the day of the class photo shoot. The mirror is intricately styled with an arctic blue base, gold trimming, and a royal blue circular stone in the center. It's connected to her wrist by silver loops and black string. The circular stone pops open to reveal a circular mirror inside.
First appearance: "Reflekta"
Messenger bag
Juleka's medium-sized messenger bag is pink. It has gray trim around the opening flap, the bottom corners of the bag, and the strap. The bottom edge of the flap is also gray.
First appearance: "Volpina"
Floppy sun hat
Juleka wears a pale purple floppy sun hat with the bottom section of the outline of the brim being purple, and the hat has a violet ribbon with a bow.
First appearance: "Despair Bear"
Comic designs
Conceptual designs
Old concept Juleka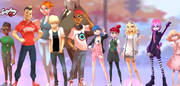 Juleka has slightly pale skin, hazel eyes, and pink hair with white and light purple streaks. She wears a purple shirt with a swan-necked collar. She wears a purple bass guitar with the pink strap over her right shoulder and the bass guitar placed on her back. Juleka also wears black and white striped leggings and purple boots up to her ankles.
Concept winter outfit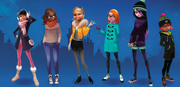 While mostly the same outfit as Juleka's final winter outfit, the pea coat has dark purple upper sleeves and shoulders. It also included a black knit cap with a sea green pompom, stripe, and bottom edge.
Non-canon designs
Musical witch costume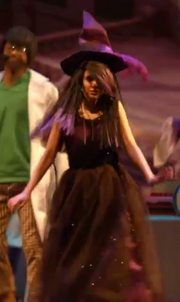 Juleka wears a dark purple witch hat with a purple feather and she wears a black dress with a purple layer underneath and a black band around the waist.
First appearance: "Miraculous Ladybug (musical)"
Community content is available under
CC-BY-SA
unless otherwise noted.