| | |
| --- | --- |
| | This page lists designs and outfits for Jalil Kubdel. Both final and conceptual designs are presented here. |
Final designs
Jalil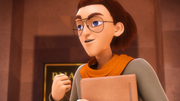 Jalil is tall with chin-length reddish-brown hair and dark blue eyes.

He wears glasses, an orange scarf, a scarab pendant, a white shirt with a golden Eye of Horus on it, a grayish-green jacket, beige jeans, and sandals.
First appearance: "The Pharaoh"
Pharaoh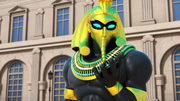 The Pharaoh is tall and muscular, his eyes are glowing blue, and his skin is black, like the ancient dioritic statues of the pharaohs. He wears golden bands on his wrists, ankles and biceps, a golden mask (which resembles Tutankhamun's funerary mask) with a nemes, a fake beard and a cobra on the top, a golden shendyt (a kilt-like garment) and two necklaces. One necklace has three lines of beads (alternating light blue and white) connected by golden pieces. The second necklace is his old scarab pendant that considerably changes after getting akumatized: it becomes light blue, flat and winged and has a sun disk above its head.

When the Pharaoh uses the power of a god, his face becomes the one of the god's sacred animal: when using the power of Thoth he gets a baboon face, for Sekhmet a lioness, for Anubis a jackal, and for Horus a hawk.

After being reakumatized in "Catalyst", Pharaoh's appearance remains the same, except most of his body is colored red, and he wears a pin that resembles an akuma on his waist.
First appearance: "The Pharaoh"
Final design accessories
Heroes' Day pin
To commemorate the celebration of Heroes' Day, Jalil wears a pin that has the French flag, with a blue and white silhouette of the French Imperial Eagle symbol.
First appearance: "Mayura (Heroes' Day - Part 2)"
Community content is available under
CC-BY-SA
unless otherwise noted.