"
The school girl who made these glasses has some real talent. She totally gets my style!
"
Jagged Stone's glasses are glasses owned by Jagged Stone that Marinette Dupain-Cheng makes for him in "Pixelator".
Appearance
The glasses are blue, white, and red, the colors of the French flag. The front has two Eiffel Tower shapes, one over each eye, with holes in them so they can be seen through.
Sightings
Episodes
Trivia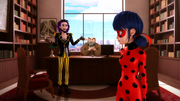 Jagged Stone's glasses were originally a pair of pink sunglasses. Marinette used the pink wire frame as the basis for his glasses.
Jagged Stone is so amazed by the glasses and how they represent his style that he asks Marinette to design his new album cover in "Guitar Villain".
v

•

e
Objects
Technology
Computers
Cellphones
TV channels
TV shows
Clothes and accessories
Clothes
Bags
Jewelry
Other accessories
Gabriel
Other objects
Marinette's creations
Books
Art pieces and artifacts
Films
Dolls
Foods
CDs
Miscellaneous
Community content is available under
CC-BY-SA
unless otherwise noted.