'Miraculous Lady Bug' Profile: Gina Dupain
Play Sound

This article is about Marinette's paternal grandmother. You may be looking for Marinette's maternal grandmother.
"
You're so grown up, Marinette. You know what? There'll be no more merry-go-rounds or zoos. For your next birthday, I'll take you on one of my trips!
"

—Gina Dupain, "Befana"
Gina Dupain[4] is Marinette's Italian paternal grandmother and Tom Dupain's mother.[5]
In "Befana", after she mistakenly concludes that Marinette no longer wants to spend time with her, Gina is akumatized by Hawk Moth into Befana, a Candy/Witch-themed supervillain.[6][7]
In "Dearest Family", when Gina, Tom, Sabine and Rolland start arguing about what each one think it's best for Marinette, they are re-akumatized by Shadow Moth into Befana, Weredad, Qilin and Bakerix respectively and form the villainous group Dearest Family, who compete with each other to prove that they know what is best for Marinette.
Appearance
Physical appearance
Gina is at an average height with short silver (nearly white) hair, deep green eyes and vivid crimson lipstick.
Civilian attire
On her head, she sports glasses with tan rims and long gold earrings with green circular tops. She wears a black leather jacket with an upward collar and silver flat studs on the shoulders. Underneath, her black shirt includes a prism design, with light entering on side of a sphere and a ray of colors coming out of another side. She has black fingerless driving gloves with holes around the knuckles and on the back of her palm, a watch with a red strap on her right arm, and various bracelets on her left wrist: a gray studded bracelet, a gold band, and a black band, and a rounded red band. She also wears red jeans, a black belt, and black shoes.
When she is riding her motorcycle, she wears a red motorcycle helmet with black edges and gray comfort liner.
As Befana
Befana has vivid red eyes, light brilliant sap green skin, and white streaked long, red brushed back up hair that has only two stripes on each side. She wears a black mask with red edges on the sides of her face. Her outfit is a black short-sleeved, skin-tight supervillain suit with jagged pink edges to the arm and leg sleeves and a large jagged pink-tipped collar above a regular black collar. She also sports a pink and black bow resembling a wrapped candy on the chest. She wears black fingerless driving gloves that reveal long fingernails painted with red nail polish, spiked black cuffs, black high-heeled boots, and two thin black belts around her hips. One belt has a circular red-orange pouch attached to it, and it has a black symbol on it based on its bow. For a weapon, she holds a black gun-like object with a dark gray horn-like barrel, a jagged red stripe around the barrel, a blue rectangle on each side, and a semi-cube end of the handle with colorful objects inside.
Personality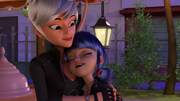 Gina is a very sweet, charming, and caring person who deeply cares for her family, especially for her son, her daughter-in-law, and her granddaughter. She is also affectionate and understanding as she wanted Marinette to have a great birthday and to spend a lot of quality time with her too. Despite this, Gina can be forgetful and have a hard time adjusting to changes, as she didn't realize that Marinette was no longer a child and that she liked different things from when she was younger.
Gina is also a little bit strict, energetic, adventurous, social, enthusiastic, and quite ambitious. According to Marinette and herself, she has been traveled around the world, including Patagonia, Australia, Balia, and Estonia. She also has an Inuit friend.
As Befana, she is more cruel, impatient, and very demanding. She was ardent to render retribution to Marinette for not having rejected opportunities to invest time with her. She is additionally quite stubborn yet can be facetious, particularly when she begins singing her song to her victims. While aggressive and cruel, however, she still acknowledges and is pleased by acts of kindness and selflessness. She is also very prestigious when it comes to manners, even forcing Hawk Moth to ask nicely (much to his annoyance) before he can give her orders.
During her second akumatization as Béfana, she believes that Marinette deserves to be raised in total freedom. Because of this, Béfana gets very competitive with the rest of her akumatized family, fighting with them to prevent them from imposing their way of raising Marinette or trying to beat them into getting Ladybug and Cat Noir's Miraculouses.
Abilities
As a civilian
Gina is very experienced with riding her motorcycle.
As Befana
Befana can fly with the help of her transformed motorcycle. She can also either turn people into reddish brownish black rock statues (if they're not good around her) or into fairy minions (if they're nice around her) via her pistol and order them to do her bidding, but she has to reload her pistols when she runs out of ammo. However, Befana apparently can not touch her own candies or she will be attacked by them as shown by Ladybug when Ladybug uses her candies against her.
Relationships
Gina loves her granddaughter and visits Marinette on her birthday in order to spend some time with her. She also has sent her letters from several places during her travels. However, Gina forgets that Marinette is no longer a child, mistakenly believing that she is turning 10 instead of 14, giving her candy that she no longer likes, and taking her to places more suitable for younger children. When Marinette asks her grandmother if she can go to the surprise party her friends are throwing for her, she allows this but is secretly sad, believing that Marinette is just making excuses in order to avoid spending time with her.
As Befana, she angrily targets Marinette, calling her spoiled and believing that she needs to be punished. However, after being deakumatized, she understands that Marinette is growing up and offers to take her on one of her trips for her next birthday.
During "Dearest Family", however, she only wants to raise Marinette in total freedom, causing her to get in conflict with the rest of their akumatized family who want to impose their own way of raising the girl.
Gina appreciates Ladybug's heroism, telling her and Cat Noir in "Mayura" that all the Parisians are on their side. As Befana, however, she doesn't like that Ladybug is trying to stop her.
Gina cares about her son but gets annoyed with him when he tries to tell her that Marinette is too old for some of the activities she plans on doing with her. When akumatized, she turns him into coal because of this.
Gina appreciates it when Sabine tries to comfort her after mistakenly believing that Marinette didn't want to spend time with her. Even as Befana, she acknowledges that Sabine has always been kind to her, deciding to turn her into a fairy instead of coal.
Family
Tree
    = Male
    = Female
    = Gender Unknown
Notes
In China, wives do not usually take on their husband's surname, keeping their own. Children usually take the father's surname.
Sightings
Episodes
Others
Trivia
Gina's akumatized form was first revealed at a press release held by TFOU.[8]
While a Brazilian news article for Season 2 wrote that Befana is the grandmother's name, a crew member later confirmed that the name was not entirely correct.[6][7]

Befana is the name of an Italian old woman/Witch who brings gifts to children on Epiphany Eve (January 5th), which is similar to Santa Claus on December 25th in other countries.

Gina's shirt's design is a reference to Pink Floyd's album, The Dark Side of the Moon.
Befana appears another time in "Gamer 2.0" for Gamer's powers.
Gallery
| | |
| --- | --- |
| Click here to view the gallery. | |
References
v

•

e

Characters
Parisians
Teenagers
Children
Adults
Animals
Groups
Characters from the past
Miscellaneous
Future characters