Jurassic World: Dominion Dominates Fandom Wikis - The Loop
Play Sound
"
"If I tell you, things will never be the same between us again. It'll mess up everything, maybe even destroy it."


"Marinette, I'm your very best friend."
"And I… I'm Ladybug."

"

—Marinette Dupain-Cheng & Alya Césaire, "Gang of Secrets"
"Gang of Secrets" is a Season 4 episode of the series, Miraculous: Tales of Ladybug & Cat Noir.[3] As based on the series' production order specifically, "Gang of Secrets" is the 3rd written and produced episode of Season 4. It is also the 81st written and produced episode of the series, overall.[1]
Synopsis
Disney Channel
Marinette's friends get akumatized into the Gang of Secrets, a team of supervillains determined to save her.[4]
Plot
The episode starts with Ladybug and Cat Noir already defeating a villain. As Cat Noir tries to initiate a "pound it" with Ladybug, he notices her looking distracted and troubled. After he asks Ladybug if something is wrong while calling her "bugaboo", she ignores Cat Noir's question and completes the "pound it" without scolding him for calling her "bugaboo" to which Cat Noir notices as unusual behavior for her. She then swings to the top of the building and suggests an extra patrol to which Cat Noir objects and asks her to tell him what's going on while noting that Ladybug didn't even react to him calling her "bugaboo".
Instead of telling him about her burden of having to constantly keep secrets from her loved ones and about her heartbreak due to recently breaking up with Luka prior to this episode, Ladybug makes an excuse that she has some extra time left but doesn't feel like talking. Cat Noir then tricks Ladybug into going on a theater date with him. Ladybug becomes even more upset by the movie since it reminds her of her current love situation. As Cat Noir is about to put his arm around Ladybug, she finally explodes and starts ranting about how the movie is unrealistic and lame and unwittingly rants about her own love situation much to the complete shock of Cat Noir and the other people watching the movie. Cat Noir is forced to escort Ladybug out of the theatre and keeps apologizing to the people they pass while Ladybug keeps ranting.
Once out of the theatre, Cat Noir admits that while he did not understand everything in her rant, he figured out that she is heartbroken and attempts to get Ladybug to talk about her love problems. Ladybug cuts him off and attempts to hide her broken heart from him by pretending to be excited and tells him that she wants to go swimming. However, Cat Noir does not fall for this act and reminds her that he's always here for her if she wants to talk about her troubles. Just as Cat Noir finished his sentence, Ladybug swings away from him while pretending to cheer in joy which leaves Cat Noir looking sad and worried for his partner. The Kwamis then see Marinette coming back home in her Aquabug suit asking her what's going on.
Meanwhile, Alya, Juleka, Alix, Mylene, and Rose then try to help Marinette tell the truth about why she broke up with Luka. Marinette then breaks down about being Ladybug to Tikki and ultimately decides she should just be Ladybug all the time, transforming and heading onto the roof. Alya, Juleka, Alix, and Rose then sneak into Marinette's room to not find her there. Rose then notices a dollhouse that Marinette made which contains the Miracle Box.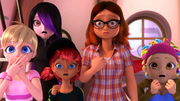 Alya then goes on the roof to go find Marinette. Marinette then comes on her bed as Ladybug with Alya almost seeing her, just in time to de-transform. Marinette then sees Rose touching her dollhouse and quickly jumps in front of her, causing Rose to drop the roof of the dollhouse, breaking it. Rose apologizes, and Alya asks to know what is going on. Marinette lashes back at them for sneaking into her room and says that she doesn't want them as her friend anymore, leaving them heartbroken. They go to the park to discuss, and in their sadness, get akumatized by Shadow Moth after the akuma lands on the friendship bracelet that Alix was holding.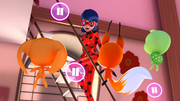 Marinette throws away the doll house and creates a sewing box that can safely hide the miracle box. However, she sees Lady Wifi break into her room. Trixx, in an attempt to help Marinette, uses an illusion to make Marinette run all the way to the Collège Françoise Dupont just in time to lose them, allowing Marinette to transform into Ladybug again. Meanwhile, Adrien and Plagg then see the Eiffel Tower doing a weird dance, with Plagg suggesting that Trixx had done it. Adrien then transforms into Cat Noir to help Ladybug defeat the villains. The villains then break into the school threatening all of the students and the teachers just in time for them to go track down Marinette. While Cat Noir is running on a rooftop, he witnesses Princess Fragrance flying in the sky with her perfume, hides behind a wall, and contacts Ladybug. Ladybug then explains the situation and tells Cat Noir that she is gonna capture one of the akumatized villains to find out where the akumatized object is.
Ladybug notices Lady Wifi jumping on buildings and then captures her, convincing her to reject Shadow Moth's akumatization, and causes her to return to normal. Ladybug compliments Alya for rejecting akumatization as nobody has ever done it, and gives her the Fox Miraculous to transform into Rena Rouge, which will help Ladybug and Cat Noir fight the other akumatized villains. Ladybug then uses her Lucky Charm and summons a floatie. Rena Rouge then summons up her Mirage to make an illusion of Marinette, distracting the villains from taking Cat Noir's miraculous. While Ladybug is fighting the villains, she gets caught by Horrificator but meanwhile, the Marinette illusion is running from Timebreaker.
Timebreaker chases the illusion of Marinette and just in time, Rena Rouge makes the mirage of Marinette disappear, causing Timebreaker to fall into the pool. Cat Noir, who is underwater in his aqua form, then puts a floatie on Timebreaker and cataclysms the friendship bracelet, causing Timebreaker, Reflekta, Horrificator, and Princess Fragrance to turn back into their civilian form with Ladybug using her Miraculous Ladybug. Rena Rouge turns back into Alya, gives Ladybug the Fox Miraculous, and they hug each other.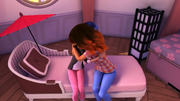 Back at Marinette's house, she then has a conversation with Alix, Alya, Juleka, Mylene, and Rose when she admits the breakup between her and Luka broke her heart. They forgive her, hug each other, and leave the room. Alya decides to stay behind to talk with Marinette about why she was acting the way she was. Marinette couldn't tell Alya what was in her heart, it's her right. she asked Alya if they are still friends so then she lets Alya stay with her. She breaks down about being lonely and having to lie to Alya, her other friends, parents, and breaking up with Luka and "drawing the line on Adrien." Alya makes Marinette relax, saying they are best friends. Marinette then reveals the shocking, exposing the truth to Alya that she is Ladybug. Alya, who is shocked, hugs Marinette, with the Kwamis looking on, ending the episode.
Characters
Major Characters
Minor Characters
Trivia
Internationally, this episode first premiered in Switzerland on RTS Un.
Rena Rouge returns in this episode.

It is revealed that despite Hawk Moth knowing her identity, Ladybug still entrusts Alya with the Fox Miraculous. Noticing how sneaky and deceptive Shadow Moth is getting lately and seeing that there is no time to find someone new and needing all the help she and Cat Noir could get in "Optigami", Marinette allowed Alya to keep the Fox Miraculous.

Marinette confessed to Alya that she is Ladybug.

This makes her the first person, post-Master Fu's amnesia, to know Ladybug's true identity.
Alya now knowing Marinette is Ladybug might have been a reference to an early concept idea for the series where she was originally conceived as Marinette's friend who already knew her secret right from the start.[5]
Alya is also the second member of the French Miraculous superhero team to know Ladybug's identity following Bunnyx in "Cat Blanc".

Chronologically, however, Alya is the first member to know Ladybug's identity, as Alix has yet to be told of this in the current timeline.

Ironically by rejecting Shadow Moth's influence, Alya got what she desired learning Ladybug's identity.

Just like Adrien's transformation theme, Marinette's theme seems to have changed too as it sounds different near the end.
This episode reveals that if an object is passed around between multiple negative-feeling people before the akuma enters it, all of them can be akumatized, even if only one person holds it at the moment of contact.
Ladybug and Cat Noir going to the movies is what he wanted to do with her as mentioned in "Timetagger" and "The Dark Owl".

Funnily enough, Ladybug's rant about the movie seems to describe her current self.

This is one of the few times where things are seen from a character's point of view, this time through Alya's, during her flashback with Marinette.
According to Tikki, kwamis don't fall in love which is understandable due to them being immortal technically there is no reason for them to (well with their own kind). And yet, most of them made loving and trusting bonds with the owners they received so this is likely one of the few reasons why kwamis have a strong desire to have one.

Which is also similar to Fairies from "The Fairly Oddparents", since due to them being immortal and their magic being unpredictable when they are babies there is no reason for them to have babies of their own which is why most of them have god-kids.
Also Marinette should've considered it another way in the kwami's perspective due to their immortally once their time is done with their previous and/or current owners they have to return to the Miracle Box they came from and by the time their powers needed again their former owners are deceased. Meaning the kwamis know and/or are aware of how it feels to be separated or lose those they care about.

The dance that the Eiffel Tower was doing after Trixx used his powers is reminiscent of "Caramelldansen".
It is revealed that Marinette keeps the Miracle Box in a secret compartment in her box of fashion supplies, opened by pressing on different-colored spools of thread.
This is the first episode where an akumatized villain (Alya) rejects Shadow Moth's control and returns back to normal.

This shows that it's possible for an akumatized person to reject the Butterfly Miraculous holder while already akumatized.

The result of the champion rejecting akumatizion while akumatized will cause brief pain to the Butterfly Miraculous user.
When Shadow Moth felt his connection with Lady Wifi break he said it was impossible; however, due to how long the Miraculouses had been used for, it's unlikely that Gabriel Agreste was the first user to have a champion reject them and break free of their control.

This is the tenth time where the heroes appeal to reason with an akumatized villain following "Christmaster", Weredad, "Frightningale", "Riposte", "Robostus", "Volpina", "The Mime", "Rogercop" and "Stormy Weather".

However, despite Christmaster giving up his object, he didn't break his link with Hawk Moth.

Ladybug now seems to possess the ability to bring Miraculouses directly from her yo-yo.

According to her, this is an upgrade made after becoming the Guardian of the Miraculous which is understandable because previously she always went to Master Fu's shop to receive a Miraculous a weak point Hawk Moth was able to exploit but now that Ladybug is the guardian it's possible the box changed itself to fix said weakness making her job a bit easier.
As Tikki said in "Truth", "the box is in her likeness full of surprises" meaning just like the Miraculous transformations the Miracle Boxes can also adapt to the current guardian's taste and desires which also explains how the remaining kwamis got out of the box without needing to do so with their jewels implying that the box must have sensed Marinette's sympathy towards the kwamis restricted freedom.
It's unknown if there could be other surprises that were added to the box when it and the guardianship changed.

This is the third time a kwami (Trixx) has used their powers without an owner following Plagg in "Style Queen" and "Catalyst".

Like Plagg, he wasn't able to control it, in this case making the Eiffel Tower move unnaturally and unpredictably. This shows the effects of Mirage if the user has an unfocused mind. Trixx also implied that his unrestrained illusion powers could be strong enough to actually become real and affect the world around them, again showing how the Miraculous are a necessary power limiter for them lest they cause untold damage.
Ironically, that defeats the purpose or meaning of an illusion, as said mirages are only meant to make things look real, not be real.
Also like Plagg, Trixx used his powers to protect someone else, in this case Marinette. Coincidentally, both kwamis protected her from akumatized villains, with Plagg protecting Ladybug from Style Queen, while also allowing the hero to defeat the villain, and Trixx protecting Marinette from Lady Wifi while distracting the latter and the other villains to allow the former to transform.

This episode gives further insight into a kwami's and holder's powers and the jewels:

Outside of Ladybug and her team being the youngest Miraculous users in history, the jewels are a necessary power limiter for them both so they can cause less damage, act as a form of protection for the holders as well as give them time to fully adapt, grow and understand their powers. The jewels also protect younger Miraculous owners from the energy pull of their kwamis until they are ready to handle it.
That could also imply that regardless of whether a holder is a teenager or an adult, their powers are still limited compared to a kwami's.

According to Barkk, like Plagg, Trixx used his powers at some point before without an owner.

This implies that when kwamis gather in the Miracle Box, they share stories of their times with their owners.

During Rena Rouge's transformation, the alternative theme from "Stormy Weather 2" is used.
Mirage's activation sequence is not shown in this episode.
This is the fourth time the Aqua power up appears, following "Syren," "Mayura", and "Miracle Queen".
This is the sixth episode where Marinette's onscreen transformation is shown while Adrien says his transformation catchphrase off-screen after "Mr. Pigeon", "Riposte", "Zombizou", "Chameleon", and "Gamer 2.0".
Marinette is sad during her transformation, similarly to "The Bubbler", "Santa Claws", "Zombizou", "Style Queen", "Anansi", "Miraculous Shanghai", "Félix", and "Truth".
This is one of the few times where the heroes deal with a villain off-screen and onscreen.
Adrien learns about another kwami, Trixx.

He previously knew the existence of Plagg, Pollen, Tikki, Sass, Kaalki, Longg, Fluff and Liiri.

Lila's prediction in "Chameleon", that Marinette would be all alone and lose her friends, came true in this episode, but it wasn't Lila's doing.
When Marinette voices distress about not having a love story, Tikki asks her if she's so sure, implying that Tikki heard stories of past Miraculous holders having love lives and them finding ways to make it work, or she could be aware of Rena Rouge and Carapace who are together despite knowing each other identities.
As their akumatized selves, Alya and the others tried to save Marinette and their friendship by making her spill her secrets but unknown to them; in trying to do it by force instead of saving her could've done more harm than good.

Without realizing it, Marinette also acted a little like Hawk Moth when it came to her problems meaning she did things the hard way when there was a simpler way if Marinette just become clean with the truth (except for her identity) a lot sooner. Then, she wouldn't have had to fight her akumatized friends in the first place.

Cat Noir mentioned him and Ladybug saving Marinette several times and yet everyone seems to like her; he could be referencing to "The Evillustrator", "Gamer", "Befana", "Glaciator" and "Truth" or it could be that he's referring to that maybe Marinette was the reason for several akumatizations prior to this episode.
It's revealed that there are two cancellation phrases to dispel Mirage's illusions, as Rena Rouge said "Mirage Vanish" while in "Kwamibuster" Multifox said "Reality". "Reality" is later used by Rena Rouge in "Optigami", "Sentibubbler", and "Rocketear".
This is the only time when multiple villains are akumatized by the same akuma, and Hawk Moth/Shadow Moth doesn't refer to each one by their individual names during the akumatization.
Errors
When Ladybug catches Rose, her eyebrows are black not brown.
The pause icon on Lady Wifi's phone looks like a crude sketch.
When Tikki was eating, she left her food on the bed rails to talk to Marinette. However, when Alya looks for Marinette, the food is no longer in sight.
After Ladybug detransforms in her room due to what Trixx told her, one of Tikki's antennas is missing.
When Marinette's friends are asked to leave her room, they go out in this order; Juleka, Mylène, Alix, Rose, and Alya. In the next shot inside the bakery, they go out in this order; Alya, Mylène, Rose, Juleka, and Alix.

This error is also present in the next shot outside the bakery. Alya was the first one in the line on the previous shot but she's the last one to leave the bakery door.

When Lady Wifi teleports from Marinette's phone, it is dropped on the floor. However, Marinette's phone is no longer to be seen in the next scenes.
When Reflekta and Princess Fragrance enter the Art classroom, there are five people present. However, when they are turned into clones of Reflekta, there are six people present.
When Marinette transforms into Ladybug out of her anger, Kaalki, Ziggy, Sass, and Roaar are at the foot of her bed. However, after all the kwamis hear Alya coming up, they are under her bed.
After the first illusion is stopped, Tikki, Trixx, and Barkk are not animated and are in t-poses as they float around Marinette.
When Adrien sees Trixx's mirage on TV, the channel's logo disappears for a frame.
Shortly after Alya deakumatizes herself, she blinks, and her top eyelash clips through her bottom one.
Reflekta says "You're on, Princess!" without opening her mouth.
During the scene in front of the pool, the light masks of the villains are much wider than they should be.

During the same scene, both the Butterfly and Peacock miraculouses are missing from Shadow Moth's chest.
Gallery
| | |
| --- | --- |
| Click here to view the gallery. | |
References