She-Hulk Trailer Dropped - The Loop
Play Sound
"
No one tricks Gabriel Agreste. But you, my lovely Amok, you will deceive that arrogant young Félix! And thanks to you, I will get my ring back!
"

—Shadow Moth, Gabriel Agreste
"Gabriel Agreste" is a Season 4 episode of the series, Miraculous: Tales of Ladybug & Cat Noir.[3] As based on the series' production order specifically, "Gabriel Agreste" is the 9th written and produced episode of Season 4. It is also the 87th written and produced episode of the series, overall.[1]
Synopsis
Nathaniel and Marc have a plan for Marinette to declare her feelings to Adrien. They set it up at school, where Adrien is free of his father's control. But Chloé films their meeting and threatens to reveal everything to Gabriel, who would forbid Adrien to go back to school. Chloé will spend the evening at Gabriel's, where Marinette cannot enter. But Nath and Marc's imagination is limitless, and Marinette, disguised as waitress, sneaks into the Agreste home... where a supervillain is also crashing the party. Will Ladybug save the soirée?
Plot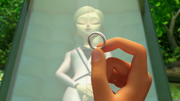 In his lair, Shadow Moth declares that he would find out what has changed since Ladybug became the Guardian of the Miracle Box. In the repository, Gabriel holds one of the Graham de Vanily Twin Rings, explaining to Emilie that he had arranged a soirée to which her sister and Félix were invited, and that he intended to take the ring Félix stole. Meanwhile, in a car headed towards the Agreste mansion, Félix watches a Ladyblog video by Alya, in which she explains what the Miraculouses are. Félix comments to his mother that he hopes to see superheroes during their stay in Paris. She agrees that it would be exciting and gives Félix an air kiss.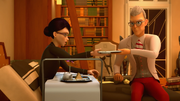 In Nathalie's room, Adrien brings Nathalie lunch. Adrien laments that he wouldn't have his friends over, and Nathalie counters that the club members are important to Gabriel. Adrien mumbles that his friends are important to him when Gabriel enters the room and asks Adrien to leave them for a moment. Once Adrien leaves, Gabriel says that organizing the soirée is hard without her help, but he would not cancel it, given that, firstly, the guests wouldn't understand, and more importantly, Amelie and Félix were coming. Nathalie gives Gabriel instructions on her tablet and offers him a sandwich.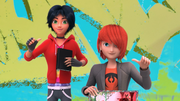 In the art classroom, Marinette's friends involve Marc and Nathaniel, who were well aware of her crush on Adrien and specialists in romantic comedy, to help her get together with her crush. They explain that the story is actually similar to a fairytale, with Adrien being a princess, Marinette being the knight, the Agreste mansion being the castle, and Gabriel being the witch. The girls playfully comment on the roles of Adrien's father and bodyguard. Nathaniel and Marc, the good fairies, would help Marinette the knight rescue princess Adrien in the one place where the witch Gabriel had no control over him: the school. At that moment Chloé shows up from a ceiling tile, to the horror of the group, and threatens to show Gabriel the recording of the meeting she made with her phone, and has a dramatic yet comedically unsuccesful exit. Marinette is certain that Chloé wouldn't do it, but Zoé confirms that that night Chloé would go to the Agreste mansion. In order to stop her, the group decides to give the knight a disguise to sneak into the ball.
At the hotel, Zoé boldly convinces the butler that the location of the soirée had changed, and then informs the rest of the success. In Marinette's room, the group dresses her up as butler Marino.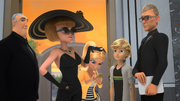 At the Agreste mansion, Gabriel prepares for the soirée, following the list, and leaves the bodyguard in charge of the cellphone scramblers. He stands at the entrance, welcoming his guests, checking their identities and handing them masks. Marinette goes over to a waitress and introduces herself as Marino, claiming that the regular waiter was sick. Sarah, the waitress, explains that they'll be taking care of food prep and overseeing the children, and would have their identities checked by Gabriel's fingerprint scanner. Marinette grabs a large box and succesfully enters the mansion, avoiding the identity check, to what her friend cheer. Gabriel greets the Bourgeois family but is soon interrupted by Chloé, who tries to show him the video. Marinette purposefully trips with the box to distract them, causing Gabriel to drop his tablet. Adrien helps Marinette up, wondering if he knows her. Chloé fails to get Gabriel's attention. Amelie and Félix arrive just as Gabriel picks up the tablet and fixes his tie, and Félix notices the brooches under the tie. Amelie thanks Gabriel for letting Félix, who smiles innocently, keep the family's ring, and Adrien points out that it was very thoughtful of him.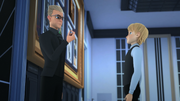 Sarah asks Marinette to help out in the kitchen, but following Zoé's advice, Marinette makes a mess there and is left in charge of the children instead. Chloé taunts Félix, who in turn pretends to be Adrien, laughing at her foolishness. When Gabriel locks the doors of the mansion, Chloé tries to show her video again, but Gabriel tells all the visitors to store their phones in the special robot, and then activates the cellphone scrambler, cutting the communication between Marinette ajd her friends. Adrien leads Kagami, Chloé and Félix to his room, followed by Marinette, but Gabriel asks Félix to come to the office. He confronts Félix, but Félix insists that he took the ring because his mom wanted it. Félix claims to have made a copy and gives the ring on his finger to Gabriel. They leave the office, and Gabriel goes to Nathalie's room. Gabriel sneakily follows him and eavesdrops. Gabriel knows that Félix gave him a fake ring. Adrien calls Félix, who comes over to his cousin's room. Nathalie suggests akumatizing Félix to get him to confess where he's hiding the ring, to what Gabriel replies that Félix would know he is Shadow Moth. Nathalie reminds him that he has the power to be Gabriel and Shadow Moth at the same time. Gabriel transforms and creates a sentimonster of himself.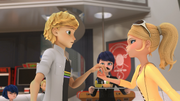 The ambience in Adrien's room is tense. Chloé, who withdrew the chip from her phone, insists that she needs a device to play the video. Adrien tries to reason with her, but Marinette interferes and follows Chloé. Félix leaves the room, claiming he needs to talk to his mother, leaving Kagami and Adrien alone. Marinette sees Chloé sneaking into the dining room in a cardboard box and follows her example. She sees Chloé reaching out a phone in the middle of a lively dance and goes after her.
Félix sneaks into the office and looks around. He walks over to the painting of Emilie and reaches towards it. The sentimonser suddenly interrupts him, asking what Félix was looking for. Félix vaguely says that he would like to know his uncle better, to what the sentimonster retorts that he indeed doesn't know him well enough since he gave him a fake ring. Félix taunts him and reveals that he is aware of Gabriel being Shadow Moth. The sentimonster, while denying this, claims to have all the power necessary to make Félix disappear with a snap of his fingers, and backs him up against the painting. Shadow Moth tries to akumatize Félix, trying to convince him that Gabriel is inferior to Shadow Moth. However, Félix is certain that he saw the brooches that the sentimonster didn't have. He rejects the akuma, rips the bottom of the sentimonster's pants with a pin from his sleeve and runs away. Shadow Moth akumatizes the sentimonster into the Collector instead.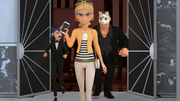 Chloé leaves the dining room, followed by Marinette and Bob Roth, whose phone she took. The Collector smashes the office doors open and captures Chloé, forcing her to explain what she wanted to show. He attempts to capture Marinette, but gets Bob instead. Kagami and Adrien see the Collector, and Kagami grabs her fencing sword to fight him. Adrien transforms into Cat Noir. The staff exit the kitchen and join Kagami in the fight against the Collector, who soon captures them. He faces Félix, who stands in front of the door, and collects it. While Félix escapes the mansion, Marinette transforms into Ladybug in the kitchen.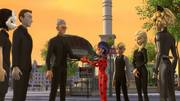 Ladybug and Cat Noir protect Félix from the Collector. Cat Noir asks Félix what the Collector was after and why, and Félix explains and concludes that his uncle is a "strange man". Ladybug and Cat Noir hope to fill the Collector's tablet's memory, but since it doesn't work, Ladybug summons her Lucky Charm. She gets a trampoline, which they set at a lamp post. They distract the Collector by tossing plates at him, and by throwing Cat Noir's stick, they make him drop his tablet, which Ladybug then destroys with her yo-yo. She purifies the akuma and reverts the damage. Félix sees that the tear is still there. Gabriel admits that the memory of his wife made him vulnerable, and he lets Félix keep the ring. Ladybug gives him a Magical Charm. Chloé tries to show Gabriel the video, but Bob Roth takes his phone from her and deletes the video, much to her frustration.
Shadow Moth examines the Magical Charm and destroys the sentimonster. Once he de-transforms, he asks Nathalie to find all the information she could about it, but she says that she's never read anything about it. Gabriel comes to the conclusion that the Miraculous spellbook was not a full guide, but rather a chronicle of what had been discovered until then, and that his power could be stronger than he thought. Gabriel leaves the room, and Félix finds the pants intact, confirming his suspicion.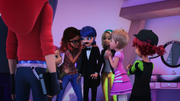 Marinette's friends nervously await in her room, and Marinette comes in, tired but triumphant. Marc and Nathaniel tell her that they were inspired to write a new comic: "The Adventures of Marino, the Clumsy Waiter".
Sometime later, Gabriel leaves fake copies of the Butterfly and Peacock Miraculouses: a "little surprise" for when Félix comes back.
Characters
Major Characters
Minor Characters
Trivia
Internationally, this episode first premiered in France on TFOU.
This is one of the few episodes that are not titled after an akumatized villain.
This episode is the first of season 4 to have its title revealed to the public, with the reveal being done by Mundo Gloob on August 6th, 2020.[3]

Rather ironically, it was one of the last episodes of Season 4 to premiere worldwide.

It's revealed that Gabriel has a club of all the most important people in Paris.
It is revealed that Nathalie is still sick, and bedridden in her room, like in "Miraculous New York".

This is further supported by the fact that in "Lies", she sends a voice message to Adrien, without giving him his tablet like she usually does, and how in "Mr. Pigeon 72", and "Queen Banana", she isn't with Adrien, holding the tablet Gabriel speaks from, instead being held by Bob Roth, and Adrien, respectively.

When Gabriel leans to grab back his tablet, Félix notices him wearing two brooches under his tie and believes this to be the Butterfly and Peacock Miraculous. Although the Gabriel sentimonster tried to convince him it wasn't him, he still believes that Gabriel is secretly Shadow Moth.

This is proved to Félix as he had ripped Gabriel's pants when he escaped him, but afterwards Gabriel doesn't appear to have a torn rip on him, believing the Gabriel he encountered before isn't the real Gabriel.

It's revealed that Marc and Nathaniel's first story has a romance arc with Ladybug and Cat Noir.
Marc and Nathaniel's story has Gabriel being a witch (sorcière in the French dub). Ironically, unbeknownst to them, Gabriel can actually be called a witch or a sorcerer as he uses magic from the Miraculouses.

The designs are shown in the art style of Disney's Sleeping Beauty, with Gabriel the witch resembling Maleficent.

It's shown that Zoé still acts the bratty role around her family despite trying to be better as seen in "Sole Crusher", as much as she detests doing so.
This is the second time Marinette pretends to be a boy called "Marino", after "Party Crasher".

Coincidentally, she did this both times to sneak into the Agreste mansion.

It's revealed that the blonde maid from Le Grand Paris is named Sarah.
Starting in this episode, Gabriel transforms by saying "dual metamorphosis" instead of "unify", and de-transforms by saying "reverse morphosis" (instead of "divide"/"dark wings, fall"/"fold my feathers").

According to Thomas Astruc, if someone unifies two miraculouses from the beginning, while being in their civilian form, the correct invocation phrase would be "Dual Metamorphosis", while if they have one miraculous activated, and then want to activate another, "Unify" is used.[4] This would make the usages of "Unify" in "Truth" and "Queen Banana" incorrect.

Félix is the third person in chronological order ever to resist Shadow Moth's control, after Chloé in "Miraculer", and Alya in "Gang of Secrets"

Also, he is the second person in chronological order able to resist Shadow Moth's control without being akumatized yet, after Chloe.

Felix is the fourth person not to get fully akumatized after getting infected with an Akuma, following Chloe Bourgeois in Miraculer and Marinette Dupain-Cheng and Sabine Cheng in Ladybug.
This is the second time a sentimonster is akumatized, following "Feast".
This is the third time in season 4 in chronological order where Cat Noir transforms on-screen, after "Lies" and "Psycomedian".

This is also one of the few times Cat Noir transforms on-screen but Ladybug doesn't.

When the Sentimonster Gabriel threatens Félix, he says that he only needs to snap his finger to make Félix disappear. This has led many people to believe that Félix is a sentimonster, but this isn't confirmed.
Shadow Moth comes to know that Ladybug was able to create the Magical Charms to protect people from future akumatizations.

He had already suspected that something has changed ever since Ladybug became a guardian, that could have started when he failed to reakumatize Chloé in "Queen Banana".

With the reveal that Ladybug was able to create the Magical Charms, both Gabriel and Nathalie realized that the Miraculous spellbook has just the knowledge the guardians had been able to uncover, being the reason why the last few pages of it are blank.
According to Thomas Astruc, this episode was going to introduce a new location, the Agreste mansion kitchen. Due to the limit of backgrounds because of the timing limit, however, they couldn't do it and it was postponed to season 5.
This is the second episode in chronological order that features a post-credit scene, in chronological order, following "Miracle Queen".
Due to sentimonsters being what they are, besides being able to be akumatized, they can be given Magical Charms too (the humanoid ones), so Ladybug gave one to her archenemy without knowing it.
Chloé is shown to still be mad at Adrien, following the events of "Queen Banana", but at the same time, seems to want to reconcile with him, albeit by having him pulled out of school instead of admitting that she was wrong and apologizing, so that she can have him all to herself again like in their childhood.
The episode premiered internationally exactly two years and one day after the international premiere of "Félix", the only other episode which Félix appears in.
Kagami also appears to be decent in hand to hand combat.
This is the first time we see Adrien entering Nathalie's room. The same thing goes for Gabriel Agreste.
In chronological order, this is Nathalie's first appearance in season 4 since "Miracle Queen".
In the post-end card scene, Adrien's childhood drawing, which Gabriel broke in "The Collector", is inside the safe. It is unknown why he keeps it there, instead of the cabinet in which he used to.
When Marinette asks Alya about letting Marc and Nathaniel know her crush on Adrien, Mylène confirms everyone knows. This implies that, with Adrien excluded, Miss Bustier's class' knows about Marinette's crush on Adrien, including Zoé. As Ivan was there in "Truth", it can be assumed Max and Kim know as well.

Until "The Evillustrator", Nathaniel had a crush on Marinette, however, it doesn't seem to bother him when finding out about Marinette's crush on Adrien.

During the party, all adult guests wear black versions of their usual outfits, including Gabriel, who wears the outfit he wears in the family portrait.

For an unknown reason, his outfit is noticeably lighter, compared to how it's depicted in the portrait.
Errors
When the friend group huddles around Zoé's phone, Marc's eyelashes are missing.
When a picture of the Miraculous team comes up, Vesperia's bangs are blonde instead of black.

In the same picture, Pegasus' glasses are in Max's camouflage mode, not the charged.

Audrey Bourgeois was able to scan her fingerprint while wearing a glove.
When Adrien hands Marinette the package, his eyebrows suddenly shifts up for a brief moment.
When Félix arrives at the Agreste Mansion, Gabriel wears the Peacock Miraculous on top of the Butterfly Miraculous, but when he transforms in Nathalie's room, the Butterfly Miraculous is above the Peacock brooch.
The Ancient Chinese Bee Miraculous holder appears twice in the grimoire.
When Gabriel is talking to Nathalie in her room at the end of the episode, his nose suddenly gets a little smaller after Nathalie flips through the grimoire.
Gabriel and Félix say that the ring that the latter stole in his debut episode was Emilie's ring when it was actually Gabriel's.
When Chloé ascends via rope she makes it up to her knees safely then the model jumps back down so she can hit her hip.
When Shadow Moth releases the sentimonster from existence, Senti-Gabriel's model is signficantly shorter than his

This also applies to Gabriel himself after detransforming.

Marinette runs into the kitchen to transform into Ladybug, even though there should be many staff behind the doors.
Gallery
| | |
| --- | --- |
| Click here to view the gallery. | |
References