"
Now, who likes having his belly scratched? Daddy's little Fang!
"
Fang is Jagged Stone's pet crocodile. In "Guitar Villain", when Hawk Moth akumatizes Jagged Stone into Guitar Villain, he is affected as well and transformed into a dragon.
Appearance
Fang looks similar to a saltwater crocodile. He is a large and pale brown reptile with jagged teeth and golden eyes.
As a "helper" to Guitar Villain, Fang is a large purple dragon with large wings and brilliant green eyes.
For more of Fang's outfits and designs, see Fang/Designs.
Personality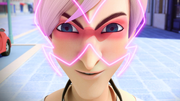 For a crocodile, Fang acts rather tame as he is never seen attacking people and seems fine with being a pet. As seen in "The Collector", where he seems to enjoyed his owner's performance. He also has some dog-like behaviors as he wags his tail and hangs his tongue out of his mouth, as seen in "Pixelator". Fang doesn't like being pestered and growls at Bob Roth.
Abilities
As a villain
When Jagged is akumatized and becomes Guitar Villain, Fang also transforms into a dragon. In this form, Fang can fly and breathe green blasts of energy.
Relationships
Jagged is Fang's owner. Fang appears to enjoy Jagged's company, even putting up with a collar around his neck, and he acts as a dog would to his owner. Jagged loves Fang dearly and treats him like a dog. Jagged pets and grooms Fang every day. Jagged is very knowledgeable about what Fang's needs are. Jagged doesn't appreciate it when people don't understand Fang's needs and requirements, including André Bourgeois.
Fang is also shown to care a lot about Jagged as he growls and glares at Bob in order to help him out in "Guitar Villain". When Fang is pixelated by Pixelator in the episode of the same name, Jagged is horrified, calling out for Fang.
Unlike Jagged, Fang likes Vincent and smiles while wagging his tail when he is around.
Fang is irritated with Bob. If Jagged needs to force Bob to do something, Fang growls and glares at him as a way of threatening him.
After Chloé repeatedly drops her yo-yo on his head in "Antibug", Fang becomes angry and bites off the yo-yo string, causing the string to fly back at Chloé's face.
Sightings
Episodes
Trivia
Fang is the first pet to have been introduced in the series.
In "Pixelator", André Bourgeois assumes the name "Fang" applies to Penny Rolling.
In "Guitar Villain", when an akuma flies into Le Grand Paris to corrupt Jagged Stone, Fang attempts to eat it.
According to Penny Rolling in "Troublemaker", Fang hates flying on airplanes in the daytime.
Fang's Dragon form reappears in the two-part special event "Heroes' Day".[1]
In the Serbian dub, his name is changed to "Zubonja" (Toothy).
Gallery
| | |
| --- | --- |
| Click here to view the gallery. | |
References
Community content is available under
CC-BY-SA
unless otherwise noted.