Wiki Targeted (Entertainment)
Play Sound
This article is about the character. You may be looking for the episode.
"
You always do everything your father tells you to do?
"

—Félix Graham de Vanily, "Félix"
Félix Graham de Vanily[2] is a minor character of Miraculous: Tales of Ladybug & Cat Noir. He is first introduced in season 3 in the titular episode.[3] He is the maternal cousin of Adrien Agreste, the son of Amelie Graham de Vanily and the nephew of Emilie Agreste and Gabriel Agreste.
Appearance
Physical appearance
Félix is tall with blonde, combed-down hair and bright green eyes. He is borderline identical to his cousin Adrien. The only noticeable differences are their clothes and the different ways they style their hair.
Civilian attire
He wears a light gray long-sleeved dress shirt with a shirt collar. On top, he wears a dark gray vest. He also wears a black neck tie on his neck, dark gray dress pants, and black dress shoes.
For more of Félix's outfits and designs, see Félix Graham de Vanily/Designs.
Personality
Similar to Gabriel, Félix changed when his father passed away, meaning he wasn't always mischievous. Unlike Adrien who is kind and gentle, Félix is rude, sneaky, and according to Ladybug, very pushy, especially when it comes to getting what he desires, even being willing to negotiate with Hawk Moth and put others in danger. Adrien, as Cat Noir, says to him, "I bet you don't have a lot of friends, acting the way you do", implying that, like Chloé, Félix doesn't get along well with others because of his mischievous attitude and personality.
Felix might harbor some kind of jealousy towards Adrien as he was surrounded by friends while Felix was alone.
Abilities
As a civilian
Félix is a master of magic tricks and a skilled pickpocket. He is also good at basketball, being able to score a basket while facing away from the hoop.
According to Adrien, he is also skilled in martial arts. This was seen when he was able to fight with three akumatized supervillains (Lady Wifi, Princess Fragrance and Reflekta) simultaneously, as well as when he easily kicked Lady Wifi's tablet right out of her hand.
Furthermore, he is a fast thinker and manipulative.
Relationships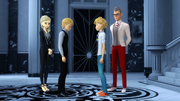 Félix and Adrien were very close. In the episode "Félix", Félix takes Adrien's phone, dresses like a doppelganger of Adrien, and impersonates him while insulting his friends. This is what leads to Alya, Juleka, and Rose's Akumatizations. Félix then falsely claims to feel remorseful and apologizes to Adrien and calls him "his favorite cousin".
Félix always fools his uncle and aunt, since he and Adrien were kids. Two are noticeably similar, like Gabriel, Félix also loses the person he loves and cares about, his father. After arriving to the Agreste mansion with his mother, he attempts to greet his uncle with handshake, but Gabriel doesn't move his hands. After the day, Félix reveals that he sent the video to his friends, he apologizes to Adrien. After Félix wants another handshake, Gabriel does so, but he is unaware that he stole his ring. Right before Félix returns to London with his mother, he smiles deviously at the window, because he fooled his uncle twice.
Félix has a strong bond with his mother and cares for her a lot. He would do anything to make her happy; in "Félix" he even goes as far as to team up with Hawk Moth or steal to get her one of the Graham de Vanily Twin Rings that she wanted. It is later revealed at the end of the episode that she only wanted the ring to give it to Félix, which indicates her deep love for him, too.
Félix and Marinette have never met each other personally, but Félix dislikes Marinette, discarding her declaration of love to Adrien and deleting it along with everyone else's video messages to Adrien.
As Ladybug, they are both on bad terms with each other. While Félix was pretending to be Adrien with Ladybug, she quickly noticed and attacked him out of self-defense. He is not afraid of her, however, as he was confident in winning the battle against her and Cat Noir.
While they have yet to appear together on screen, Félix knows Chloé as friend of his cousin, he expresses his annoyance and displeasure to her because she's just as annoying as usual. Félix always thinks of her as a "brat".
Family
Tree
    = Male
    = Female
    = Gender Unknown
Notes
Emilie Agreste mysteriously disappeared before the events of Season 1. In "Style Queen" and "Queen Wasp", it was revealed that she is underneath the Agreste Mansion in the same room seen in "Gorizilla", inside something resembling a coffin, in which she appears to be in a comatose state.
In "Félix", it is said that Gabriel did not let Adrien go to Amelie's husband's funeral.
Sightings
Episodes
Comics and books
Other
Trivia
During his past conceptualizations, Félix was originally Cat Noir, had the last name of Agreste, and was Marinette's love interest.[4]

However, his character was temporarily discarded as Thomas Astruc believed Félix was not purposeful to the series, as he came off as an anime cliché, and no one, including Thomas, was convinced by his dynamic with Ladybug as a couple of heroes to be appropriate.[5] Subsequently, Félix as a character was then replaced by an entirely new character, Adrien Agreste, as Cat Noir.[6]
For a while, Thomas considered bringing Félix back at some point, but since then, he did not have intentions to use him, eventually outright stating that Félix will never appear.[7][8][9]
Félix's design has slightly changed over time from the original Ladybug PV version.

His anime design included blueish-gray eyes.
In the PV, Félix's ring were always black with a cat face, no matter if he was Cat Noir or Félix. He only wore them as a civilian when needing to transform, not having them in public.
PV Cat Noir's costume differs from the CGI Cat Noir as well, with PV Cat Noir not having the staff.

Félix's name was inspired by the Latin meaning of the word, which is happy/lucky.[11]
As opposed to the show's current conceptualization of the how the Miraculouses work, when Félix was Cat Noir, his ring could not come off unless he got a kiss from Ladybug. In addition, while wearing the ring, Félix was cursed to have bad luck.[12]
Félix's original Cat Noir form was re-used as Adrien's in-universe appearance as Cat Noir, as featured in Thomas Astruc's animated movie featuring Ladybug and Cat Noir, as seen in "Animaestro".[13]
Félix's English voice actor Bryce Papenbrook lost his father as well.
Félix will return in season 4.
Gallery
| | |
| --- | --- |
| Click here to view the gallery. | |
References
v

•

e

Characters
Parisians
Teenagers
Children
Adults
Animals
Groups
Characters from the past
Miscellaneous
Future characters
Community content is available under
CC-BY-SA
unless otherwise noted.