Major Spoiler Warning
This page contains major spoilers that have not yet appeared in any episodes anywhere worldwide.
Félix Agreste is an upcoming character of Miraculous: Tales of Ladybug & Cat Noir. He is the cousin of Adrien Agreste.
Appearance
Physical Appearance
Félix is tall with blonde, combed-back hair and green eyes. He is borderline identical to his cousin, Adrien. The only noticeable differences is their hair and clothing.
Civilian Attire
In his civilian form, he wore a light gray long-sleeved dress shirt underneath a gray vest, a black tie, dark gray dress pants, and black dress shoes.
Personality
Family
Tree
    = Male
    = Female
    = Gender Unknown
Notes
Emilie Agreste mysteriously disappeared before the events of Season 1. In "Style Queen" and "Queen Wasp", it was revealed that she is underneath the Agreste Mansion in the same room seen in "Gorizilla", inside something resembling a coffin, in which she appears to be in a comatose state.

Non-Canon Information
This page is for a concept/character/etc. that didn't become, isn't considered, or hasn't been confirmed canon in the Miraculous Ladybug Quantic Universe continuity.
This article is about the Ladybug PV version of Cat Noir. You may be looking for the television series' version of Cat Noir, Adrien, or another Cat.
"
Félix was more an anime cliché. That's why we discarded him.
"
Félix Agreste[1] was the original version of Cat Noir that was seen in the Ladybug PV. He was replaced by Adrien Agreste in the main series.
Appearance
Physical Appearance
Félix was tall with pale blonde, combed-back hair and light blueish-gray eyes.
Civilian Attire
In his civilian form, he wore a light gray long-sleeved dress shirt underneath a gray vest, a black tie, dark gray dress pants, and black dress shoes. On his right middle finger, he wore a black cat-shaped ring with green eyes and a red jewel on its forehead.
As Cat Noir
Cat Noir wore a black suit with a golden bell on his chest. He had cat ears, a cat tail, claws on his fingers, and a belt around his waist with compartments. Additionally, he wore mid-thigh high boots and a black face mask that covered his eyebrows and his nose. His sclerae were green, and his hair was messier and untamed.
Personality
Félix was serious and reserved, keeping to himself and not being openly friendly. He coldly refused Marinette's feelings towards him and he got exasperated with Plagg's troublemaking behavior, as seen when Plagg knocks books off a shelf onto him. He liked to read books and disliked his bad luck, wanting to get rid of his powers to be normal again.
However, as Cat Noir, Félix became wild, outgoing, and expressive, though still being serious and focused when it came to fighting crime. He seemed to get nicer and more optimistic in his transformed state, as well, treating Ladybug kindly in comparison to how he treated others regularly. He tried to seduce Ladybug in order to receive a kiss from her, which would rid him of the "bad luck" from the ring and remove the ring itself from his finger.[2]
Abilities
As A Civilian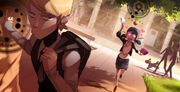 The ring's bad luck affected Félix and allowed him to project it onto others, even when he wasn't transformed. For example, in a concept image, he touches a tree, with his hand surrounded by bad luck energy, causing an apple to drop on Marinette's head.
As Cat Noir
The specifics of all of Félix's abilities as Cat Noir are unknown, but he appears to have had enhanced skills, such as agility, speed, and strength. His powers that he can utilize in civilian form were also probably available to use when he was transformed.
As seen in concept art in the later stages with Félix, Cat Noir had additional abilities related to his ring. He had Black Storm, where he points his ring out and releases a massive ball of dark energy, and Black Hole, where he puts his right hand on the ground and creates a small hole to capture people.
Relationships
Félix is immensely irked by Marinette and her crush on him. He seems aware that she likes him, but he doesn't reciprocate her interest, often responding to her by ignoring her, rejecting her invitations, and avoiding her.
When Marinette is Ladybug, Félix romantically pursues her. While trying to get a kiss to remove his powers by flirting with her, he also appears to care deeply about her. Her lack of feelings towards him is exasperating for him, not understanding why she doesn't accept a flower he brings for her. He finds her attractive, being awestruck by her as she leaps by him. When she is fighting the Mime, he watches in concern, and he talks naturally with her as they look over Paris at the end of the PV.
In the Ladybug PV, Félix doesn't take kindly to Plagg's mischief, and he is rather impatient with him.
It's unknown what Félix's relationship was like with the other Quantic Kids members by the time the idea and team members were dropped, but as seen in concept art when they're in civilian forms, he sits separately from them and Marinette, looking disinterested. When they're transformed, he looks like he gets along with them decently, grinning while with them in a drawing by Thomas Astruc.
Sightings
Episodes
Comics and books
Other
Trivia
Félix was a darker character that Thomas Astruc created to be Marinette's love interest and Cat Noir's alter ego, but Félix came off as an anime cliché, and no one, including Thomas, was convinced by his dynamic with Ladybug as a couple of heroes.[3] This led to the creation of an entirely new character, Adrien Agreste, to be Cat Noir.[4]

For a while, Thomas considered bringing Félix back at some point, but since then, he doesn't seem to have intentions to use him, eventually outright stating that Félix will never appear.[5][6][7]

Despite Félix was stated to never appear, he did managed to get an appearance in the series, but unlike before, he's now Adrien's cousin and he's no longer Cat Noir

Félix was the original version of Cat Noir that was seen in the Ladybug PV. He was replaced by Adrien Agreste in the main series.
Originally, Félix was a name that fans called him without knowing his real name. In an early synopsis, his name was confirmed to be Félix, but later on, sources said it was Adrien, confusing fans. It wasn't until later that they learned that Félix had not only been Cat Noir's original civilian name, but also a separate character from Adrien.

He was named Félix because it means happy/lucky in Latin.[8]

Félix's appearance is very different from the current version of Adrien. Adrien has more casual clothing with a variety of colors, green eyes, darker skin and a less tidy hairstyle. As Cat Noir, Adrien's outfit has lower boots, gloves, and a staff for a weapon.

Their personalities are also different. Adrien is less reserved and much kinder in his civilian form, and he is nicer to Marinette and is her friend, but oblivious to her feelings for him.
As opposed to Adrien, Félix's ring cannot come off anytime unless he gets a kiss from Ladybug. In addition, while wearing the ring, Félix is cursed to have bad luck, but it is unknown if this curse or any curse affects Adrien.[2]
Félix's cat ears when he transforms are real, unlike Adrien's, whose cat ears are fake.

When the unused concept of Quantic Kids was in development, Félix was still Cat Noir, as seen in a concept art. He continued to be, even after the Quantic Kids idea was shelved.
If an anime or 2D version of Ladybug is made, Thomas Astruc has stated that the Cat Noir featured would probably still be Adrien, because Félix isn't a strong enough character to write for on a long term.[9]

This has been proven to be true, as revealed for the Miraculous Ladybug OVA.[10]
There were also no plans for any variation of Félix to appear in the current 3D show.[7]

Félix Agreste's outfit from The Mini Menace Ladybug looks like the Marvel Comics' character Black Panther.
Gallery
| | |
| --- | --- |
| Click here to view the gallery. | |
References
Community content is available under
CC-BY-SA
unless otherwise noted.