We're Getting Mutants in the MCU - The Loop
Play Sound
Major Spoiler Warning


This page contains major spoilers from one or more episodes that have not aired in English yet.

Check the Spoiler Doctrine for more information.

"
I have failed again, Emilie. We should have been reunited long ago. I tried everything to get my hands on the Miraculous of Ladybug and Cat Noir. I should have already combined their powers that would have granted me the wish to bring you back! I am not... worthy... of our love!
"
Emilie Agreste (née Graham de Vanily) is a former leading actress in the film Solitude. She is also the wife of Gabriel Agreste, the mother of Adrien Agreste, the twin sister of Amelie Graham de Vanily and the aunt of Félix Graham de Vanily.
Emilie is a former Peacock Miraculous holder, with the Miraculous' former damaged nature being the cause of her coma. Currently, she is in Gabriel's repository, where she is being kept in a glass coffin.
Appearance
Physical appearance
Emilie is a thin and fair-skinned woman who greatly resembles her son. She has a small nose, a pointy chin, thin lips, upturned green eyes, thin eyebrows, and blond hair which she keeps in a side ponytail.
Civilian attire
Emilie wears a black blouse with a light pink jacket worn over it. On the coat, a brooch shaped like a flower with five petals with a pearl in the center can be seen. She also wears light pink business pants and black high heel shoes.
For more of Emilie Agreste's outfits and designs, see Emilie Agreste/Designs.
Personality
Not much is known about Emilie, except she is stated to be kind-hearted and loving towards her family. Proven when they took up the use of the jewels the first time, their promise was to keep their son out of harm's way. According to Gabriel, she was stubborn and headstrong when it came to other people's safety meaning she also cared and loved other people, similar to Adrien. Gabriel also says in the episode "Simon Says" that Emilie was "way too overly dramatic". That could also imply that, unlike her husband, Emilie didn't resort to drastic measures to fix a problem.
Since Gabriel calls the use of the Peacock Miraculous "their" mistake, it's implied that Emilie knew that the jewel was damaged too. However, for some unknown reason, she continued the use of the jewel either with or without her husband's knowledge, showing her recklessness, rebelliousness, and determination like her son, Adrien.
Like her husband, Emilie didn't fully account for the consequences of her actions by using the jewel that put her in her condition everything spiraled into a mess causing the very people she cared and loved about to be in serious danger.
Abilities
As a civilian
Emilie is a professional actress, implying considerable skill in this field. In "Feast", after doing a duet with Plagg on the piano, Adrien mentions that she always made him laugh like, implying at some point she learned to play the piano. She also used to teach her son.
As a Miraculous holder
If this past Peacock Miraculous holder had the same powers as the current holder (Mayura), Emilie had enhanced physical abilities, a hand fan as her tool, and Amokization as her superpower, allowing her to fashion sentimonsters from the emotions of herself or others.
Family
Tree
    = Male
    = Female
    = Gender Unknown
Notes
Emilie Agreste mysteriously disappeared before the events of Season 1. She's later revealed to have fallen in a coma from using the broken Peacock Miraculous, and that she's kept in a glass coffin in a garden under the Agreste mansion.
In "Félix", it is said that Gabriel did not let Adrien go to his uncle's funeral.
Sightings
Episodes
Others
Trivia
Thomas Astruc revealed her existence by releasing an image of her hugging Adrien as a sneak peek with the caption, "Where is she?"[2]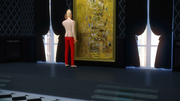 The image of her used as Adrien's computer background is actually a real-life photo of voice actress Tara Strong, with the top changed from magenta to blue and Emilie's face edited over Tara's face. [3]

The writers admitted at an event that they modeled Emilie's design on Tara, whom they favor because of her work. [4]

There is a portrait of her in Gabriel's atelier in the Agreste mansion. It resembles Gustav Klimt's Portrait of Adele Bloch-Bauer I, commonly known as The Woman in Gold or The Lady in Gold.

Behind the painting, there is a secret safe, in which Gabriel keeps the Peacock Miraculous and a booklet that reads "TIBET" in big green letters in front of a picture of her.
The painting has hidden buttons that open the secret entrance to Hawk Moth's lair.

In "Party Crasher", it's revealed that Emilie had a collection of old records, which Adrien keeps in his room.
In "Gorizilla", it's revealed that because of the emotional attachment that Gabriel has to the film Solitude due to Emilie's role in it, he forbade his son from watching it, though he later changed his mind.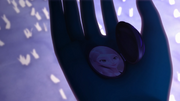 A picture of her is inside of the Butterfly Miraculous.
Throughout many episodes, it's hinted that Gabriel wants the Ladybug and Cat Miraculous to bring Emilie back from her coma.
In "Santa Claws", it's revealed that she disappeared sometime in the last year, as it is Adrien's first Christmas without her.
A future episode will track the relationship between Emilie and Gabriel. [7]
In the Miraculous Secrets webisode "Gabriel", Gabriel says he and Emilie used the Peacock Miraculous and if they hadn't, she "wouldn't be where [she] is now", revealing that the Miraculous is responsible for her current condition.

It remains unknown as to why and how Emilie used the Peacock Miraculous enough to render her comatose.

On Twitter, Thomas stated that Emilie's "death" is public knowledge and there was a funeral for her.[8]
Due to her having British origins she is the first Miraculous holder to have such origins followed by Adrien.

Like Gilbert, she was second person to use a Miraculous but not in same place she was born in.
Gallery
| | |
| --- | --- |
| Click here to view the gallery. | |
References