Jurassic World: Dominion Dominates Fandom Wikis - The Loop
Play Sound
"
Oh no! This is terrible! He can't akumatize him again! […] Oh, right! Awesome! Awesome!
"

—Duusu, "Hack-San"
Click here to see quotes from Duusu.
Duusu[8] is the kwami of Emotion[9] who is connected to the Peacock Miraculous.[10] With his power, Duusu's wearer can use the brooch to transform into a peacock-themed superhero.
Duusu and his Miraculous are currently owned by Félix Graham de Vanily, who uses it for unknown reasons.
Appearance
Duusu is a brilliant phthalo blue creature and is 10 centimeters tall.[6] He has a small pale, light grayish cerise circle on the center of his forehead and matching eyes with deep cobalt blue sclerae. Duusu's mouth is a dark magenta and contains rows of teeth on the top and the bottom. Duusu's tail, reminiscent of that of a real peacock, contains five feathers. The eyes of the feathers are brilliant orchid, with a black interior and a dark blue exterior. He also has three feathers coming out from behind his head, the central one of which is longer than those to its left and right.
For more of Duusu's designs, see Duusu/Designs.
Personality
Duusu had a very sporadic personality, with him being happy one minute and then overly sad the next. It is unclear whether this is his natural personality, being the living embodiment of the concept of emotion, or a result of his Miraculous being broken. After his Miraculous is fixed, it's revealed that his erratic behavior was, indeed, partly a result of the damage to the Peacock Miraculous, which Duusu comments as being like there was "chaos in [his] head" and he was in a nightmare.
Now that his Miraculous is fixed, Duusu is shown to have his mind completely cleared. He can still be quite emotional and a bit scatterbrained, but to a lesser extent than when his Miraculous was broken. The fact that he thought being used for evil was a nightmare indicates that, like his kwami brethren, he wishes his powers to be used responsibly and for the greater good of the world.
When his Miraculous was broken, Duusu was a bit oblivious to the way he acted around others, as well as to what his owner did with his powers. Duusu was very easily excited and seemed to enjoy chaos, though he was very concerned for Nathalie's health, showing that he can be caring.
Abilities
Duusu is able to fly, levitate, phase through solid objects, and carry objects that are larger and/or heavier than him.
As a kwami, Duusu has and can give the power of emotion and is able to transform the holder of the Peacock Miraculous into a peacock-themed superhero or supervillain with the power of Amokization.
Relationships
Although Nathalie wields her powers for evil, Duusu is shown to still care for her, as seen in the episode "Reflekdoll" where he is upset and shows concern with Nathalie collapsing in exhaustion and later advises her to rest instead of using her powers. In "Ladybug" he also seems to be aware of Nathalie's feelings for Gabriel as well, remarking that her desire to give him the Ladybug and Cat Miraculouses is romantic.
Not much is fully known of the relationship between Gabriel and Duusu, but Duusu does obey Gabriel after he tells Duusu that Nathalie needs to rest.
Upon getting his Miraculous fixed, Duusu was horrified to discover that he was being used for evil but could not disobey Gabriel. Despite this he did show concern for Gabriel in "Hack-San" at the notion of him re-akumatising Robostus despite the fact that the robot nearly killed him when he did it the first time, though he quickly became hopeful that it might happen again due to the chance that he and Nooroo could be freed from Gabriel's evil grip.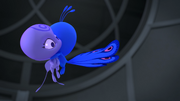 Duusu is good friends with Nooroo, though he is oblivious to how Nooroo is concerned about his mental condition. Nooroo is currently the only kwami he is able to meet.
After the Peacock Miraculous was fixed and his mind got cleared, Duusu was shown to be very happy to see Nooroo, happily hugging him and expressing how happy he was to see him.
Not much is known about Duusu's relationship with Emilie, but it's likely similar to him and Gabriel, that he also knew the reason why his former owner overused the damaged jewel. Just like Gabriel, Duusu was heartbroken and saddened by his wielder's fate.
Not much is known about Duusu's relationship with Wang Fu, but he apparently allowed Fu to use the Peacock Miraculous to create the Dormant Sentimonster that caused the fall of the Order of the Guardians. As a result of this, Fu lost not just the Peacock Miraculous and Duusu himself, as well as the Butterfly Miraculous along with it's kwami, Nooroo, and the spellbook.
In "
Multiplication
", when Félix wears the Peacock Miraculous, Duusu formally meets Félix. Duusu asks him if he's the new owner which Félix ambiguously answers that he's way more than being Duusu's owner.
History

Click here to view the history of Duusu.
Sightings
Episodes
Books and comics
Other
Trivia
Duusu's name may be based on the Slavic word for soul, "duša".

It may instead be based on the French word "douce", meaning "sweet".

Duusu was first revealed by Jeremy Zag with a picture posted on his Instagram on June 27, 2016. The post did not contain any comments from him.[11]

His name was revealed on October 7, 2016 during the Miraculous panel at New York Comic-Con.
As seen in the concept art, when he cries, her tears appear to glitter.

This idea, however, is part of an old concept and may not be true in the completed version of the character.[12]

The official Miraculous Ladybug Twitter, however, did comment on the image, stating "Who do you think is hiding behind the peacock kwami? 💙"[13]

Also, another piece of concept art that was revealed shows Duusu with his Miraculous's future holder, which later turned out to be Nathalie Sancoeur.

Duusu has coloration and plumage similar to that of a peacock, a male peafowl.
Duusu's first appearance in any Miraculous media is in the second issue of Miraculous Adventures, alongside several kwamis, known and unknown, as they fly through space in a flashback.[14]
Out of all the known kwamis, he is the only one who didn't appear in "Sandboy". However, he was mentioned by Sass.
The reason why Duusu speaks in a high-pitched voice is because many peacocks make high-pitched calls, though this was yet to be confirmed.
Prior to the airing of "Truth", it was uncertain whether or not Duusu was aware that he was being used for evil and if his sporadic personality was a result of the Peacock Miraculous being damaged. The events of the episode confirmed both to be the case with him saying it was like his mind was chaotic and he was inside a nightmare being used for evil purposes, unaware that it was indeed reality.
Gallery
| | |
| --- | --- |
| Click here to view the gallery. | |
References