She-Hulk Trailer Dropped - The Loop
Play Sound

"
I've had enough of being shut up at home by my dad. I want to meet people and make friends! Go to a normal school like everyone else!
"

—Adrien, "Stoneheart"
Collège Françoise Dupont, called Françoise Dupont Middle School/High School (see note below) in the English version, is a public middle school (collège in French) that Marinette and her classmates attend.
Note: The French word "collège" does not translate to the English word "college." Its meaning is "junior high school/middle school." Middle school in France lasts four years, starting in "sixième" (French equivalent to 6th grade) until "troisième" (French equivalent to 9th grade), which explains why the protagonists are between 13 and 15.
There are some inconsistencies in English dub regarding the grade level of the students. The English dub often calls it a high school, and Alya in "The Pharaoh" says that Ladybug's history textbook is a 10th grade book in the English dub. The original French dub says it is for "troisième (ninth grade)" which is the last year of collège/middle school in France. These changes are likely to not confuse American audiences where ninth grade is the first year of high school.
Appearance
Exterior
The exterior of the school is tan with a slate blue cobblestone roof. The building is three stories tall.
Entrance
The front of the building has eight large arched windows, each slightly inset with a striped design above them. The steps leading up to the entrance door widen as they approach the sidewalk and vice versa towards the entrance. The double entrance doors are dark oak, with gray handles. Above the doors is a white banner with a red outline hanging down. Above the banner are four rectangular windows, a large circular window, and a smaller circular window on each side.
Courtyard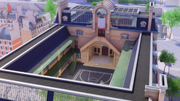 The central portion of the school is an open-air courtyard. The entrance to the courtyard has a diagonal black and white checkerboard pattern, with a slate cream under this design. On either side of the entrance doors are a wooden bench and two chalkboards. Along one side wall of this area is a door leading to a utility room. The nurse's office, which a placard indicates is handicap-accessible, is located along the opposite side wall.
The courtyard is made up of slate-gray concrete, with white lines painted on to make a basketball court. On either side of the courtyard is a basketball hoop hanging by a white rope. There is also a set of green metal stairs on either side of the courtyard, leading up to the second-floor rooms. Next to the stairs are green support pillars, supporting the platforms above.
Around the perimeter of the courtyard are various rooms, including locker rooms with adjoining bathrooms, and several classrooms, among them a science classroom.
Second floor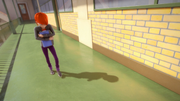 The second floor has a green overhang, cream slate walls, and thin green metal pillars for structural support of the overhang. The platform jutting out from the wall, designed to allow people to get around the second floor, is made of green metal.
The second floor also has the entrances to the various classrooms, including an art studio room. Most of the classrooms have large windows and a birch door. Other rooms have no inward windows and a dark oak door with a window. At the bottom left of the stairs leading to the library is the headmaster's office.
Third floor
The third floor at the front of the school has only one room, the library. The stairs leading up to the library are a light slate cream, with a slate orange and light brown banister. Just underneath the slight overhang of the banister are small white stone rectangles, positioned evenly throughout. Just at the apex of the two stairs is a stone design of a fleur-de-lis, with a downward-facing bow and flowers within the bow. The doors to the library are dark oak, with large windows and no discernible handles.
The third floor along the school's rear perimeter houses the cafeteria. Access to the cafeteria has been shown to be via stairs from the first-floor courtyard.
Employees
| Name | Position | Character Notes | Image |
| --- | --- | --- | --- |
| Mr. Damocles | Principal | He loves comic books and dreams of being a real Superhero. | |
| Caline Bustier | French, Poetry, and Literature Teacher | She is extremely compassionate and wise beyond her years. | |
| Ms. Mendeleiev | Physics, Chemistry, and Math Teacher | A cranky, no nonsense type who hates when people argue with her. | |
| Armand D'Argencourt | PE and Fencing Teacher | The descendant of a black knight who once ruled over Paris. He speaks in a medieval dialect. His fencing class is noted to be the best in all of Paris. | |
| Fred Haprèle | Assistant Educator | Part-time, he is a community theater actor. | |
| Jean-Pierre Monlataing | Art Teacher | Calm and collected, he loves seeing new and creative works of art in all forms. | |
| Sissy | Nurse | Unknown | |
Locations
Notable students
Name
Character Notes
Image
Adrien Agreste
Famous teen fashion model and son of the renown fashion designer, Gabriel Agreste. Adrien is very kind, even to people who obviously don't deserve it.
Chloé Bourgeois
A spoiled girl and daughter of the Mayor of Paris. Chloé believes herself to be above everyone else and expects everyone to do what she wants.
Ivan Bruel
Despite his massive size and intimidating appearance, Ivan is actually very sensitive.
Alya Césaire
Class Deputy
An aspiring journalist with sass to spare.
Juleka Couffaine
A very shy and quiet girl who tends to go unnoticed.
Marinette Dupain-Cheng
Class Representative
Aspiring fashion designer and daughter of the best baker in Paris. Marinette is quite clumsy and insecure, but deep down, she is actually very confident.
Mylène Haprèle
Mylène is a mousy girl who is scared of her own shadow.
Max Kanté
Max is a boy with the mathematical brilliance of a calculator. He loves video games and his best friend is a robot he created.
Alix Kubdel
A roller skater with devil-may-care attitude.
Nathaniel Kurtzberg
A talented artist who always has his nose in his sketch book.
Nino Lahiffe
A DJ and a total party dude. He tends to misread situations.
Rose Lavillant
A bubbly girl who only sees the bright side of things and always tries to find the good in others.
Lê Chiến Kim
A top athlete who suffers from overconfidence.
Sabrina Raincomprix
Sabrina is Chloé's personal servant in all but name. She doesn't seem to realize how poorly Chloé treats her.
Lila Rossi
A compulsive liar with no moral compass. She does whatever it takes to get what she wants and she doesn't care who she has to hurt.
| Name | Character Notes | Image |
| --- | --- | --- |
| Marc Anciel | A very shy and nervous boy who loves to write and make comics with Nathaniel. | |
| Aurore Beauréal | A final contestant for KIDZ+ contest and a weather forecaster. | |
| Mireille Caquet | After winning a competition, Mireille became the local T.V. weather girl. | |
| Jean Duparc | Given that he was Akumatized into a magician supervillain, he presumably likes to do magic tricks. | |
| Zoé Lee | A teenage girl from New York City who is Chloé's half-sister. | |
Alumni
| Name | Character Notes | Image |
| --- | --- | --- |
| Thomas Astruc | A director of the movie about Ladybug and Cat Noir. He is based on the creator of Miraculous. | |
Sightings
Episodes
Comics and books
Other
Trivia
The collège is based on the Lycée Carnot.[1]
The collège's name is a tribute to the real name of Fantômette, Françoise Dupont, the first female superhero of French literature.[2]
The collège is located near the Eiffel Tower, in front of the Place des Vosges, and across the street from Tom & Sabine Boulangerie Patisserie.
In the English dub of "The Pharaoh," Alya reveals she and her class are 10th graders when she finds Marinette's history book.

"10th grade" may refer to the American education system of 10th grade, consisting of ages 15-16, or to the British education system of the 10th year, consisting of ages 14-15.

As Alix turned 15 in "Timebreaker", and France colléges have students until that age, it most likely indicates that it follows the British system. It is also possible that "10th grade" could be a dub discrepancy.

In the French dub, Alya says that they are in troisième, the equivalent to US 9th grade.
In the Korean and French dubs, Alya says they are 9th graders.
Based on the fact that Luka is stated to go to Collège Françoise Dupont and to be older than Marinette's class, and that Marinette turns 14 in "Befana," it is likely that the class in in quatrième, the second-to-last year of collège and the equivalent to 8th grade in the US.

This could also imply that "The Pharaoh" and "Timebreaker" take place in the same school year, which then implies that this is the year after "Befana."

Théo Barbot has been seen at the collège, although it is uncertain whether he is a student, a staff member or a visitor.
The collège has been part of multiple akumatized villain attacks:

In "Lady Wifi", Lady Wifi broadcasts Mr. Damocles confessing to unjustly suspending her to the entire school. As a result of a villain being present on the campus, Miss Bustier evacuates her class for their own safety.
In "The Evillustrator", the Evillustrator attacks Chloé in the library.
In "Rogercop", Rogercop searches for the collège for André Bourgeois.
In "Horrificator", the building is covered in Horrificator's goo.
In both "Ladybug & Cat Noir" and "Stoneheart", multiple doors and walls are broken and smashed by Stoneheart.

In the former, specifically, cameras are also destroyed.

In "Reflekta", everyone including students and staff are all turned into Reflekta's likeness.
In "Zombizou", Zombizou turns multiple students into kissing zombies in order to make Chloé a kissing zombie.
In "Reverser", Reverser goes to the Art classroom to search for Marinette and Nathaniel to reverse them. He also reverses the art teacher and the students present in the classroom destroy all art.
In "Malediktator", Malediktator makes teachers and students destroy the school. He also searches the school for Marinette.
In "Chameleon", Chameleon disguises herself as Adrien and steals Nino's cap.

As mentioned in "Reflekta", the collège has at least eighteen classes.

A class photo from a previous year reveals that Miss Bustier's class that year included Marinette, Chloé, Sabrina, Rose, Juleka, Max, Kim, and Nathaniel.

Various students started attending the collège throughout the series:

Adrien and Alya begin going to the collège in "Ladybug & Cat Noir", Adrien specifically being a homeschooled student beforehand.
Lila, an Italian exchange student, joins in "Volpina".
Kagami, a Japanese exchange student, joins in "Riposte".
Zoé Lee, a teenage girl from New York, joins the school in "Sole Crusher".
Thomas Astruc is an alumni of Collège, as seen in "Queen Banana".
Gallery
| | |
| --- | --- |
| Click here to view the gallery. | |
References