We're Getting Mutants in the MCU - The Loop
Play Sound
"
Never, you see. Dancing and singing are everything to me. And I'm happy to share the joy of song and dance. To the amazing people of France!
"

—Clara, "Frightningale
Click here to see quotes from Clara Nightingale.
Clara Nightingale (called Laura Nightingale in some episodes) is a US popstar introduced in the second season of Miraculous: Tales of Ladybug & Cat Noir. She is based off of the singer Laura Marano, who performed the Miraculous music video.[4]
In "Frightningale", after André Bourgeois prevents Clara from shooting her music video "Miraculous" in Paris, she is akumatized by Hawk Moth into Frightningale, a singing, dancing, and rhyming supervillain.[5][6]
Appearance
Physical appearance
Clara is a fair-skinned young woman with waist-length wavy brown hair that is split on both sides, brilliant amaranth lipstick, and brown eyes.
Civilian attire
She wears a midriff-revealing, two-piece, short-sleeved white dress both having a pattern of yellow, magenta, cyan, and green triangles. On her right wrist, she has a puffy yellow bracelet, a black bead bracelet, and a wide magenta bracelet with cyan horizontal stripes. Additionally, she has black leggings that fade into dark blue at the bottom and black spool high heel shoes.
As Frightningale
Frightningale has straight blonde hair tied back into two high ponytails with pale, light grayish blue-violet star-shaped hair bands. She has heterochromia as her left eye is light brilliant sea green and her right eye is vivid raspberry color. The tips of her hair on her left ponytail and right side bang are red, and the tips on her right ponytail and left side bang are green. Her face is amaranthish white, and she wears multicolored shades with star-like side edges. She also painted her lips with vivid amaranth lipstick. She wears a grayish violet jumpsuit that has a light blue pointed tip over each shoulder. A cyan star with a black outline is printed on her chest, her upper back includes an upward shooting star design, and the rest of her suit is decorated with light brilliant arctic blue, apple green, and luminous vivid Rose colored shapes. At her feet, she has luminous vivid cerise rectangular wedges and luminous vivid cyan high heels. She also holds a wand with a strong blue swirled handle, a rounded pink bottom tip, a black star at the top, and a white-edged pink circle between the star and the handle.
Personality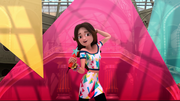 Clara is a very energetic when talking with Alec Cataldi about her new music videos. She is constantly dancing to the tune while talking, and according to Marinette, she's very passionate about her music. Clara is clever; knowing she has to choose among many auditioners, she purposely trips to find someone who would act like Ladybug.
As Frightningale, she remains energetic, but is mischievous and cunning, as shown when she almost tricks Cat Noir into not rhyming and becoming a statue. She's also childish, saying that Ladybug and Cat Noir being tied together is cheating and will not be permitted.
Abilities
As a civilian
Clara is exceptional at singing and dancing. She speaks in rhymes and is able to do so without fail.
As Frightningale
Frightningale has enhanced physical prowess: she can jump incredible heights, hurl huge objects (such as buses), and run extremely quickly. Using her microphone, Frightningale can extend a pink energy whip which colors them with a pink aura whenever it hits people. If the victim is struck with the whip and fail to speak in rhymes or dance, the aura turns them into a magenta statue.
History
In "The Dark Owl", Clara's music video, "Big Bang" was seen from Marinette's computer with Tikki dancing along to the music.
In "Captain Hardrock", she was at the Louvre Museum setting up her concert for the National Music Festival.
In "Frightningale", Clara was holding auditions for her newest music video at the Grand Palais, her Cat Noir having already been chosen: Adrien. No one who came to audition for Ladybug was the right fit but, seeing many extras, Clara purposely tripped to see which one of them would act like Ladybug, and she singled out Marinette, asking her to play the heroine. When Marinette declined in favor of being with her friends, Clara commended her with admiration. Clara then saw Chloé in action and, following Gabriel's advice, gave her the part. But, Marinette then changed her mind and wanted the role herself and Clara excitedly agreed. Furious at not being cast as Ladybug with Adrien, Chloé managed to shut down the operation, which caused Clara to burst into tears and be akumatized by Hawk Moth into Frightningale. Despite having the heroes under her musical spell, she was eventually defeated. In the end, Clara was amazed that she was rescued by her favorite heroes and, following Ladybug's advice, was able to complete her video.
In "Style Queen", Clara was seen sitting alongside with fellow musicians Jagged Stone and Penny Rolling at the fashion show where Adrien is modeling Marinette's pigeon-inspired hat.
In "Queen Wasp", just like in the previous episode, Clara was seen sitting alongside with fellow musicians Jagged Stone and Penny Rolling at the fashion show where Adrien is modeling Marinette's pigeon-inspired hat.
In "Catalyst", Clara witnessed Volpina's illusion of an akumatized Ladybug defeating Cat Noir and expressed devastation about it on a live interview with Nadja Chamack. Moments later, she was akumatized into scarlet version of Frightningale.
In "Mayura", Frightningale along with Guitar Villain played thunderous music for Scarlet Moth while his akumatized army fought the French Miraculous superhero team.
In "Animaestro", Clara sings the songs in Thomas Astruc's animated movie about Ladybug and Cat Noir. She attends the movie premiere and is greeted by a security guard who claims to be a fan of her.
Relationships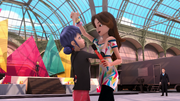 When none of the people who audition to play Ladybug seem right, Clara purposely trips in front of the extras to see which one of them would act like Ladybug. When Marinette helps her up, Clara concludes that she has found the perfect Ladybug and asks Marinette to play the heroine. She doesn't mind when Marinette turns down the offer to be with her friends. However, when she changes her mind, Clara excitedly gives her the part.
Clara admires Ladybug so much that she makes a music video dedicated to her and Cat Noir. When Frightningale is defeated, Clara expresses excitement over being saved by her and takes her suggestion on how to finish her music video.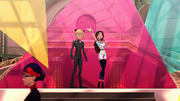 According to Gabriel, Clara is a huge fan of Adrien and immediately gives him the role of Cat Noir in her music video when Gabriel suggests it.
Clara admires Cat Noir so much that she makes a music video dedicated to him and Ladybug. When Frightningale is defeated, Clara expresses excitement over being saved by him.
When Chloé auditions to play Ladybug, Clara comments on her talent and upon Gabriel's suggestion, decides to use her in her music video. However, she soon gives the part to Marinette instead, angering Chloé and prompting her to cancel Clara's music video, leaving the musician in tears and vulnerable to akumatization.
Sightings
Episodes
Others
Trivia
The name Clara means "clear, bright, famous".
Clara is the first character, as well as the first akumatized villain in the series to be based off of a real life person and a singer, in particular singer Laura Marano, who performed a cover of the English theme song as part of the promotion for her second half of Season 1.
Clara's civilian outfit is an homage to the techno-pop unit Perfume,[7] one of the creators' favorite bands.
Like Jagged Stone and XY, Clara's record label is Bob Roth Records.
Her villain form was first revealed in concept art shown during a Nolife interview.[8]
Rossignoble, her villain name in the French dub, is a portmanteau of the French word rossignol, which means "nightingale", and the English word ignoble, meaning "not honorable in character or purpose."

Nightingales are known for their singing, relating to Clara's career as a singer.

As Frightningale, her mask is shaped almost like a butterfly but with star edges. Many villains have this as well, such as Lady Wifi, Evillustrator and Stormy Weather.
In "Captain Hardrock", Clara is named Laura Nightingale; her first name Clara comes in later episodes.

In the French dub of "Captain Hardrock", her name is Laura Rossignol, the first name Clara likewise coming later on.
In Spain her name in that episode is Laura Nittingel, fully changed to Clara Ruiseñor afterward.

According to Thomas Astruc, Clara is supposed to rhyme at every occasion.[9]
Frightningale reappears for the two-part special event Heroes' Day.
Frightningale appears another time in "Gamer 2.0" for Gamer's powers.
Gallery
| | |
| --- | --- |
| Click here to view the gallery. | |
References