"
[Cat Noir] can use his superpower to destroy anything he touches. Comes in handy for slowing enemies down.
"
Cataclysm is a special superpower granted by the Cat Miraculous to its holder.
Description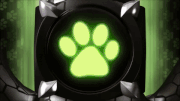 By calling upon his power, Cat Noir infuses his ring hand with bad luck energy. Whatever he touches with it is affected negatively: technology malfunctions; solid objects dissolve, corrode, break, or are easily breakable afterward depending on the material; and water evaporates or loses its form if being controlled.
While Cataclysm is a very helpful superpower, Cat Noir must use it wisely, as he can only use it once before reverting back into his civilian form five minutes after using it. In addition, once he summons the superpower, he can't turn it off, and he must use it to get rid of it.[1]
Its power can also be used for self-defense but it can fail seen in "Guitar Villain", distractions in "Troublemaker".
In "Anansi" he can also use it for protection. In Style Queen, it is shown that Plagg, the kwami of destruction, can summon the same power. Compared to Cat Noir's version, Plagg's is much stronger, but he has far less control. It also has the power to destroy Miraculous jewels in "Queen Wasp" and weapons like Hawk Moth's cane in "Mayura".
Uses
Sightings
Episodes
Comics and books
Other
Trivia
Gallery
| | |
| --- | --- |
| Click here to view the gallery. | |
References
↑ https://curiouscat.me/MiraculousMX/post/256961949
Pepe2000Sa 17 Dec
Dos preguntas:

Cuando Chat Noir activa el cataclismo ya no lo puede desactivar , ¿es necesario que lo use en algo?
Hawk moth, podría hacer copias exactas de ladybug y chat noir

Podría copiar exactamente el poder de lucky charm (ya que en antibug no era lo mismo) Como copio el cataclismo en copy gato Pilón(no necesaria): si adrien o marinette crecieran , lo trajes se mantienen igual o cambiarían

- Si, ya no se puede desactivar. Por eso en Pire Noel, Chat Noir lo utiliza sobre un anunció de perfumes Gabriel para deshacerse de el.
- Si, ya lo ha hecho (y tu mismo lo mencionaste) en Copigato (que tenía las mismas limitaciones que el Chat Noir real) y lo intentó con Antibug (que aunque lo opuesto, funcionaba de la misma manera). Como extra, lo intento con el Miraculous del Zorro a través de Volpina.

Pilón: Por un dibujo que Thomas Astruc una vez hizo de Ladybug como una adulta, es fácil asumir que los trajes si se adaptarían mediante el usuario crece.