Wiki Targeted (Entertainment)
Play Sound
The Cane is the tool of the Butterfly Miraculous.
The current owner of the cane is Gabriel Agreste, who uses it as the villain Hawk Moth.
Appearance
The cane is dark indigo and smooth. There is a round stone with black lines within a cylinder on top. There is also a silver sword inside the cane, with the round stone and cylinder being its hilt and pommel. The cane is roughly half as tall as it's wielder.
Abilities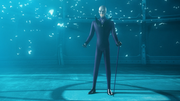 The cane contains a hidden blade, making it a swordstick for combat, as shown in "Robostus". The blade is sharp enough to slice a missile cleanly in half. It can also be wielded as a blunt melee weapon.
The stone on the cane can hold an akuma if its object is destroyed, but the akuma isn't purified, as Hawk Moth does with the Akuma used for Ivan Bruel in "Ladybug & Cat Noir (Origins - Part 1)". Once the original victim is vulnerable again, as seen with Ivan in the next episode, the wielder releases the akuma.
Like all Miraculous tools, the cane is virtually indestructible. So far, only Cataclysm has been shown to be capable of damaging or destroying it.
In "Catalyst", the cane serves as Hawk Moth's power source after receiving enhancement from Catalyst. With it, he can turn butterflies into akumas by tapping them with it, summoning infinite amounts of akumas seemingly out of nowhere and directing his Scarlet Army by raising it. Once it is destroyed, however, the scarlet akumas revert to normal butterflies.
In "Backwarder", it is revealed that the cane has the power to keep the butterflies that Hawk Moth uses to create his akumas.
In "Miraculer", it's revealed that the cane can be used as an intercom by opening the stone at the top.
In "Cat Blanc", it is revealed that the cane can be summoned to the wielder's hand if they lose it, though only if they are in relatively close proximity to the cane itself.
Sightings
Episodes
Comics and books
Others
Trivia
Canne de combat, translated from French to cane fighting, is a martial arts style created in France. Hawk Moth has displayed a few of the techniques involved when he spins his cane before slamming it on the ground.
It's the first Miraculous tool not used as a mode of transportation.
It's the first Miraculous tool be an amokized object.
Gallery
| | |
| --- | --- |
| Click here to view the gallery. | |
v

•

e
Objects
Technology
Computers
Cellphones
Other technology
TV channels
TV shows
Clothes and accessories
Clothes
Bags
Jewelry
Other accessories
Gabriel
Other objects
Marinette's creations
Books
Art pieces and artifacts
Films
Dolls
Foods
CDs
Miscellaneous
Community content is available under
CC-BY-SA
unless otherwise noted.