| | |
| --- | --- |
| | This page lists designs and outfits for Caline Bustier. Both final and conceptual designs are presented here. |
Final designs
Caline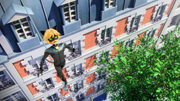 Caline is tall and light-skinned. She has dark red hair, which she pulls back in a high bun. Her eyes are teal, she has thin pink lips and freckles.

She wears a light blue jacket with a teal collared shirt and white undershirt beneath, she wears a pair of white earrings and she has a small golden necklace dangling from her neck. She also wears light blue pants and white dress shoes.
First appearance: "Mr. Pigeon"
Younger Caline
In this past class picture, Caline has a similar outfit. The differences are that she wears a mint green jacket, a lime collared shirt, and mint green pants, matching her jacket.
First appearance: "Reflekta"
Zombizou
Zombizou has grey-blue eyes, grey skin and grey hair. She wears black lipstick in a heart shape. She wears a butterfly-shaped pink mask, curved on top and curving to point beneath the eyes. She wears a primarily black dress with torn sleeves and adorned with a pink heart and a smaller black heart within it. The black heart has a pink lipstick stain on it. The dress has pink puffy sleeves that feature a stapled design, a la Frankenstein. Zombizou wears her hair in a bun decorated with two pink hair sticks with large round ends. She appears to wield a black lipstick.
First appearance: "Zombizou"
Conceptual designs
Old concept Caline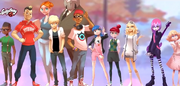 Caline wears a slate gray dress shirt, a white vest underneath with the sleeves being turquoise. Also, she has a pair of light gray dress pants and pink shoes.
Later concept Caline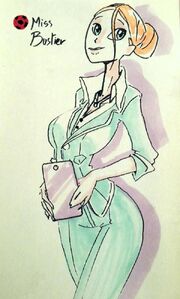 Caline wears a turquoise white-collared jacket, with her sleeves going up to her elbows, and matching turquoise dress pants.
Community content is available under
CC-BY-SA
unless otherwise noted.