She-Hulk Trailer Dropped - The Loop
Play Sound
"
I am not going to listen to you! You can't force me to do evil!
"
Miss Caline Bustier[2] is a teacher at Collège Françoise Dupont.[3]
In "Zombizou", while trying to protect Marinette Dupain-Cheng from an akuma which was originally trying to akumatize Marinette after Chloe ruined her birthday gift, Caline is akumatized by Hawk Moth into Zombizou, a zombie kissing supervillain.[4]
Appearance
Physical appearance
Caline is tall and light-skinned with moderate vermilion hair, which she pulls back in a high bun, strong cyan eyes, thin light pink lips, and freckles.
Civilian attire
She wears a pale, light grayish cerulean jacket with a moderate opal collared shirt and a white undershirt beneath, along with a pair of white earrings and a small goldish white necklace. She also wears pants that match her jacket and white high heel shoes.
As Zombizou
Zombizou is a light Malachite green-skinned villain with moderate cerulean hair with a gray hue and brilliant arctic blue eyes. She wears black lipstick in a heart shape. She wears a butterfly-shaped pink mask, curved on top and curving to point beneath the eyes. She wears a primarily black dress with torn sleeves and is adorned with a pink heart and a smaller black heart within it. The black heart has a pink lipstick stain on it. The dress has pink puffy sleeves that feature a stapled design, a la Frankenstein. She also has black fingerless gloves that are connected to her sleeves and leggings, both of them have holes in them. Zombizou wears her hair in a bun decorated with two pink hair sticks with large round ends. On her feet, she wears blue-violetish black high-heeled boots with pink shoelaces. She wields black lipstick.
For more of Caline's outfits and designs, see Caline Bustier/Designs.
Personality
Caline is a pleasant, kind, helpful, and instructive teacher. Even though she is kind to her students, she can be stern with them if they misbehave and she will send them to Mr. Damocles' office if she thinks it's necessary. When André Bourgeois is upset at her when Chloé Bourgeois loses her bracelet in "Rogercop", she is indignant at the rebellion. However, if a villain or another threat appears, Caline gets nervous, as seen when Rogercop questions her and will suggest to her students that they leave if it becomes potentially dangerous, as seen in "Lady Wifi". Caline also has incredible willpower, being able to initially resist becoming infected by an akuma in "Zombizou," something not very many can do.
As Zombizou, her views on love become warped, believing that she is spreading the love by turning people into kissing zombies.
Abilities
As a civilian
Caline is good at teaching. As a teacher, she teaches French, literature, poetry, and history.
In "Zombizou", she is shown to be able to resist or even overcome Hawk Moth's influence (something not very many akumatized victims can do), though unfortunately, she succumbed after approximately 30 seconds.
As Zombizou
With her lipstick, Zombizou can blow kisses that turn people into zombies with brilliant mulberry eyes who seek to kiss and hug other people, and she can even spread kisses through direct kissing, as shown with Mr. Damocles in his office, although the effect wasn't seen, it is probable Mr. Damocles was infected. The zombies have contagious kisses. Zombizou also has enhanced physical abilities such as strength and agility.
Relationships
Caline likes Marinette because she views her as a kind and helpful person, though she can be stern with her when needed, such as when she sent her to Mr. Damocles' office in "Lady Wifi" after she came in late and disrupted the class. In "Zombizou", when she notices how angry Marinette is over Chloé ruining the gift she made, Caline encourages Marinette to set a positive example for her classmates by forgiving Chloé. When she spots an akuma near her, she tries to shoo it away, refusing to let one of her students be akumatized.
In "Ladybug", Caline is shocked when it appears that Marinette had stolen the Mock Exam answers, unaware that Lila had framed her. Later, when Marinette gets expelled from school, she is so devastated that she is one of the people reakumatized by Scarlet Moth.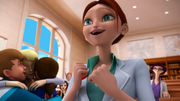 Like most Parisians, Caline is highly appreciative of Ladybug and all the work she does in order to protect Paris. However, as Zombizou, she doesn't like that Ladybug is trying to stop her from "spreading love" and even demands that she accept her "love" and surrender her Miraculous.
While Caline is aware of Chloé's unkindness, Caline doesn't dislike her, unlike her students. While everyone else is upset with Chloé in "Zombizou" after she ruins Marinette's gift, Caline is more forgiving. She tells Marinette that she believes that Chloé needs a positive example in order to better herself. As Zombizou, she primarily targets Chloé, wanting to turn her into a kissing zombie. After being deakumatized, Chloé apologizes to Caline and Caline accepts the apology and embraces her.
In "Penalteam",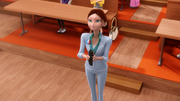 Like most of her students, Caline is unaware of Lila's deceitful nature as she believes Lila when she says on a video chat that she is in the Kingdom of Achu and working on a project to reduce pollution, calling it incredible. Furthermore, in "Chameleon", she believes Lila's lie about having tinnitus and needing a front-row seat.
In "Ladybug", when Marinette accuses Lila of framing her for stealing the Mock Exam answers, Caline refuses to believe this since there was no proof, and Lila had gotten the worst grade in the class. Regardless, she decides to send her to the principal's office to straighten the matter out.
History

Click here to view the history of Caline Bustier.
Sightings
Episodes
Comics and books
Other
Trivia
Caline looks noticeably similar to the character Lucille from A Monster in Paris. Despite this, no one who designed Caline ever saw A Monster in Paris and their similarities are entirely coincidental.[5]
Her akumatized form was first revealed as a silhouette in a promotional poster on Jeremy Zag's Instagram.[6]
Caline celebrates her birthday in "Zombizou."
Caline is the third character in the show to be akumatized on their birthday, the first two beings Alix in "Timebreaker" and Nathaniel in "The Evillustrator".
Caline was the first character in the show to be akumatized not because of a person, but by the akuma itself.
Caline is the first character to attempt to resist an akumatization, even though she didn't succeded to do so.
Zombizou briefly reappears in "Ladybug", but she is quickly de-akumatized.
Zombizou appears another time in "Gamer 2.0" from Gamer 2.0's powers.
In "Miraculous New York", it is revealed that she is pregnant.
Gallery
| | |
| --- | --- |
| Click here to view the gallery. | |
References