This article is about the Bee Miraculous. You may be looking for another Miraculous.
"
Chloé Bourgeois, here is the Bee Miraculous, which grants you the power to immobilize your opponent. You will use it for the greater good. [...] Once the job is complete, you will return the Miraculous to me. Can I trust you, Chloé?
"

—Ladybug, "Malediktator"
The Bee Miraculous is a hair comb that, whenever Pollen inhabits it, transforms the wearer into a bee-themed superhero, with the power of subjection[1]. It is currently stored in the Miracle Box.
The hair comb was temporarily owned by Chloé Bourgeois in "Style Queen", "Queen Wasp", "Malediktator", "Catalyst", and "Mayura" who uses it to turn into Queen Bee.
Appearance
The hair comb is golden with an arch on top and nine teeth. One side of the hair comb has the design of a bee: the head and thorax are made up of a larger and smaller black gemstone, respectively. The abdomen is represented by a section with seven (4) yellow and (3) black alternating stripes and four pearly white wings stretched out to make the arch with alternating lines forming into sections to resemble a bee's wings. When Pollen is out the hair comb is completely metallic gray. As an akumatized object, the colors are inverted.
Abilities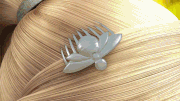 The Bee Miraculous grants its wielder incredible powers of superhuman speed, endurance, and strength. Its special weapon is a top, which can be utilized as both a weapon and a communicator. Its special superpower is Venom, which immediately immobilizes the target. As long as the superpower isn't used, the wielder can sustain the transformation indefinitely, though once it is used they only have about five minutes before they transform back.
List of owners
Wielders
| | |
| --- | --- |
| | A Bee Miraculous holder displayed in the Miraculous book. |

| | |
| --- | --- |
| | A teenage girl in France and a temporary Bee Miraculous holder. She obtains it after finding it lost in the episode, "Style Queen". |
Keepers
| | |
| --- | --- |
| | The last known remaining guardian. He is currently storing the Bee Miraculous in the Miracle Box. |

| | |
| --- | --- |
| | The guardians of the Miraculouses. The Order protected the Bee Miraculous until their dissolution. |
Sightings
Episodes
Trivia
Bees are a symbol of beauty, productivity, and growth.
The Miraculous being a hair comb is a pun on honeycombs.[2]
In the theme song, the Bee Miraculous briefly appears in the Miracle Box.
It was revealed at the Miraculous Ladybug San Diego Comic-Con 2016 panel that there would be a bee-themed superhero in Season 2.[3]

The bee-themed superhero is later revealed to be Chloé Bourgeois.

The Bee Miraculous is the first Miraculous that is an akumatized object, and to be destroyed and restored afterwards.
Ladybug had originally planned to give the Bee Miraculous to Alya Césaire in "Style Queen", but Alya is turned into a golden statue by Style Queen before she can receive it.
The Bee Miraculous' model was changed between "Style Queen (Queen's Battle - Part 1)" and "Malediktator".
Gallery
| | |
| --- | --- |
| Click here to view the gallery. | |
References